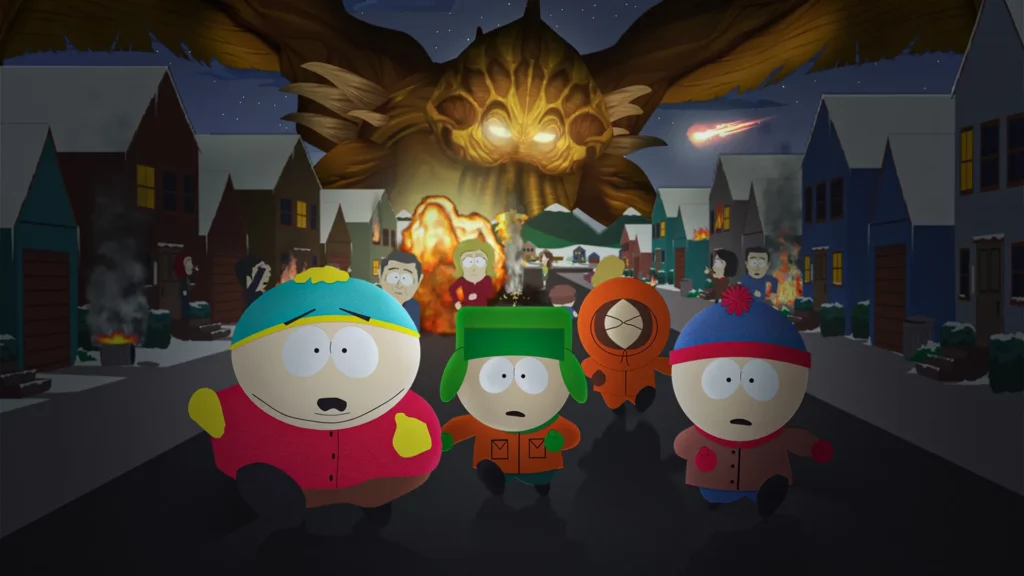 Originating from the minds of Trey Parker and Matt Stone, South Park emerges as an animated American TV sitcom. The narrative orbits around the escapades of four young boys – Stan Marsh, Kyle Broflovski, Eric Cartman, and Kenny McCormick – and their companions in the fictitious realm of South Park, Colorado. Debuting in 1997, the show persists as a globally acclaimed television phenomenon. Its biting satire and audacious exploration of diverse subjects have fueled its universal appeal. Not surprisingly, many enthusiasts seek optimal means to experience every South Park episode.
South Park is not streaming in your country?
Any of our picks not streaming in your country? ExpressVPN unlocks Reelgood and all of your streaming services, giving you access to all movies and TV shows from around the world. Stream them from anywhere with a 30-day money-back trial from ExpressVPN.
Unblock Streaming with ExpressVPN (3 months free for Reelgood users!)
Connect to a US or UK server via ExpressVPN.
Let ExpressVPN run in the background as you watch all of your movies and TV shows, securely and with no throttling or bandwidth limits.
The series revolves around the daily lives and misadventures of the main characters:
Stan Marsh (Trey Parker): Stan is a compassionate and level-headed boy who often finds himself in bizarre and absurd situations. He is the moral compass of the group.
Kyle Broflovski (Matt Stone): Kyle is Stan's best friend, and he is known for his strong sense of justice and his tendency to call out hypocrisy and injustice.
Eric Cartman (Trey Parker): Cartman is the show's most controversial character. He's often selfish, bigoted, and manipulative, leading to numerous comedic situations and conflicts.
Kenny McCormick (Matt Stone): Kenny is known for his distinctive orange parka and muffled speech. He often meets gruesome and absurd deaths, only to return in the next episode.
The show uses its characters to lampoon a wide range of subjects, including politics, religion, celebrity culture, technology, and more. The episodes are known for their willingness to push boundaries and tackle controversial topics, often using shock humor and satire to comment on societal issues.
While there isn't a continuous plot, some multi-episode story arcs and recurring themes do exist. For instance, the show sometimes explores the relationships between the characters and their families, as well as recurring antagonists like Cartman's ongoing feud with his schoolmate, Heidi Turner.
Watching Streaming Services
The best and simplest way to watch every episode of South Park is through streaming services. While numerous streaming services are available, the two most popular ones are Hulu and Amazon Prime.
Hulu
The American video-on-demand subscription service Hulu has a large selection of TV series and movies. In addition to its library, Hulu also offers subscribers live television. This unique streaming platform is the sole destination to enjoy live broadcasts of every South Park episode. From the initial pilot to the most recent installment, every facet of South Park's expansive collection is accessible for streaming exclusively on Hulu.
Amazon Prime
Amazon Prime stands as an exclusive online membership program by Amazon, offering users an extensive array of films and TV series. This subscription also encompasses an array of additional perks, including complimentary expedited shipping within two days and seamless music streaming.
South Park Studios
In addition to streaming services, another great option for watching every episode of South Park is on South Park Studios. The official South Park website, South Park Studios, provides access to free episode streaming. The website of South Park Studios boasts a user-friendly interface, facilitating seamless navigation and unrestricted access to every episode of the South Park series. Moreover, it encompasses previous seasons, rendering it an impeccable choice for enthusiasts inclined toward immersive binge-watching experiences.
The cast of "South Park" is composed of talented voice actors who bring the show's characters to life. Here's some information about the cast members you mentioned:
Trey Parker (Eric Cartman / Stan Marsh – Voice): Trey Parker is one of the co-creators of "South Park" along with Matt Stone. He provides the voices for several main characters, including the iconic Eric Cartman and Stan Marsh. Parker's versatile voice acting contributes to the show's distinct humor and character dynamics.
Matt Stone (Kyle Broflovski / Kenny McCormick – Voice): Matt Stone is the other co-creator of "South Park." Similar to Trey Parker, Stone also lends his voice to multiple main characters, including Kyle Broflovski and Kenny McCormick. Stone's voice work adds depth and humor to the show's ensemble.
Mona Marshall (Sheila Broflovski – Voice): Mona Marshall is known for her portrayal of Sheila Broflovski, Kyle's mother. Her voice brings to life the strong-willed and opinionated character, contributing to the show's satirical depiction of family dynamics.
April Stewart (Sharon Marsh / Ms. Cartman – Voice): April Stewart voices both Sharon Marsh, Stan's mother, and Ms. Cartman, Eric Cartman's mother. Her versatile voice acting allows her to portray different characters within the show's universe.
Isaac Hayes (Chef – Voice): Isaac Hayes was the original voice actor for the beloved character Chef. His deep and smooth voice gave Chef a unique and charismatic personality. It's important to note that Isaac Hayes left the show due to its treatment of certain religious topics.
Eliza Schneider (Ms. Cartman – Voice): Eliza Schneider provided the voice for Ms. Cartman, Eric Cartman's mother, for a period of time. She was one of the show's earlier voice actors.
Mary Kay Bergman (Ms. Cartman – Voice): Mary Kay Bergman was the original voice of Ms. Cartman, Eric Cartman's mother, when the show first started. Unfortunately, Mary Kay Bergman passed away in 1999.
Adrien Beard (Token Black – Voice): Adrien Beard is the voice behind Token Black, one of the show's characters. Token is known for being one of the few African American kids in South Park, and Beard's voice work contributes to the character's identity.
The diverse talents of these voice actors have helped shape the distinct personalities and comedic dynamics of "South Park," contributing to the show's lasting impact on television and pop culture.
Conclusion
South Park enjoys immense popularity as a television series, and many avenues exist for accessing its complete episode catalog. Optimal access to the entire South Park episode collection is facilitated via prominent streaming platforms, notably Hulu and Amazon Prime. These platforms proffer an extensive array of South Park episodes, combining accessibility with cost-effectiveness.
An equally favorable alternative involves enjoying South Park through South Park Studios. The platform serves as the sanctioned online hub for the series, granting unrestricted access to all episodes via complimentary streaming. This solution caters to individuals seeking to indulge in the show's content without obligatory subscription charges.