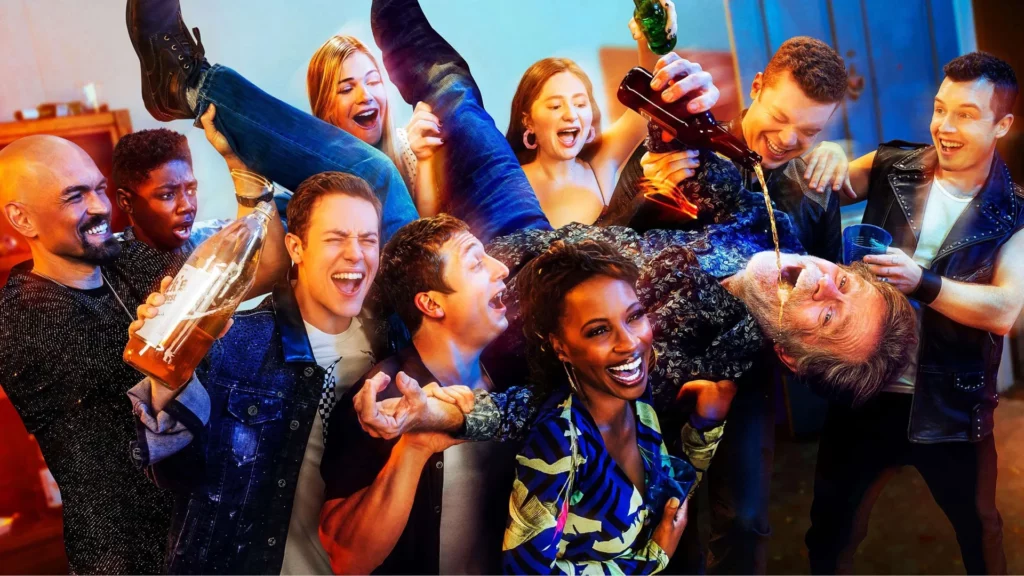 Does the appeal of unconventional family dynamics bore you slightly after being represented in an innumerable array of television shows since immemorial? If so, "Shameless," the long-running television series, might be an exception. Confronting, hard-hitting, often with a humorous twist, "Shameless" examines a wild bouquet of subjects, from socioeconomic struggles to complex familial ties, driven by a dynamic host of characters.
Shameless is not streaming in your country?
Any of our picks not streaming in your country? ExpressVPN unlocks Reelgood and all of your streaming services, giving you access to all movies and TV shows from around the world. Stream them from anywhere with a 30-day money-back trial from ExpressVPN.
Unblock Streaming with ExpressVPN (3 months free for Reelgood users!)
Connect to a US or UK server via ExpressVPN.
Let ExpressVPN run in the background as you watch all of your movies and TV shows, securely and with no throttling or bandwidth limits.
The Gallaghers: Emblem of Outrageousness
"Shameless" revolves around the Gallaghers, an unapologetically dysfunctional family in the South Side of Chicago. The family constellates around the unreliable and alcoholic patriarch, Frank Gallagher. The tangy essence of "Shameless" is its realistic portrayal of the lower-class struggles, brandishing poverty in ugly light while selectively interjecting moments of dark humor. 
Unmasking Struggles: An Emotive Arc
The series takes the audience on a dynamic ride, capturing the highs and lows of the Gallaghers. The family is an emblem of outrageous resilience, and their inexhaustible spirit, repeatedly exposed under harsh circumstances, forms a remarkably poignant storytelling arc. Simultaneously, "Shameless" doesn't fall into the trap of sentimentality or glamourize poverty; instead, it uses humor as an effective tool to humanize the characters, digging deeper into their psyche.
Distinguished Performances
Much of the show's critical acclaim is a testament to the superb performances of the ensemble cast. William H. Macy is a standout, delivering an unabashed portrayal of Frank, diverging deftly between comedy and drama. Emmy Rossum delivers a commanding performance as Fiona, Frank's eldest, who holds the family reins. The talented younger cast embody their characters with startling gravity, maturity, and humor, enhancing the show's layered narrative.
The Underlying Comedy: Not All Is Dreary
While the drama keeps you on your toes, the masterstroke of "Shameless" lies in its comedy. The show expertly infuses humor into even the bleakest moments, providing a delightful and often distressing contrast. This display of contrasting emotions and circumstances ensures that the audience is always on their toes, making "Shameless" an enjoyable experience as unsettling as entertaining.
Dire Realities Painted with Levity
At its core, "Shameless" is a raw and revealing depiction of the societal imbalances that manifest in striking day-to-day survival struggles. It packs a poignant punch with its unconventional narrative style, unafraid to feature the grim realities of life on the fringes. However, it paints these harsh realities with an element of silliness, making the show unforgettable.
Where to Stream "Shameless"
If the intriguing chaos of the Gallaghers sparks an interest after this, you may wonder where to stream "Shameless." The complete series is available on platforms like Netflix and Showtime's streaming service. The show's profound blend of comedy and drama will meet your expectations.
Evolution of Characters: An Essential Element of "Shameless"
Most of the drama-comedy series' appeal is how the dysfunctional Gallagher clan evolves. "Shameless" diligently peels back layers of their characteristics, illuminating their weaknesses, strengths, and moments of growth. Evolution does not always ascend a ladder toward betterment. Quite often, the characters stumble into darker abysses, reflecting the genuine complexities of life on the breadline.
The staple protagonist, Fiona Gallagher's transformation from an overwhelmed yet determined surrogate mother to a successful entrepreneur is an exhilarating plot trajectory. However, her success isn't long-lived, as the show repeatedly injects the harsh reality of setbacks. Fiona's tumultuous journey frames an overarching narrative of the show – life in the Gallaghers is one wild rollercoaster ride of emotions and circumstances. 
Undoubtedly, including such an element contributes to a realistic portrayal of life's unpredictability, particularly when dealing with poverty's constraints in a society designed to maintain the status quo.
Frank Gallagher: A Study in Contradictions
The Gallagher patriarch, Frank, despite his chronic substance abuse and absentee parenting, is an exceptionally well-fleshed-out character. His cunning way of navigating life's hardships while maintaining an unrelenting sense of optimism forms another nuanced facet of "Shameless." However, one cannot ignore his lifestyle's devastating effect on his family, making him an impeccably portrayed anti-hero. His character encompasses the thin line separating wit from irresponsibility in the harsh face of poverty. 
The vulnerability and strength showcased by the Gallaghers illustrate how a family can still harness togetherness, resilience, and moments of joy despite laboring under societal and economic challenges.
Realistic Portrayal of Socioeconomic Struggles
"Shameless" is not a shiny, polished depiction of poverty. Instead, it shows poverty-stricken lives without the rose-tinted glasses that most mainstream shows tend to wear. The series highlights the community living on the fringes, struggling with unemployment, housing insecurities, addiction, and other daily social backlashes.
The series highlights the Gallagher family's continuous struggle to make ends meet, often resorting to illegal schemes. "Shameless" strays from adopting a preachy moral perspective; it places the characters into this grey area of survival where conventional norms of ethics blur out.
Your curiosity may be itching to experience this audacious show after diving into its intricate themes, characters, and narrative style. If so, ask where to stream "Shameless. The full series is available on Netflix and Showtime's streaming service. The experience of engrossing yourself in the bold world of the Gallaghers is a dive into the depth of the human spirit's resilience.
Impact of "Shameless" on Popular TV Narratives
"Shameless" has revolutionized the drama-comedy genre by presenting a fresh perspective on familial ties and economic struggles. The show sometimes sidesteps comedic relief, instead brutally driving home the uneasiness and despair that poverty begets — a detail many other comedic dramas tend to gloss over.
The impact of "Shameless" is significant enough to have inspired other successful series to start threading nuanced and realistic narratives promoting social conversations. Unafraid to push boundaries or break convention, "Shameless" has undoubtedly left an impactful legacy on television's art of storytelling.
An Introduction to the Diverse Ensemble: The Cast of "Shameless"
Aside from the performances mentioned above of Emmy Rossum (Fiona Gallagher) and William H. Macy (Frank Gallagher), "Shameless" boasts a talented ensemble cast that truly captures the essence of the lower-middle-class struggles in Chicago's South Side. 
The Unstoppable Lip
Jeremy Allen White as Lip Gallagher offers a provocative exploration of a gifted young man grappling with the limitations of his socioeconomic conditions. His character navigates through alcohol addiction, relationships, and intellectual growth, simultaneously reflecting the often-underrepresented struggle of the intelligent but socially disadvantaged.
The Free-Spirited Ian
Cameron Monaghan depicts the free-spirited, resilient, and emotionally complex Ian Gallagher with finesse. His portrayal of adolescent growth, homosexuality, and coping with bipolar disorder stands as one of the show's most deep-seated narrative elements.
The Unconventional Refreshing Svetlana
Isidora Goreshter's portrayal of Svetlana, an intricate character with a fascinating evolution across the series, brought a refreshing change to the narrative. From being introduced as a sex worker in the early seasons to showing her entrepreneurial skills in the later ones, she charismatically kept the audience guessing about her next move. 
The Constantly Evolving Debbie & Carl
The young Emma Kenney (Debbie Gallagher) and Ethan Cutkosky (Carl Gallagher) deliver equivalently potent performances. From Debbie's spirit and burgeoning independence to Carl's transformation from a rebellious youth to a disciplined adult, "Shameless" ensures that each character arc stands out in its own right.
It's a remarkable achievement and testimonial to the casting directors' genius that the young actors, who started when they were only kids, have managed to evolve and redefine their characters with such effortless transition.
An Ideal Ensemble Cast
The ensemble reflects a brilliant blend of seasoned actors and young talents, all determined and skillful in their craft. Their combined commitment to authenticity in portraying the unflinchingly raw narrative of "Shameless" is praiseworthy. Amid the emotional intensity, they infuse the series with unique charm and humor, a testament to their deep understanding of their characters and the story's dynamics.
Their natural camaraderie spills over to their on-screen relationships, making the family dynamics of the show all the more convincing. Such deeply-rooted narrative sophistication testifies to why "Shameless" continues to retain its immense popularity and why viewers continue to look for where to stream "Shameless."
The cast's sheer talent and hard work undoubtedly contribute to the compelling, often devastating, yet humor-infused narrative of "Shameless." Their distinct performances and memorable character evolution lend the series an authenticity that differentiates it from other drama-comedy series. Their characters echo long after the screen fades to black, making "Shameless" a hallmark of excellence and leaving viewers craving more.
Experiencing the Rollercoaster: The Trailer of "Shameless"
Concluding Thoughts: Reflection of Humanity
In conclusion, "Shameless" is more than just a show about a dysfunctional family. It is brutally honest in a shamelessly matter-of-fact way, yet offers an entertaining lens into underprivileged life rarely exhibited on television. It embodies the harsh realities of inequality while reminding us that comedy can be gleaned from even the most challenging circumstances. The profoundly human answer to hardship makes "Shameless" an essential watch for lovers of drama and comedy alike. 
So, buckle up for a visceral ride punctuated by heartwrenching moments of emotional strife, which, in turn, are painted with unexpected but deeply ingrained humor. This ride is, in essence, life itself. This validates "Shameless" as a seminal series that left its irrefutable mark on television's comedy-drama landscape. After all, it's more than just television; it reflects humanity in its most unrefined form.