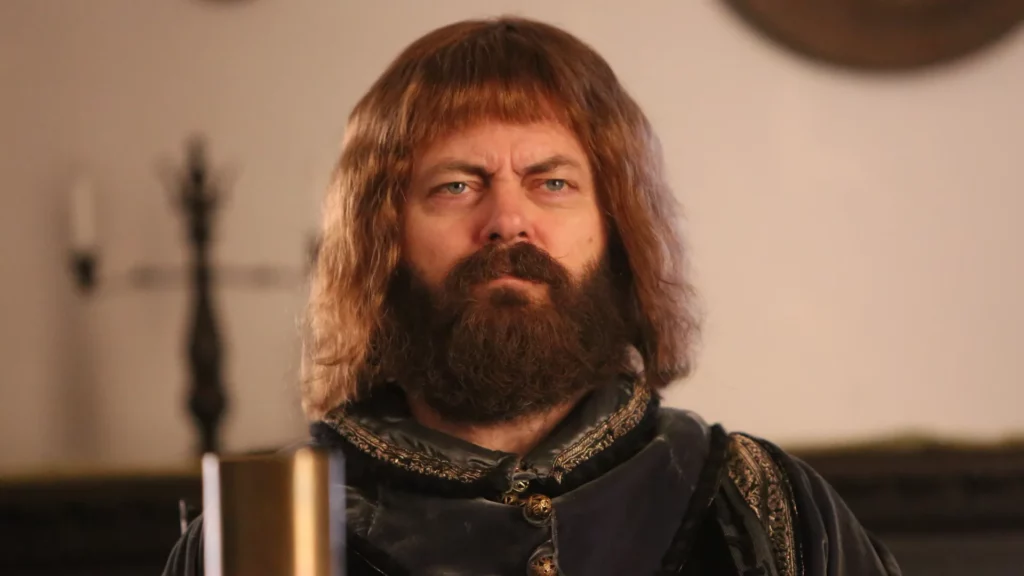 "The Little Hours," a film expertly blended with rib-cracking humor and a subtle hint of romance, takes its audience on an extraordinary journey, exploring love, laughter, and more within the walls of a medieval convent. The story unfolds with an intoxicating blend of raucous comedy and a dash of romance, making it a must-see for fans of these genres. As a critic of romantic and comedic movies, I suggest you watch "The Little Hours," it's a delightful mix of these genres with a touch of medieval charm.
The Little Hours is not streaming in your country?
Any of our picks not streaming in your country? ExpressVPN unlocks Reelgood and all of your streaming services, giving you access to all movies and TV shows from around the world. Stream them from anywhere with a 30-day money-back trial from ExpressVPN.
Unblock Streaming with ExpressVPN (3 months free for Reelgood users!)
Connect to a US or UK server via ExpressVPN.
Let ExpressVPN run in the background as you watch all of your movies and TV shows, securely and with no throttling or bandwidth limits.
The Sailing Plot of Hilarity and Love

The plot of "The Little Hours" majestically sails through the turbulent waves of comedy and softly docked shores of romance. With top-notch performances by Alison Brie, Dave Franco, and Aubrey Plaza, the tight-knit cast skillfully navigates the plot's high tides and low ebbs with striking ease. Based on a story from "The Decameron" by Giovanni Boccaccio, the storyline may leave some audiences astounded because it's not every day you see nuns and servants running amok and causing chaos in the seemingly tranquil setting of a convent.
Medieval Humor: Masterfully Woven Thread

The movie cleverly adapts historical and modern comedic styles into a cohesive whole. The humor is an intoxicating cocktail of silent comedy, one-liners, and dry wit, all wrapped in unique medieval garb. It is marvelously punctuated by the characters' reactions, providing rich seams of laughter throughout the story. Watching nuns swear and act crudely is surprising and a refreshing departure from typical comedic portrayals and worth experiencing.
Romance, an Unexpected Twist

The romance woven into the narrative of "The Little Hours" is subtle yet profound. It dabbles a toe into the possibilities of longing, lust, and affection in a setting that seemingly forbids it. Amidst all the humor and drama, when love unfolds, it strikes a chord with the audience without overpowering the captivating, comical theme. This unexpected element adds an intriguing layer to the overall narrative of the movie, making it much more than just another comedy.
Performances: The Heartbeat of the Movie

"The Little Hours" radiates life through its performances. Alison Brie, Dave Franco, and Aubrey Plaza steal the show with exceptional acting prowess. There is marvelous authenticity to their portrayal of each character, giving them depth and palpability. Brie's rebelliousness, Franco's charming naivety, and Plaza's fiery rage make "The Little Hours" a thoroughly enjoyable cinematic ride.
Behind the Laughter: The Direction and Cinematography

Jeff Baena's vision for "The Little Hours" is crystal clear throughout the film. His directorial genius brilliantly balances comedy and romance and draws out top-notch performances from the cast. The cinematography adds another dimension to the film, beautifully capturing the lush medieval landscapes.
Contextualizing "The Little Hours": An Unforeseen Concoction
"The Little Hours" is not just another run-of-the-mill comedy. It's a unique blend of historical references, modern humor, and intricate subplots woven into a beautiful movie tapestry. More importantly, it is a film that dares to deviate from a formulaic approach to crafting and delivery. If you watch "The Little Hours," you will find a new layer of understanding about the narrative's depth with every viewing.
The Characters and Their Arcs

Jeff Baena's "The Little Hours" brings diverse, engaging, layered characters to the fore. Each character in this film is finely etched, having unique storylines and arcs. More time spent examining these characters gives viewers a goldmine of comedic nuggets.
Fernanda, played by Aubrey Plaza, is a fiery brawler who wouldn't hesitate to swing the first punch. Genevra, played by Kate Micucci, oscillates between innocent naivety and fits of jealousy. Sister Alessandra, portrayed by Alison Brie, is torn between her obligations to faith and her longing for love. Finally, we have Dave Franco's character, who impersonates a hard-of-hearing servant to escape death, adding a new layer to the premise.
This motley crew's antics and their exchanges with each other are a big reason you should watch "The Little Hours." Their unique characteristics and unpredictable actions create moments of hilarity combined with snippets of drama that make the film worthy of continuous revisits.
Setting the Stage: Medieval-Modern Mash-Up

One aspect that further makes "The Little Hours" a treat to watch is its relatable and unconventional setting. Despite being set in a medieval period, the movie dabbles in modern tongue-in-cheek humor that ensures a continuous flow of laughter and makes it more relatable to today's audience. This charming blend of periods is an unusual yet successful attempt by the filmmaker, adding more layers of flavor to this comedic brew.
Continuing Laughter: Sequel Possibility

Watching "The Little Hours" opens fascinating possibilities for a sequel. Its open-ended nature, the well-received performances, and the fluid comedy all call for a continuation of the narrative. Given its success and consistent viewer demands for more, a sequel seems like a potential dessert after a hearty comedic meal.

The Stellar Cast: Power-Packed Performances
"The Little Hours" boasts of an ensemble cast whose performances breathe life into the film, making it stand out. Although we've already talked about the pivotal performances by Alison Brie, Dave Franco, and Aubrey Plaza, other noteworthy actors in the cast contributed to the film's success.
John C. Reilly's Role

John C. Reilly plays the role of Father Tommasso, the well-meaning yet somewhat clueless overseer of the convent. Reilly's comedic timing, combined with his sincere portrayal of Father Tommasso's palpable frustrations and bewilderment, adds a depth of hilarity throughout the movie. His confession scenes stand out, and his genuine affection for the nuns adds a nice counterweight to the overall raucous happenings in the convent.
Nick Offerman's Contribution

Nick Offerman is another gem in the cast, playing the role of a paranoid lord whose humorous suspicion and grievances never fail to amuse. His part may be minor in terms of screen time, but the impression he makes is lasting, thanks to his brilliant and distinctive style of humor. Offerman's performance is a testament to the movie's rich diversity of comedic styles.
Molly Shannon's Portrayal

Molly Shannon, who portrays Sister Marea, the mother superior of the convent, gives a nuanced performance. She brings a certain softness and vulnerability to her character, contrasting with the other, more daring figures in the movie. Her portrayal embodies a subtle otherness that further enhances the film's charm.
Unveiling the Curtains: The Trailer of "The Little Hours"
Capture the Medieval Quirkiness

In "The Little Hours," each character significantly contributes to the narrative's vibrancy, whether they have a prominent role or a minor one. It's not just a film to watch one time; it's a film where each viewing could bring a new perspective or a previously missed laugh. Dive into this medieval world of quirkiness and enjoy the ride "The Little Hours." No matter how often you watch "The Little Hours," it's guaranteed to bring a hearty laugh and a warm connection with its remarkable characters.
Conclusion: Why You Should Watch "The Little Hours"

If you watch "The Little Hours," you will find a delightful blend of romance and comedy set against the backdrop of a fascinating historical period. Its sharp-witted script and expertly crafted performances make it a must-watch for any fan of comedy and romance. The movie is a vibrant and lighthearted exploration of the intricately woven human emotions of love and humor. It's a feast for the senses and a rendezvous with laughter and love you shouldn't miss.
"The Little Hours" is not just a film but an experience that makes you laugh uproariously one moment and warms your heart the next, a testament to its masterful blend of comedy and romance.