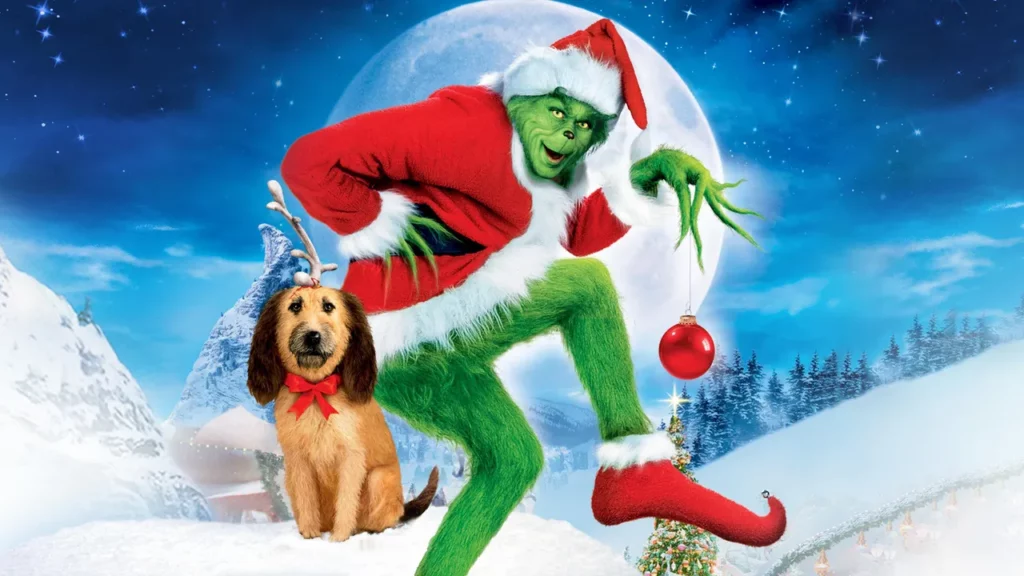 Get ready to step into the whimsical and heartwarming world of "Grinch 2000"! This beloved holiday classic brings to life the timeless story of the grumpy yet endearing Grinch and his quest to steal Christmas. With its delightful characters, captivating animation, and heartfelt message, "Grinch 2000" continues to enchant audiences of all ages. Join us as we explore the magical tale that has become a cherished part of the festive season.
The Grinch is not streaming in your country?
Any of our picks not streaming in your country? ExpressVPN unlocks Reelgood and all of your streaming services, giving you access to all movies and TV shows from around the world. Stream them from anywhere with a 30-day money-back trial from ExpressVPN.
Unblock Streaming with ExpressVPN (3 months free for Reelgood users!)
Connect to a US or UK server via ExpressVPN.
Let ExpressVPN run in the background as you watch all of your movies and TV shows, securely and with no throttling or bandwidth limits.
Grinch 2000 Release Date
"Grinch 2000," also known as "How the Grinch Stole Christmas," was released on November 17, 2000. This live-action film, directed by Ron Howard, brought the iconic Dr. Seuss story to life with Jim Carrey portraying the mischievous and green-furred Grinch. The release date made it a perfect holiday film, as it captured the spirit of Christmas and became a favorite for many during the festive season.
Other Options to Watch Grinch 2000
Streaming Platforms: Check popular streaming platforms like Netflix, Amazon Prime Video, or Hulu to see if "Grinch 2000" is available for streaming. These platforms often have a rotating selection of movies, so it's worth checking if it's currently included in their library.
Rent or Purchase: If "Grinch 2000" is not available for streaming on the aforementioned platforms, you can rent or purchase the movie from digital platforms like Google Play, iTunes, Vudu, or Amazon Video. These platforms usually offer options to rent or buy movies in digital format for convenient viewing.
DIRECTV STREAM: If you have an active subscription to DIRECTV STREAM, you may find "Grinch 2000" available for streaming. Simply log in to your account and search for the movie in their library.
HBO and HBO Max: "Grinch 2000" might be accessible for streaming on HBO or HBO Max. Check these platforms to see if the movie is currently available.
VPN Usage: If you encounter regional restrictions while trying to access "Grinch 2000," you can consider using a Virtual Private Network (VPN). By connecting to a VPN server in the United States, you can potentially bypass such restrictions and gain access to streaming services that offer the movie.
Grinch 2000 Plot
Grinch 2000″ is a heartwarming holiday film based on Dr. Seuss' beloved story "How the Grinch Stole Christmas!" The movie follows the story of the Grinch, a green, grouchy creature who despises the joy and festivities of Christmas. Living high above the cheerful town of Whoville, the Grinch hatches a devious plan to steal Christmas from the unsuspecting Whos.
As the Whos eagerly prepare for their annual Christmas celebrations, the Grinch, disguised as Santa Claus, descends upon Whoville with his loyal canine companion, Max. He sneaks into houses, stealing decorations, presents, and even the feast prepared for Christmas Day. The Whos wake up to find their homes bare, but to their surprise, they do not despair.
Amidst the absence of material possessions, the Grinch realizes that the true meaning of Christmas goes beyond presents and decorations. He witnesses the Whos coming together with love, joy, and a sense of community, celebrating the holiday spirit despite their losses. Touched by this display of humanity, the Grinch undergoes a profound change of heart.
In a moment of redemption, the Grinch returns all the stolen items, embracing the spirit of Christmas and joining the Whos in their festivities. His heart grows three sizes, and he discovers the joy of love and acceptance. The people of Whoville, in turn, embrace the Grinch, accepting him as a part of their community.
Trailer for Grinch 2000
Grinch 2000 Cast
Jim Carrey as the Grinch: A bad-tempered, devious, and misanthropic green-furred creature who despises Christmas and the Whos of Whoville. Jim Carrey's performance brings the iconic character to life, showcasing his comedic talent and unique physicality.
Josh Ryan Evans as the eight-year-old Grinch: Evans portrays the younger version of the Grinch in his final film role before his passing in 2002. His portrayal captures the essence of the Grinch's troubled childhood.
Taylor Momsen as Cindy Lou Who: Momsen portrays the innocent and curious Cindy Lou Who, a six-year-old girl who forms a special connection with the Grinch. Her portrayal adds warmth and sweetness to the story.
Jeffrey Tambor as Mayor Augustus MayWho: Tambor brings Mayor MayWho to life, portraying him as an arrogant and judgmental leader of Whoville. His performance adds comedic elements to the film.
Christine Baranski as Martha May Whovier: Baranski portrays the grown-up Martha May, a love interest for both the Grinch and Mayor MayWho. Her performance showcases Martha's complexity and conflict of emotions.
Landry Allbright as young Martha May Whovier: Allbright portrays the younger version of Martha May, showing her affection for the Grinch and her dislike for bullies.
Bill Irwin as Lou Lou Who: Irwin portrays Cindy Lou's father, adding warmth and humor to the family dynamic.
Molly Shannon as Betty Lou Who: Shannon plays Cindy Lou's mother, bringing her comedic flair to the role.
Anthony Hopkins as the narrator: Hopkins provides the voiceover narration, adding a touch of elegance and wisdom to the storytelling.
The ensemble cast of "Grinch 2000" brings a delightful mix of talent, humor, and heart to the beloved story, creating a memorable and entertaining experience for audiences of all ages.
Grinch 2000 Filming Locations
Universal Studios Hollywood, California, USA: Many indoor sets, including Whoville's streets and houses, were constructed at Universal Studios Hollywood. The studio provided the perfect backdrop for the whimsical and colorful world of the Grinch.
Stage 16, Universal Studios, California, USA: Stage 16 at Universal Studios was used for the production of key scenes, such as the Grinch's cave and the interior of his lair. This vast soundstage allowed for the creation of intricate sets and elaborate practical effects.
Mammoth Mountain, California, USA: The production team ventured to Mammoth Mountain to film the Grinch's daring sleigh ride down a snowy mountain. The picturesque snowy landscapes provided a stunning backdrop for the action-packed sequence.
Los Angeles, California, USA: Various locations in Los Angeles were used to capture additional scenes for the film. These included exterior shots of buildings, streets, and neighborhoods to further bring Whoville to life.
British Columbia, Canada: Some scenes were filmed in British Columbia, Canada, known for its diverse natural landscapes. The production took advantage of the region's scenic beauty to capture outdoor sequences, such as the Grinch's encounter with a snowflake.
Viewer's Reaction to Grinch 2000
Review for Grinch 2000
"The Grinch" (2000) is a delightful and heartwarming film that brings Dr. Seuss' beloved character to life in a visually stunning and entertaining way. Directed by Ron Howard, this live-action adaptation captures the whimsical charm and timeless message of the original story, making it a holiday classic that continues to captivate audiences of all ages.
FAQs
Is "Grinch 2000" suitable for children?
"Grinch 2000" is generally considered family-friendly, but some younger children might find certain scenes or the Grinch's initially misanthropic behavior a bit intense. It's always recommended to check the film's rating and content before watching with young children.
What makes "Grinch 2000" different from the original 1966 animated TV special?
"Grinch 2000" is a live-action adaptation with elaborate sets, visual effects, and Jim Carrey's comedic performance as the Grinch. It expands on the story, delving deeper into the Grinch's background and motivations, while still staying true to the spirit of Dr. Seuss' original creation.
Is it worth watching?
"Grinch 2000" is worth watching for several reasons. First and foremost, it brings Dr. Seuss' beloved holiday tale, "How the Grinch Stole Christmas!" to life in a visually stunning and imaginative way. The film captures the whimsical and magical essence of the original story, transporting viewers to the colorful world of Whoville.
Jim Carrey's performance as the Grinch is a major highlight of the film. He fully embraces the character's mischievousness, wit, and ultimately, his transformation. Carrey's physicality and comedic timing bring a unique energy to the role, making the Grinch both funny and relatable.
The film's production design is impressive, with intricate sets and vibrant costumes that beautifully recreate the charming world of Whoville. The attention to detail in every frame adds to the immersive experience and enhances the festive atmosphere.
Enhance your streaming experience with this comprehensive guide:
Begin by downloading and installing reputable VPN software on your device. For optimal performance, we recommend ExpressVPN.
Open the VPN application and log in using your credentials.
Connect to a server location where "Grinch 2000" is available for streaming.
Visit the streaming platform hosting "Grinch 2000" once you're connected.
Ensure that you have an active subscription or rental option for the film.
Use the platform's search bar to look for "Grinch 2000."
Click on the movie's title to embark on the thrilling adventure of Grinch 2000.
For a secure and reliable streaming experience, it is highly advisable to utilize trusted VPN software. ExpressVPN is a top-notch option that not only ensures your online privacy but also helps you bypass geographic restrictions, allowing for uninterrupted streaming of your favorite content.