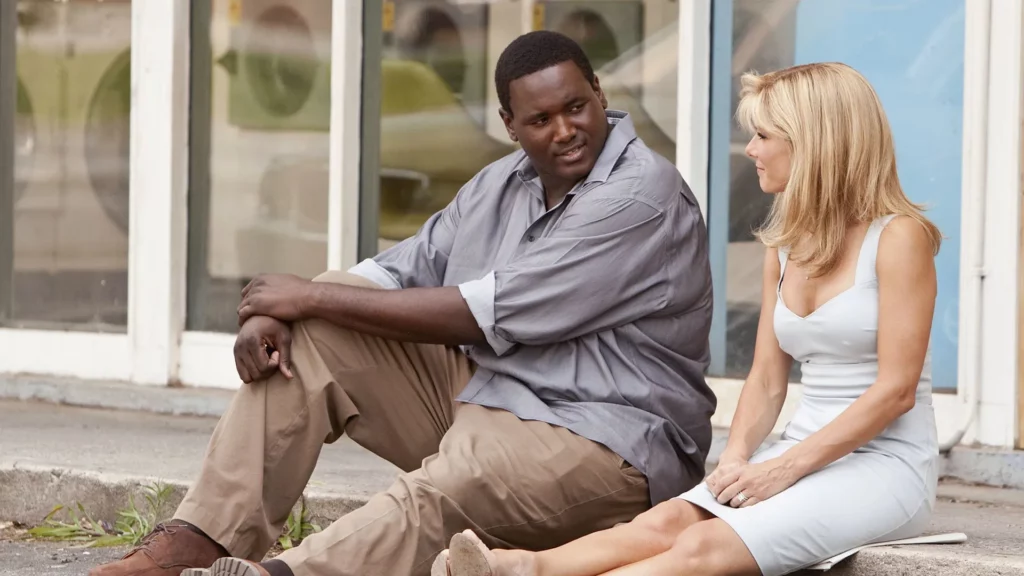 "The Blind Side" is an emotional rollercoaster that encompasses drama, love, and unexpected humor in ways that defy conventions. This heartwarming movie is an absolute must-watch for lovers of drama and romance mixed with a sprinkle of sports. It leaves you with a deep sense of enlightenment and a profound perspective on the meaning and power of love, family, and human compassion.
The Blind Side is not streaming in your country?
Any of our picks not streaming in your country? ExpressVPN unlocks Reelgood and all of your streaming services, giving you access to all movies and TV shows from around the world. Stream them from anywhere with a 30-day money-back trial from ExpressVPN.
Unblock Streaming with ExpressVPN (3 months free for Reelgood users!)
Connect to a US or UK server via ExpressVPN.
Let ExpressVPN run in the background as you watch all of your movies and TV shows, securely and with no throttling or bandwidth limits.
A Shattering Start
As you watch "The Blind Side," you are introduced to Michael Oher (Quinton Aaron), a homeless African-American teenager from a broken home. Oher's upbringing is sad and heartbreaking, showcasing the effects of a society divided by racial prejudice and economic disparity. Despite his unfortunate situation, the boy has an abnormally high protective instinct, which soon captures the attention of Leigh Anne Tuohy (Sandra Bullock), a headstrong southern woman.
An Unexpected Intersection of Lives
Leigh Anne's encounter with Michael is unexpected and moving. He was wandering the cold streets alone, and she couldn't bear to let him spend the night in the cold. In a turning point that will alter both their lives forever, Leigh Anne invites Michael into her home. As you continue to watch "The Blind Side," you start perceiving Leigh Anne and Michael's emerging bond and love, solidifying this film as an atypical but deeply touching drama romance.
Embracing Compassion and Love
What can easily be dismissed as a charity case quickly morphs into a profound connection between Leigh Anne and Michael. As you watch "The Blind Side," you become absorbed in this woman's compassion, humanity, and love for a stranger, utterly devoid of racial prejudice. Despite all the societal norms and racial boundaries, Leigh Anne's unhesitating acceptance and love for Michael illustrate the power of empathy and compassion in our divided world.
Transcendence Through Love
Leigh Anne's deep affection toward Michael ruptures the barriers within her social circle. Bullock delivers one of her finest performances, exuding a strong will and demonstrating the strength it takes to break away from societal norms. The life lessons she imparts to Michael are not just for his benefit but are being absorbed and taken to heart by the audience. The experience transforms Michael, proving that love can indeed change lives.
Lessons Carved in Heart
As you continue to watch "The Blind Side," it inspires you with many significant life lessons. The balance of humor, drama, and romance, combined with powerful performances, allows viewers to comprehend the deeper messages inherently embedded within the film.
Let's Talk Drama- The Performance
The performances in "The Blind Side" are striking. Sandra Bullock delivers an Oscar-winning portrayal of Leigh Anne Tuohy, while Quinton Aaron powerfully embodies the role of Michael Oher. The emotional depth and raw talent evident in their performances bring the narrative to life with a captivating authenticity.
The Melting Pot of Drama and Romance
While "The Blind Side" is essentially a sports film, it easily crosses into the drama-romance genre with its impactful narrative. The heartwarming relationship between Leigh Anne and Michael is beautifully portrayed, revealing the depth of human empathy and the spirit of love.
Uncovering the Layers: Delving Deeper into "The Blind Side"
"The Blind Side" is based on the true story of Michael Oher—a formerly homeless teenager whose life drastically changes when Leigh Anne Tuohy and her family take him in. The Tuohys not only provide Michael with a place to sleep, but they also offer him a transformative environment that ultimately helps him utilize his potential.
A Journey of Transformation 
As you watch "The Blind Side," you witness how Michael goes from being an academically underperforming student to becoming a successful football player, ultimately playing for the National Football League (NFL). This inspiring journey is beautifully portrayed in the film and serves as a testament to the sheer power of opportunities and the right guidance.
Eyes on the Mother-Son Bond: A Dramatic Turn
As you continue to watch "The Blind Side," you can't help but fall in love with the strong mother-son bond that develops between Leigh Anne and Michael. Bullock, in her Academy Award-winning performance, personifies the multidimensional character of Leigh Anne – warm, tough, assertive, and loving.
This strong bond transcends the conventional norms, and with its genuine warmth and compelling dynamics, it gives the movie its heart. This movie doesn't just trace the incredible journey of an individual. Still, it also highlights the story of a family that dares to cross social, racial, and class boundaries to uncover the power of unconditional love.
Experience the Journey: The Trailer of "The Blind Side"
"The Blind Side" – The Story Beyond the Movie 
There's a powerful story that goes beyond what meets the eye when you watch "The Blind Side." It gives the audience much-needed insight into the social disparity and racial prejudice that exist in society. It's a hard-hitting revelation that unveils how love can break free from these chains, transcending color, class, and background.
In addition to the main cast of "The Blind Side," several other actors played critical roles that contributed to the overall impact and authenticity of the film. These supporting actors added layers to the narrative and helped enhance the story's emotional depth and significance.
Kathy Bates as Miss Sue: Kathy Bates, an established and highly regarded actress, played the role of Miss Sue, Michael's tutor, with unmissable dedication. Bates, a seasoned performer known for her varied work in film, television, and on stage, immersed herself in the portrayal of Miss Sue, a woman's character pivotal in the development of Michael's academic journey. 
Ray McKinnon as Coach Cotton: Ray McKinnon, a versatile actor and filmmaker, brought to life Coach Cotton, the head coach at Wingate. Known for his intensity and deep knowledge of his acting craft, McKinnon's portrayal of Coach Cotton contributed a significant subplot to the film, adding another level of interest to Michael's journey.
Adriane Lenox as Denise Oher: Adriane Lenox, a Tony Award-winning actress, portrayed Denise Oher, Michael's biological mother. Though her role was brief, her emotionally charged performance added weight and depth to the narrative.
Kim Dickens as Mrs. Boswell: Accomplished actress Kim Dickens played Mrs. Boswell, Michael's teacher at Wingate. Dickens, known for her performances in several critically acclaimed films and TV series, added a distinct presence on screen through a noteworthy portrayal of Mrs. Boswell.
Having such a versatile and accomplished cast like "The Blind Side" helped to create an authentic array of characters that added profound depth and complexity to the film. From the main roles to the supporting cast, each actor played their part with dedication and finesse, instilling life and authenticity into the characters, making this movie a true icon of its genre. Whether you're revisiting this classic or preparing to watch "The Blind Side" for the first time, the splendid performances of the entire cast leave an indelible mark beyond the screen.
Conclusion: An Unforgettable Journey
"The Blind Side" presents a compelling blend of reality and cinema, leaving viewers grappling with various emotions. When you watch "The Blind Side," you watch an awe-inspiring journey of transformation, of a life changed by a chance encounter. Its unforgettable tale serves as a real-life testament to the power of kindness, love, and the amazing things that can come from stepping outside your comfort zone, embracing the unknown, and offering a helping hand without expecting anything in return.
As you set out to watch "The Blind Side," prepare yourself for a rollercoaster of emotions. Love, drama, and a sprinkling of humor await you in this truly impressive film that effectively conveys the undeniable power of love and altruism. This balance of romance and drama in a sports film gives the story an appealing charm for viewers across genres and backgrounds.
"The Blind Side" is not just a movie; it's a life-altering experience that resonates with positivity and hope, proving that regardless of where we come from, love and compassion can conquer all. Immerse yourself in this captivating narrative and rediscover the essence of humanity enclosed delicately within the world of sports.