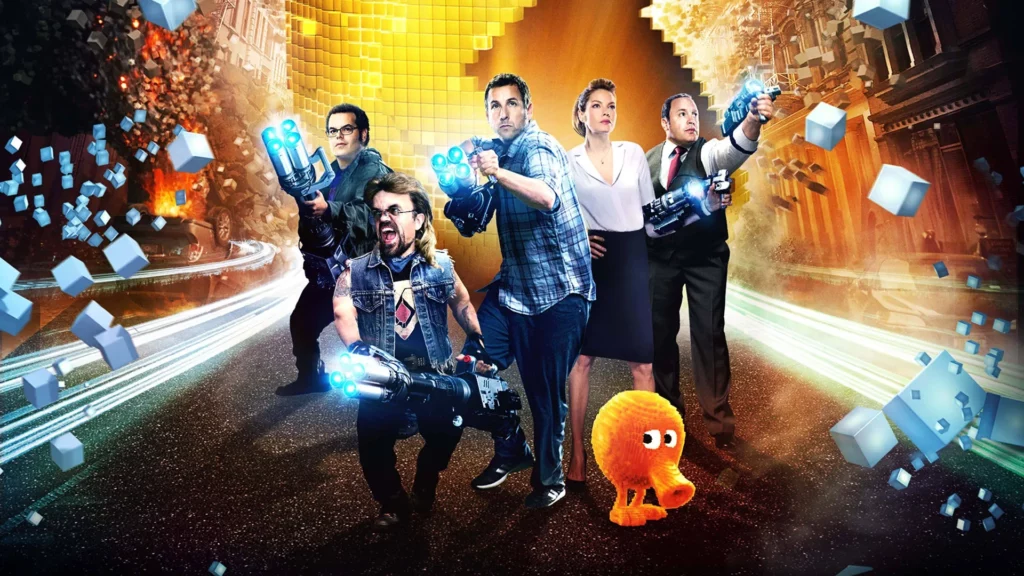 Pixels (2015) is a breath of fresh air for every video game enthusiast who has spent countless hours in their childhood immersed in the arcade gaming culture. This multimedia extravaganza is more than just a comedy or a casual watch. It's an homage to the games that pioneered the digital world and built the foundations for the video game industry as we know it today. 
Pixels is not streaming in your country?
Any of our picks not streaming in your country? ExpressVPN unlocks Reelgood and all of your streaming services, giving you access to all movies and TV shows from around the world. Stream them from anywhere with a 30-day money-back trial from ExpressVPN.
Unblock Streaming with ExpressVPN (3 months free for Reelgood users!)
Connect to a US or UK server via ExpressVPN.
Let ExpressVPN run in the background as you watch all of your movies and TV shows, securely and with no throttling or bandwidth limits.
Revitalizing Nostalgia with Pixels (2015)
Humor, action, and games- one common thread weaves these disparate elements together in the compelling narrative of Pixels (2015) – nostalgia. Veiling the movie in layers of arcade game culture familiar to an entire generation, Pixels (2015) doesn't just evoke a walk down memory lane. Still, it captures the essence of '80s-era through the simple joy of gaming.
Classic Games Given New Life: Pixels (2015)
Manifesting popular old-school video games as the face of an extraterrestrial invasion, Pixels (2015) ingeniously brings to life the games that once regaled millions on mere desktop screens. Games such as Pac-Man, Centipede, Space Invader, and Donkey Kong leap out of their 8-bit world and stride across Manhattan in colossal proportions, compelling viewers to watch Pixels (2015) to grasp the scope of this larger-than-life adaptation.
The Concept: Transcending the Bounds of Reality
Directed by Chris Columbus and starring various talents such as Adam Sandler, Kevin James, and Peter Dinklage, Pixels offers a unique twist and refreshing story by amalgamating elements from old-school video games and blending them into the contemporary world. The premise is quite interesting – alien lifeforms misinterpret video feeds of classic arcade games as a declaration of war against them and decide to dispatch these games to launch an invasion on Earth.
Fine-Tuning the Subtleties: Underscoring Charismatic Characters in Pixels (2015)
Characters in Pixels are not just caricatures but individuals with distinct quirks and stories. Adam Sandler and Kevin James live up to their reputation of creating comic timing. At the same time, Peter Dinklage enhances the narrative consistency of Pixels (2015) through his character Eddie's rivalry with Sandler's Brenner. Watching Pixels (2015), viewers can see past the gaming premise to empathize with these relatable characters.
The Players: navigating through different shades of character
Adam Sandler's character, Sam Brenner, is a former "video game champion" who is now a home theater installer. He delivers a performance that showcases his comedic abilities well, and his character paints the image of the underdog who must rise to the occasion.
President Cooper, played by Kevin James, is a childhood friend of Brenner and adds a political dimension to the storyline of being a uniquely non-stereotypical "everyman" president. 
Peter Dinklage plays Eddie Plant, Brenner's childhood gaming rival and antagonist. His over-the-top portrayal adds a layer of dramatic tension and comedy to the narrative.
Game Combat Scenes: Heart-Thumping Digital Showdown
Among the strengths of Pixels is its visual spectacles with creatively designed combat scenes, including battles against giant versions of classic video game characters like Centipede, Galaga, and Donkey Kong. The 3D effect, coupled with an immersive digital sound take, took moviegoers right back to the '80s, the golden age of arcade games.
Impact and Reception: A Dive into the Pixelated World
Pixels creates an engaging visual spectacle that aims to entertain and evoke nostalgia with its high-octane, action-packed storyline. While it received mixed reviews, it appealed to audiences willing to sit back, relax, and enjoy a humorous and visually thrilling ride.
Many applauded the incorporation of arcade video-game aesthetics rendered in 3D, the creative array of video game characters, the visual effects, and the comic genius of Adam Sandler and Kevin James.
Critics Corner: Deconstructing Pixels
Despite the unique concept and interesting packaging, Pixels did receive mixed reviews from the critics due to its somewhat simplistic plot and focus on visual spectacle over character development. Some critics also noted the over-reliance on nostalgia or an often juvenile sense of humor that might have been at odds with the more mature themes.
While the protagonists' arcs were not as emotionally satisfying as they could have been, Pixels remains a visual spectacle that captivates audiences with its seamless blend of live-action and CGI.
Closing the Rift: Pixels (2015) and Critical Reception
While Pixels (2015) earned several plaudits for its unique concept, the movie also faced its fair share of criticism. Predominantly centered around its humor and narrative, the critiques nevertheless do not deter the fact that the movie offers a memorable visual spectacle. To truly form an opinion, watching Pixels (2015) and experiencing the retro game-based extravaganza firsthand is crucial.
Ultimately, through its highs and lows, Pixels (2015) stands tall as a nostalgic celebration of arcade games, acknowledging their timeless impact and inviting audiences worldwide to watch Pixels (2015) to relive the legendary era of gaming.
Unveiling the Cinematic Extravaganza: An Analysis of the Pixels (2015) Trailer
Concluding Thoughts: The Legacy of Pixels
Despite the criticism, Pixels has left a lasting impression through its innovative fusion of the digital gaming universe with the real world. While it sought to offer heaps of nostalgia to the '80s video-gaming fans, it also reached out to younger audiences by highlighting the essence of video games as universal, timeless entertainment.
The movie reminds audiences of the real magic of classic video games that transcend generations. Pixel is an example of how video games can be creatively portrayed in the film, examining the impact and growth of the gaming industry over the years. This 2015 endeavor stays true to its mantra – "The world needs heroes, and gamers stand tall."