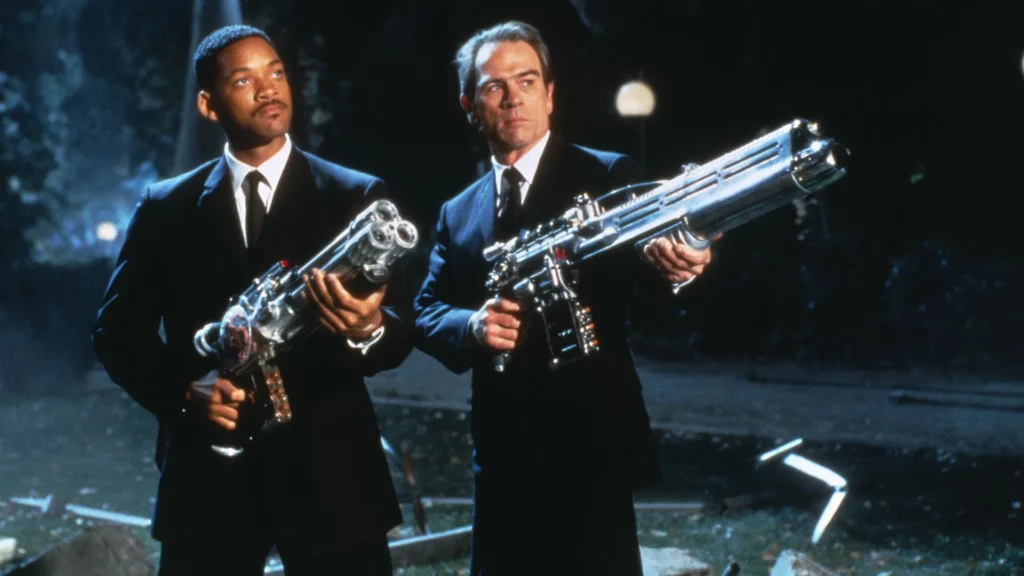 The world of cinema is truly a wonder; it offers an array of genres, each poignant, capable of leaving the audience on the edge, exploring a new dimension, or simply evoking hearty laughter. If you appreciate the melange of Action, Adventure, and Comedy, you must watch Men in Black. Combining the thrill of science fiction with the appealing comedic interludes and action, this iconic film is an absolute must-watch.
Men in Black is not streaming in your country?
Any of our picks not streaming in your country? ExpressVPN unlocks Reelgood and all of your streaming services, giving you access to all movies and TV shows from around the world. Stream them from anywhere with a 30-day money-back trial from ExpressVPN.
Unblock Streaming with ExpressVPN (3 months free for Reelgood users!)
Connect to a US or UK server via ExpressVPN.
Let ExpressVPN run in the background as you watch all of your movies and TV shows, securely and with no throttling or bandwidth limits.
An Overview of 'Men in Black
'Men in Black' unfolds the story of a secret agency committed to monitoring extraterrestrial activities across the globe. The narrative commences when the seasoned agent, K, recruits the erstwhile NYPD detective, James Edwards, onto their team, transforming him into the rookie Agent J, setting the course for many enthralling incidents.
First released in 1997, 'Men in Black' was such a hit that its universe has expanded over four sequels and even inspired an animated television series. It became the benchmark for action-adventure comedies and managed to maintain the quality of humor, intensity, and interest level throughout its sequel releases.
The Powerhouse of Talent
The phenomenal success of 'Men in Black' can be traced back to its star-studded cast. Leading the forefront, we have Will Smith as Agent J and Tommy Lee Jones as his partner, Agent K. The chemistry between the two is electrifying, keeping the audience engaged with their quick wit and perfectly-timed humor. Rip Torn's portrayal of Zed, the head of the MIB agency, is noteworthy for its commendable performance.
The Ingenious Blend – Comedy Meets Action & Adventure
'Men in Black' masterfully blends three genres – action, adventure, and comedy. The action sequences are well-executed and thrilling, embracing the unpredictability of extraterrestrial encounters without straying from reality. The adventure aspect keeps the viewers engrossed and hooked to the narrative as they explore the exciting, unknown world of aliens among humans.
But the comedic undertone truly sets 'Men in Black' apart. The humor isn't forced or slipped into the dialogues; instead, it's carefully woven into the storyline. The hilarious interactions, unexpected comic events in the middle of a high-octane chase sequence, or funny dialogues during an intense scene enlighten the mood and make the movie enjoyable.
The Action-Packed Special Effects
'Men in Black' gives a commendable nod to Sci-Fi by leveraging the power of special effects. Despite being a film from 1997, it doesn't fall short when impressing viewers with CGI. The depiction of various extraterrestrial creatures, the action sequences, and the technology used by the MIB agents are impressive, even by today's standards.
Trivia About 'Men in Black
To further appreciate the film universe that 'Men in Black offers, here are some intriguing facts and trivia that might encourage you to watch Men in Black one more time.
Casting Choices
Clint Eastwood, Bill Murray, and Chris O'Donnell were all considered for Agents K and J roles before eventually landing on the perfect pair of Will Smith and Tommy Lee Jones. Imagine watching 'Men in Black' with a different duo, which would have resulted in an entirely different chemistry.
A Familiar Voice
The worm guy's voice is that of a well-known individual. It's the voice of DJ Jazzy Jeff, who was Will Smith's partner in his early hip-hop career and co-star on 'The Fresh Prince of Bel-Air.'
A Gentle Reminder
A simple trivia fact: The 'Men in Black' never blink throughout the films, a subtle nod to the idea that they are constantly watching.
A Real Comic Character
Interestingly, 'Men in Black' has its roots in a comic book. It was based on a comic series titled 'The Men in Black' by Lowell Cunningham. Are you curious to contrast those comic storylines and characters with the ones in the film? Then it's high time to watch Men In Black again.
A Closer Look at the Star-studded Cast of 'Men in Black
To truly appreciate the magic of 'Men in Black,' it is crucial to recognize the talent that brought it to life. The film's cast not only comprised established stars but also helped launch some notable names into the limelight.
Will Smith, as Agent J
Will Smith, the charismatic powerhouse of talent, brings the character of Agent J to life. Smith, already popular from his earlier television work on 'The Fresh Prince of Bel-Air,' used 'Men in Black' to cement his place in Hollywood's A-listers club. His natural flair for comedy blended perfectly with his action sequences. Smith's engaging and natural performance has kept audiences coming back to watch Men in Black time and again.
Tommy Lee Jones as Agent K
Tommy Lee Jones brilliantly portrayed the role of the stoic and stern veteran Agent K. Known for his intense and dramatic roles; Jones showed his versatility by impeccably handling the movie's comedic element without losing his character's essence. His tight-lipped, deadpan humor perfectly countered Smith's gregarious energy, making the duo unforgettable.
Rip Torn as Zed
As Zed, the head of the MIB agency, Rip Torn, offered a memorable performance that added depth to the plot. His character was the guiding force for Agents J and K in their missions. Torn's extensive film and television experience allowed him to deliver a commanding performance, creating a distinct impression.
Linda Fiorentino as Dr. Laurel Weaver
Dr. Laurel Weaver, introduced in the first installment of the series, is portrayed by Linda Fiorentino. As an accomplished actress, Fiorentino crafted a no-nonsense character whose straightforward nature and compassion added another layer to the storyline.
Vincent D'Onofrio as Edgar
D'Onofrio, with his unique antagonist role as Edgar, makes an unforgettable appearance in 'Men in Black.' His nuanced performance as an alien bug in a human skin made for some of the film's most thrilling and dramatic moments.
Each actor's contribution to 'Men in Black' establishes the movie as a classic in its genre. The interplay between characters, the seamless blend of comedy with sci-fi action, and the iconic performances make it a must-watch film for fans of all ages.
The Power Of Roaches
Remember the horrible roach scene? Yes, the one that gives you shivers! Believe it or not, the crunching cockroaches scene used real candies instead of actual cockroaches to respect animal rights and safety.
Conclusion –' Men in Black: A Journey to Embark On
Behind every successful film, there's an intriguing world of facts and trivia, adding charm and depth. 'Men in Black' is no exception. Dive into this intriguing universe, laugh at the witty exchanges, gasp at the thrilling moments, and explore some alien adventures. So, think no more; grab some popcorn, invite your friends, and watch Men in Black to plunge into a cinematic experience that is truly out of this world!
To summarize, 'Men in Black' is no ordinary Action & Adventure Comedy movie. It's a unique cinematic experience, a roller coaster of emotions filled with laughter, anticipation, and thrill. Every moment, every sequence, and every character contribute to its uniqueness. So, the next time you settle down to explore the cinema's exceptional genres, remember to watch Men in Black. It will undoubtedly leave you craving more alien-chasing adventures, thrilling moments, and more laughter. 
In the grand aura of cinema, 'Men in Black' has made its mark. And one can safely assert its charm isn't fading away anytime soon.