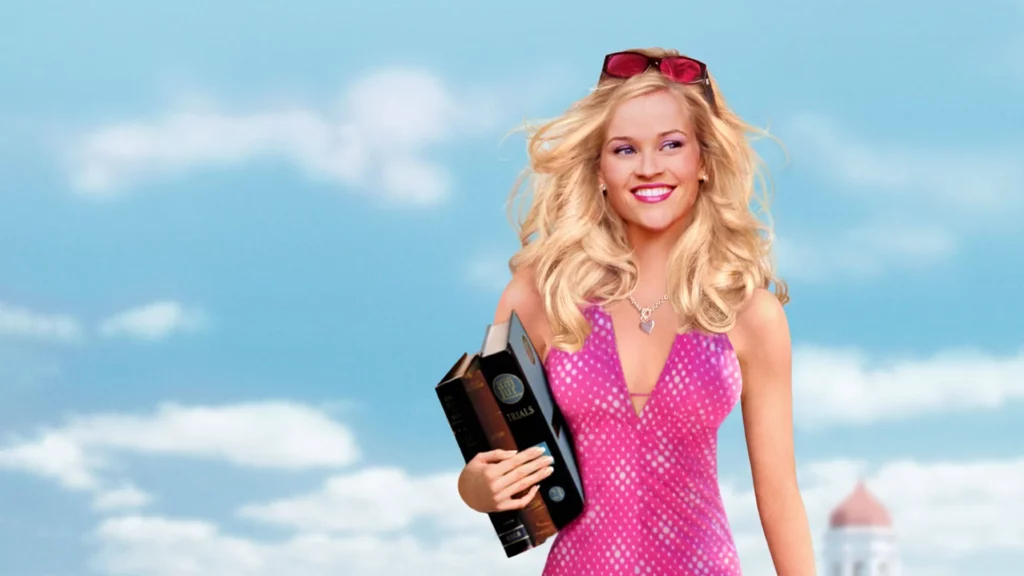 From the moment it first hit the big screens in 2001, "Legally Blonde" has consistently bewitched and entertained audiences with its unique humor, engaging storytelling, and irresistible charm. Let's embark on an exploration of this iconic comedy, discuss why it's a must-watch, and explore the laughter-filled journey it offers.
Legally Blonde is not streaming in your country?
Any of our picks not streaming in your country? ExpressVPN unlocks Reelgood and all of your streaming services, giving you access to all movies and TV shows from around the world. Stream them from anywhere with a 30-day money-back trial from ExpressVPN.
Unblock Streaming with ExpressVPN (3 months free for Reelgood users!)
Connect to a US or UK server via ExpressVPN.
Let ExpressVPN run in the background as you watch all of your movies and TV shows, securely and with no throttling or bandwidth limits.
A Sparkling Synopsis
"Legally Blonde" is the story of Elle Woods, an inherently sympathetic character who is much more than just pretty-in-pink. Elle is a seemingly ditzy sorority queen who gets dumped by her boyfriend, Warner, for someone he deems more "serious" in his pursuit to become a successful lawyer. Undeterred by his harsh words, Elle makes her way to Harvard Law School to win him back, proving to everyone, including herself, the depth of her potential and the magnitude of her determination.
The University Life
The movie portrays university life humorously, giving audiences plenty of reasons to chuckle. The scene where Elle shows up to a prestigious Harvard party in a bunny costume while everyone else is in formal attire highlights the stark contrast between her and her peers. It also presents a brilliant picture of the cultural shocks Elle encounters while adjusting to the law school environment.
Charming Characters
Elle Woods, played excellently by Reese Witherspoon, turns out to be appealingly dynamic, powerful, and involved while keeping up her signature charm. Her flamboyant fashion, her adorable pet Chihuahua, Bruiser, and her authentic friendships with quirky manicurist Paulette, played by Jennifer Coolidge, and fellow law student Emmett, played by Luke Wilson, infuse the movie with an additional layer of affability that draws in viewers.
Tackling Stereotypes with Laughter
One of the standout elements of "Legally Blonde" is its ability to break stereotypes while keeping spirits high. Even if you're not a big fan of comedy movies, you may still want to watch Legally Blonde for this reason. It elicits laughter while initiating thoughts about society's preconceived notions about femininity, blonde stereotypes, and intelligence. Elle's prime weapon against adversity is her unwavering positivity, which enables her to break down barriers and redefine the blonde stereotype in refreshing ways.
Unforgettable Comic Bits
An unforgettable aspect – the arsenal of jokes that "Legally Blonde" comes with – is another strong reason to watch it. The hilarious "bend and snap" moment, Paulette's unyielding crush on the UPS delivery man, and Vivian's transformation from arch-nemesis to an ally are all moments of comic genius interspersed delicately throughout the movie's narrative.
The Compassionate Courtroom
The most notorious scene in the movie is arguably the courtroom scene where Woods defends a fellow sorority sister accused of murdering her husband. Throughout Elle's unconventional, hilarious defense, viewers are reminded that although she hasn't abided by the lawyer stereotype, her unique perspective and personal knowledge proved crucial for the case. It's another moment when laughter intertwines with an invaluable lesson.
Going Beyond the Laughter
While its primary genre is comedy, "Legally Blonde" operates on multiple layers. It explores the journey of self-discovery, incorporates elements of romance, and offers viewers a nuanced drama without missing a beat on its comedic rhythm. It would help if you watched "Legally Blonde" to appreciate its wealth of genre-hopping truly.
Elle's Emotional Arc
It is essential to discuss how Elle deals with rejection and emerges stronger in the process. After getting dumped by Warner, Elle is driven by revenge to get back at him. However, immersing herself in her law studies, she discovers different facets of her personality. She transforms from a seemingly materialistic girl to a woman, acknowledging her intelligence, thus creating a vibrant emotional arc.
The Transformation Narrative
The transformation journey captured in "Legally Blonde" is physical and psychological. The focus is not just on Elle's external changes but also delves into her internal journey, further enriching the narrative. This transformation blueprint can be an inspiring narrative to audiences, given that everyone has the potential to evolve beyond what they initially seem to be.
The Subtlety of Romance
Amid dynamic court scenes and pulsating university life, the film gently introduces a love story between Elle and Emmett. It's a perfect example of how a subtle, slow-burning romance can add depth to a comedy movie without overshadowing its core premise. You'll realize this when you watch "Legally Blonde," appreciating the art of seamless narrative weaving it showcases.
The Unabashed Feminism
The movie bravely addresses sexism, portraying Elle as a strong, confident woman who refuses to be defined or limited by societal stereotypes. She shows that having a high sense of fashion sometimes makes her less intelligent or capable.
Exploring the Hysterical Charm: The Trailer of "Legally Blonde"
Delving Into the Stellar Cast of "Legally Blonde"
The Resilient Reese Witherspoon
The leading lady, Reese Witherspoon, who brings to life the charming character of Elle Woods, is the linchpin of the entire film. Witherspoon, already known for her diverse roles in movies like "Election" and "Cruel Intentions," turned Elle into a cultural icon. She has since stamped her mark on Hollywood as an actress and producer, with significant projects like "Big Little Lies" and "The Morning Show."
The Versatile Luke Wilson
Luke Wilson, who plays Emmett Richmond, the love interest of Elle and her biggest supporter in the movie, already had a notable acting career before "Legally Blonde." Known for his roles in "Rushmore" and "The Royal Tenenbaums," Wilson proved his versatility in this film. Emmett's character offers a grounded, calm energy that perfectly complements Elle's exuberant persona.
Jennifer Coolidge – The Queen of Comedy
Jennifer Coolidge, also fondly called Stifler's mom due to her infamous role in the "American Pie" series, is another standout in "Legally Blonde." With her distinct comic timing and inherently likable demeanor, she delivers a memorable performance as Paulette Bonafonté, the hilariously endearing salon owner and Elle's friend.
The Stern Selma Blair
Selma Blair played the part of Vivian Kensington, initially Elle's rival as Warner's new girlfriend and later her ally. Blair, best known for her performances in "Cruel Intentions" and "Hellboy," does a fantastic job showcasing Vivian's development from a cold and snobbish character to an understanding and supportive friend.
The Dashing Matthew Davis
Matthew Davis, well-known for his roles in "The Vampire Diaries" and "Cult," played Warner Huntington III, the ambitious law student and Elle's ex-boyfriend. His portrayal of a somewhat shallow and opportunistic character contributes significantly to Elle's motivation to push her boundaries and redefine herself.
Featured Cameos
Raquel Welch and Linda Cardellini leave their mark with their small yet impactful cameo appearances. Welch, the international sex symbol of the '60s and '70s known for her roles in "One Million Years B.C.B.C." and "Fantastic Voyage," plays the role of Mrs. Windham-Vandermark, the accused's stepdaughter. Linda Cardellini, recognized for her performance in "Freaks and Geeks" and "E.R.," plays the role of the quirky and mysterious pool girl, Chutney.
Conclusion: The enduring appeal of "Legally Blonde.
"Legally Blonde" isn't just about Elle Woods's transformation; it's about her revealing to a rigid, discerning world that she can play by different rules and still emerge victorious. So, next time you're in the mood for a comedy movie, watch Legally Blonde for a feel-good story combined with high-wattage humor. Two decades after its release, the film's timeless message – to be genuine, to believe in yourself, and to let no one else define you – continues to resonate with audiences everywhere, turning first-time viewers into lifelong fans.
In the end, this unique marriage of comedy, romantic subtleties, in-depth character arcs, and unapologetic feminism is what makes "Legally Blonde" an enduring classic. To truly understand the multifaceted appeal of this film, you must watch "Legally Blonde." Wrapped in laughter and fun, it carries an inspiring message about self-discovery, determination, and the courage to defy stereotypes. The movie's ultimately underlying message is one that everyone needs to hear – be unabashedly yourself, and success will come.