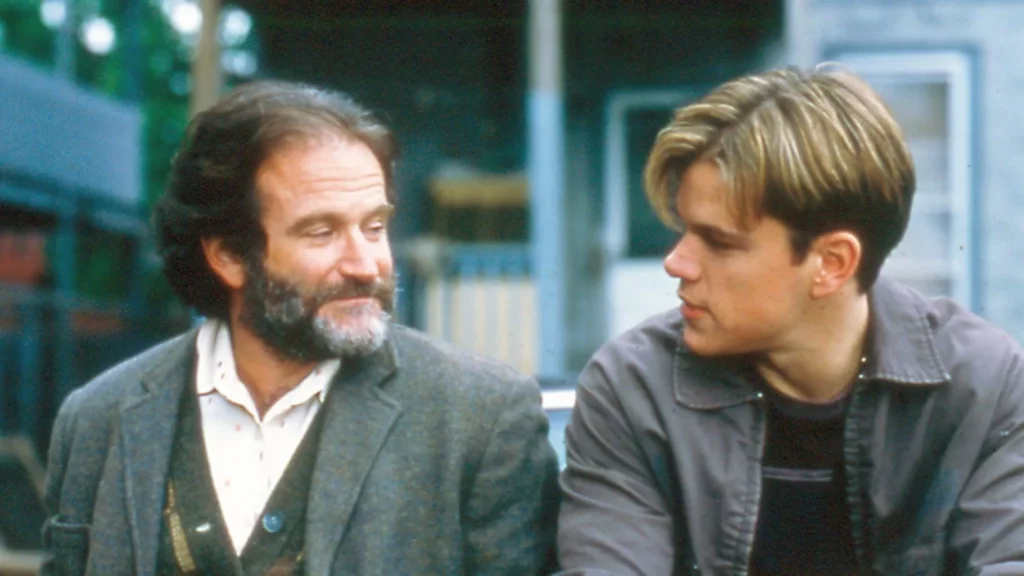 How often do we come across a film that entertains and stirs deeper reflections about life? Rarely. Then, a masterpiece like "Good Will Hunting" captures a convoluted mix of emotions, love, intellect, and drama centered around a young janitor at MIT. So, why should you watch Good Will Hunting? Read below to find out.
Good Will Hunting is not streaming in your country?
Any of our picks not streaming in your country? ExpressVPN unlocks Reelgood and all of your streaming services, giving you access to all movies and TV shows from around the world. Stream them from anywhere with a 30-day money-back trial from ExpressVPN.
Unblock Streaming with ExpressVPN (3 months free for Reelgood users!)
Connect to a US or UK server via ExpressVPN.
Let ExpressVPN run in the background as you watch all of your movies and TV shows, securely and with no throttling or bandwidth limits.
The Magic of Storytelling
"Good Will Hunting," directed by Gus Van Sant and penned by Matt Damon and Ben Affleck, breathes life into cinematic storytelling. It courses through the fascinating journey of Will Hunting, a janitor at the elite Massachusetts Institute of Technology (MIT). Will, a self-taught genius, veers away from a life of obscurity when he solves a complex mathematical problem that even MIT graduates grapple with. The following events take the viewers on a heartfelt journey of Will's life as he grapples with his past and future.
Incredible Portrayal of Characters
Watching Good Will Hunting is an opportunity to witness some of cinema's finest performances. Matt Damon portrays Will Hunting in a complex yet incredibly authentic manner. His character is a beautiful juxtaposition of a troubled past and an extremely bright mind. Damon smoothly transitions between various hues of his character, giving viewers a nuanced and intricate portrayal.
Similarly, as the empathetic psychologist Sean Maguire, Robin Williams is nothing short of brilliance. The bond he forms with Will, beautifully seasoned with sarcasm, wit, and compassion, forms the film's crux. Through their interactions, we peer into Will's tormented past and witness his path to self-discovery.
The Screenplay and Dialogue
The dialogue and screenplay of Good Will Hunting are indeed its crowning glory. The script effortlessly combines humor, emotion, and intellect. The dialogues contribute to shaping the characters and impart profound messages about life, love, and the pursuit of happiness.
Examining 'Will Hunting'
Much of the film's appeal originates from its main character, Will Hunting. Will's character is layered and powerful, undoubtedly making one want to watch Good Will Hunting. His struggle with accepting his genius and dealing with his traumatic past render his character relatable and endearing in a very human way. The exploration of Will's character also provides a deep insight into our insecurities and fears, making us reflect on our choices.
Striking Balancing Act
What sets Good Will Hunting apart is its incredible balancing act. On one hand, it examines complex themes of acceptance, identity, and love, while on the other, it maintains a light-hearted, humorous undertone. This balance is a significant reason why when you watch Good Will Hunting, it stays with you long after you've seen it.
Cinematic Techniques & Score
The film uses its cinematography and score subtlety to enhance the viewing experience. The camera work is simple yet captivating. The music seamlessly aligns with the narrative, building the mood and heightening emotional moments. The original score by Danny Elfman particularly stands out, enveloping the film in an emotional and thought-provoking aura.
Exciting Trivia about Good Will Hunting
A Homegrown Script:
A fascinating trivia fact about Good Will Hunting is that it was written by its lead actors, Matt Damon and Ben Affleck. This was their passion project, which they began scripting while roommates were in college. As an attempt to kickstart their acting careers, the script grew to become a significant cultural phenomenon, winning them an Oscar for Best Original Screenplay.
Initial Script Surprises:
The initial script of Good Will Hunting had a substantially different storyline. It involved the government attempting to use Will's mathematical abilities for cryptography. However, Rob Reiner, director of "Stand By Me," suggested focusing on relationships, changing the movie's course to emerge as the emotional and intellectual exploration it is known for.
Thanking the Masters:
When Matt Damon and Ben Affleck won their Oscar for Best Original Screenplay, the duo thanked a series of industry heavyweights in their acceptance speech, mentioning names such as Martin Brest and Kevin Smith. Interestingly, they also thanked a "Mr. Rob Reiner," underpinning his influence in shaping the narrative of Good Will Hunting.
Unscripted Brilliance:
The iconic "I had to go see about a girl" line Robin Williams says in the movie was improvised by Williams himself. Known for his improvisational skills, he added an unexpected twist during the shooting, resonating with the characters' emotions and audiences worldwide, making it a memorable quote in film history.
These trivia facts only add to the film's appeal, making watching Good Will Hunting more interesting and exciting.
A Glimpse into the Genius: The Good Will Hunting Trailer
Enchanting Ensemble Cast
A film's appeal is undoubtedly determined by its cast, and Good Will Hunting is no different. The movie's ensemble is talented and works in perfect harmony, ultimately making the film an emotional powerhouse worth watching.
Matt Damon as Will Hunting
Matt Damon brilliantly encapsulates the character of misunderstood genius Will Hunting in a stellar performance that could be considered his breakout role. Damon skillfully balances vulnerability and bravado, creating a character as troubled as he is bright. His portrayal of a young man grappling with his past while navigating his potential future is compelling and relatable, cementing Damon's status as a talented actor.
Robin Williams as Sean Maguire
The late, great Robin Williams delivered one of his finest performances in Good Will Hunting. He stole hearts and inspired tears as Sean Maguire, the sagacious psychologist tasked with helping Will confront his inner demons. Williams' portrayal of Sean – a man himself battling his tragedies while reaching out to a troubled soul – won him a well-deserved Academy Award for Best Supporting Actor.
Ben Affleck as Chuckie Sullivan
Ben Affleck shines as Chuckie, Will's best friend, who paradoxically wants nothing more than to see his friend move on to a better life. Affleck's performance is a stellar reminder of his undeniable talent; he encapsulates the witticism and steadfast loyalty that defines Chuckie.
Minnie Driver as Skylar
Minnie Driver, as Will's love interest, Skylar, deserves a special mention. She charmingly portrays Skylar, a Harvard student whose warm and empathetic nature starkly contrasts Will's defensive exterior. Her performance is strong and genuine, further enhancing the emotional depth of the movie.
Stellan Skarsgård as Professor Lambeau
Stellan Skarsgård compellingly plays the role of Professor Gerald Lambeau, a Nobel laureate who recognizes Will's exceptional mind. His character presents an interesting dichotomy between recognizing and exploiting talent, enriching the narrative.
Each actor's incredible performance makes "Good Will Hunting" worth watching. Their ability to emotionally engage viewers while provoking them to think deeper resonates long after the final credits roll.
Conclusion
So, whether you are a movie lover, a psychology or mathematics enthusiast, or someone seeking a thought-provoking cinematic experience, it's time to watch "Good Will Hunting." This film goes beyond a mere narrative. It invites us to experience life through different lenses, prompting us to reflect, understand, and accept our identities. If you haven't already, treat yourself by watching Good Will Hunting – a cinematic masterpiece that celebrates the symphony of human emotion and intellect.