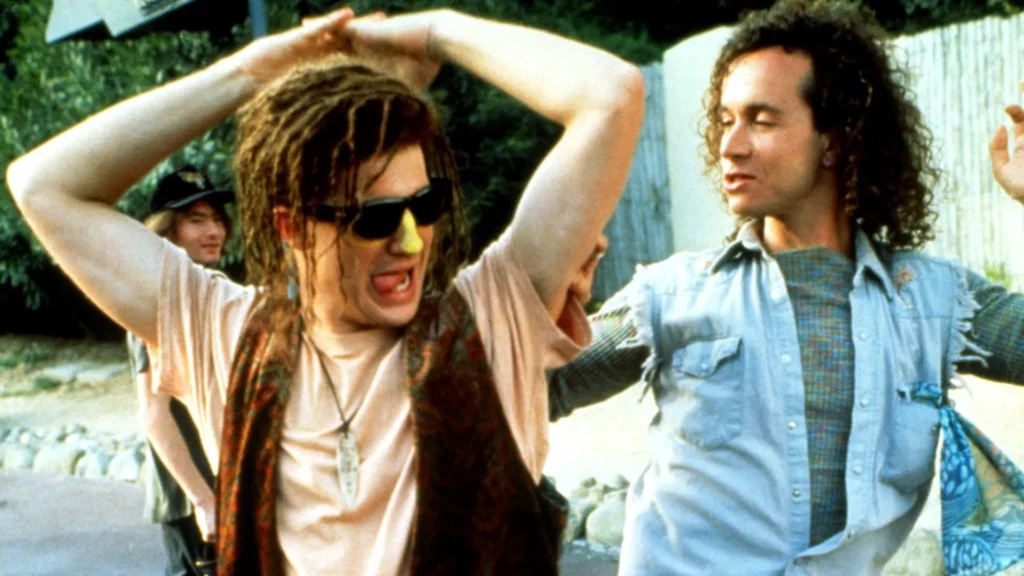 Film enthusiasts have a multitude of genres to entertain themselves with, but if comedy is what tickles your fancy, one delightful blast from the past you must watch is 'Encino Man.' This 1992 release takes us on a quirky, slapstick journey that still retains its unique charm nearly three decades later, making it one of those few comedic gems that you can revisit time and again.
Encino Man is not streaming in your country?
Any of our picks not streaming in your country? ExpressVPN unlocks Reelgood and all of your streaming services, giving you access to all movies and TV shows from around the world. Stream them from anywhere with a 30-day money-back trial from ExpressVPN.
Unblock Streaming with ExpressVPN (3 months free for Reelgood users!)
Connect to a US or UK server via ExpressVPN.
Let ExpressVPN run in the background as you watch all of your movies and TV shows, securely and with no throttling or bandwidth limits.
A Trip Down Memory Lane – The Premise of 'Encino Man
'Encino Man,' directed by Les Mayfield, elevates a seemingly typical teenage fantasy of popularity in high school to another level of absurdity – finding a prehistoric caveman in your backyard! The film begins as Sean Astin's character, Dave, and his friend Stoney, played by Pauly Shore, stumble upon a frozen cave dweller while digging a pit for a swimming pool to become more popular among their schoolmates. Soon enough, the frozen caveman, aptly named 'Link,' thaws, and the hilarity ensues.
The Exceptional Cast and Extraordinary Performances
For those who aim to 'watch Encino Man,' special consideration should be given to appreciate the incredible cast. Apart from showcasing early career performances by Sean Astin and Pauly Shore, the film is a launching pad for Brendan Fraser. Fraser exhibits impressive physical comedy skills as the caveman Link, endowing his character with a distinctive charm that becomes instrumental in making 'Encino Man such a delightful watch.
'Whoa…Is that Your Ride, Dude?' – Entertainment Galore in Encino Man
In what could well have been a singularly one-note story, 'Encino Man' offers plenty, from creative scenes illustrating Link's adaptation to the '90s era, Stoney's funny antics, and the characters' interactions. The film's playful nature is backed by rock-solid comic timing and rapport among the leads. Encino Man may not be a comedy in the conventional sense within its seemingly fantastical narrative, yet it excels at being hilarious by embracing its idiosyncrasy.
'Encino Man': A Comedy Worth Revisiting
Comedy films often run the risk of being redundant over time. But 'Encino Man' has aged remarkably well, primarily because it is essentially a feel-good and light movie that is unapologetic about its silliness. It takes you back to a simpler time when the scripts were less complicated, and the aim was simple – make the audience laugh! A comedy of its time, 'Encino Man' is a film that still provides thoroughly enjoyable entertainment today.
Lasting Impact of 'Encino Man
The film's ability to captivate audiences lies in its strength to strike a perfect blend of caricature with undertones of social commentary, coated meticulously with fun and laughter. 'Encino Man' has left an indelible impact on comedy movie enthusiasts for its audacious humor and the unique plot at its core, making it a must-watch for those exploring classic comic cinema.
Subcultures Found in 'Encino Man
Another striking aspect of 'Encino Man' is its portrayal of various subcultures within the American society of the '90s. It encapsulates a snip of the grunge era, the youth's fashion trends, and the high school culture, proving to be a veritable time capsule for future generations. To relive or experience these exciting elements from the past, one should undoubtedly watch Encino Man.
The Unscripted Humor – An Added Bonus
A major reason 'Encino Man' remains a constant favorite among comedy lovers is its unscripted humor. Brendan Fraser, in particular, is said to have improvised some of the funniest parts. These instances in the movie highlight Fraser's natural flair for comedy and add to the completed piece's spontaneity and uniqueness.
The Underscored Message in 'Encino Man
Despite its comedic appeal, 'Encino Man' subtly underlines a valuable message: acceptance. Link, though a caveman, is accepted and loved by Dave, Stoney, and the others for who he truly is. This theme, though unspoken, resonates deeply and imparts a life lesson to its viewers. Hence, those seeking a comedy film with a quiet, positive takeaway will immensely benefit from watching Encino Man.'
'Encino Man': Not Just a Comedy
Although 'Encino Man' makes its spectators laugh heartily, it also brings forth nuanced human emotions. It accentuates the themes of friendship, love, and camaraderie, demonstrating that comedy films can be layered and offer more than meets the eye.
Noteworthy Performances – The Supporting Cast
While Brendan Fraser, Sean Astin, and Pauly Shore may have been the film's poster boys, the supportive cast of 'Encino Man' truly amplifies the humor quotient. Robin Tunney as Ella offers an earnest performance as the likable love interest, and Megan Ward's performance as Robyn, Dave's crush, is equally memorable. Both Tunney and Ward balanced the whirlwind trio of Link, Dave, and Stoney.
Celebrated Characters in Film History
For comedy enthusiasts who 'watch Encino Man,' it's interesting to note that this film provides an early glimpse into the careers of some well-known Hollywood actors. For instance, Rose McGowan makes one of her earliest appearances in the film. Also, Michael DeLuise made a hilarious appearance as Matt, channeling his unique comic energy that would become a hallmark in many of his later works.
Trivia about 'Encino Man
Here are some interesting nuggets about 'Encino Man' that should pique the interest of true blue fans of the film:
Brendan Fraser didn't audition for the film. He was discovered by the director while out for a burger, and his quirky personality landed him the role of Link.
Fraser improvised the grunting, caveman language we hear Link speak in the movie.
Despite its mixed reviews, the film became a surprise success at the box office, grossing over $40 million.
'Encino Man' was Pauly Shore's first starring role in a movie, and it kick-started his film career.
'Encino Man' may have been hailed as a frivolous comedy flick when it first appeared. However, its bubbly and fun nature has allowed it to stand the test of time. For movie enthusiasts seeking an entertaining, feel-good escape, the advice would be to 'watch Encino Man' and let it tickle your funny bone with its endearing absurdity!
Experience the Fun – The Trailer for 'Encino Man'
Conclusion
Above all, 'Encino Man' is an effective, laugh-out-loud specimen of early '90s comedy and a nostalgic witness to an era of films that mirrored the spirit of their time without any pretenses. So turn off your critical eye and let this film transport you to a time filled with laughter, light-heartedness, and pure fun. Suppose you're craving an experience that lifts your spirits with its jovial antics. In that case, you should certainly 'watch Encino Man' and enjoy a Slice of the hilarious, irreverent comedy that was the hallmark of the '90s cinema.