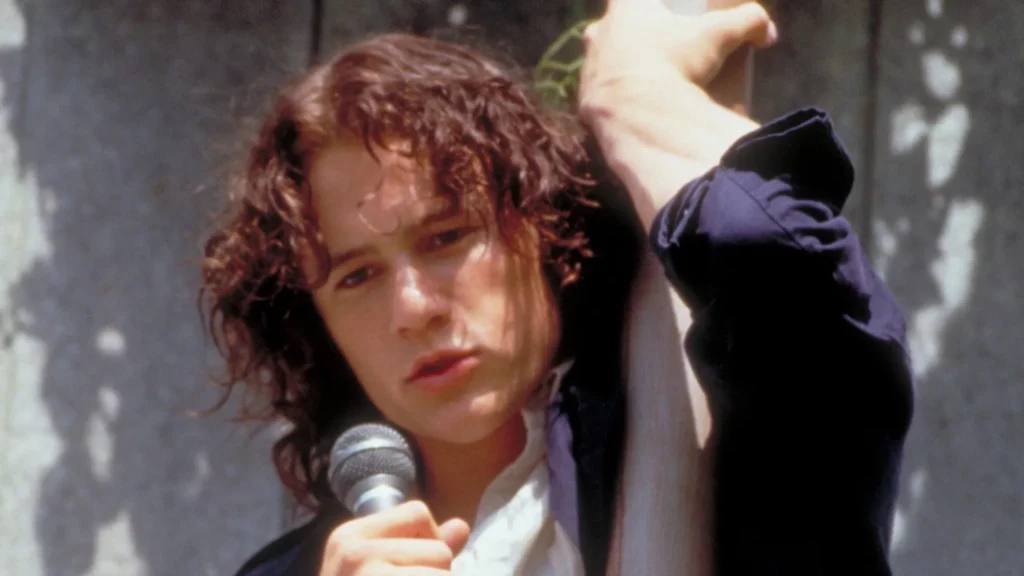 Join the ranks of cinema enthusiasts blessed with the chance to watch "10 Things I Hate About You." This 1999 American romantic comedy-drama based on Shakespeare's 'The Taming of the Shrew' is the ultimate teenage romance full of emotions, charming wit, and compelling drama.
10 Things I Hate About You is not streaming in your country?
Any of our picks not streaming in your country? ExpressVPN unlocks Reelgood and all of your streaming services, giving you access to all movies and TV shows from around the world. Stream them from anywhere with a 30-day money-back trial from ExpressVPN.
Unblock Streaming with ExpressVPN (3 months free for Reelgood users!)
Connect to a US or UK server via ExpressVPN.
Let ExpressVPN run in the background as you watch all of your movies and TV shows, securely and with no throttling or bandwidth limits.
The Poignant Plot and Heartwarming Storyline
At the core of "10 Things I Hate About You" are the vibrant and multidimensional characters that make the narrative compelling. The story revolves around two sisters: Bianca, a popular and pretty high school girl, and Kat, an intelligent, fiercely independent misfit. When the former is banned from dating until her elder sibling has a boyfriend, Bianca plots to pair up Kat with a reputed bad boy, Patrick Verona.
Crafted with Dedication: The Characters
Perhaps the greatest allure of "10 Things I Hate About You" comes from its unforgettable characters. Julia Stiles delivers a powerful performance as Kat Stratford, capturing her character's rebellious spirit and emotional vulnerability with compelling nuance. On the other hand, Heath Ledger is perfection personified as the enigmatic bad boy Patrick, delivering a performance marked by depth and charisma. The chemistry between the two actors is palpable and adds to the irresistible charm of the movie.
A Nod to Shakespeare: Rooted in Classic Literature
"10 Things I Hate About You" is a brilliant reprisal of Shakespeare's classic comedy, 'The Taming of the Shrew'. The modern-day high school setting cleverly incorporates classic Elizabethan themes, rendering the timeless narrative equally appealing to contemporary audiences.
The Romance: A Heartfelt Display of Emotions
If one thing compels you to watch "10 Things I Hate About You," it's the tenderly crafted romance between Patrick and Kat. The film beautifully portrays their relationship dynamics, taking us on a stirring journey of teenage courtship. The famous scene where Patrick serenades Kat with "Can't Take My Eyes Off Of You" has become an iconic romantic gesture, encapsulating their heart-melting, off-beat charm.
Exploring Themes Surrounding Adolescence
The movie offers a nuanced depiction of common teenage issues like peer pressure, rebelliousness, popularity scramble, fitting in, and adolescent hope. It does a commendable job of portraying these issues without resorting to clichés, making it a genuinely touching representation of high school life.
Watch "10 Things I Hate About You": A Visual and Emotional Delight
"10 Things I Hate About You" is not just a movie but a celebration of the rollercoaster of teenage years, complete with all its dizzying highs and heart-rending lows. The film's appeal goes beyond its love story and dives into the complexities of adolescence.
Director Gil Junger's commanding storytelling, the cast's powerful performances, vibrant characterization, edgy dialogue, and the sizzling romance between Kat and Patrick make "10 Things I Hate About You" a must-watch.
Supporting Characters: More Than Just Completing the Canvas
Beyond the primary characters, "10 Things I Hate About You" boasts an ensemble of colorful supporting characters. Larry Miller is an absolute delight as the girls' overly protective and humorous father. We see Joseph Gordon-Levitt in one of his early roles as the sweet Cameron, smitten by Bianca. Susan May Pratt as the socially conscious Mandella and David Krumholtz as the quintessential sidekick Michael also deliver commendable performances. Their unique characteristics and development throughout the movie contribute to the overall authenticity and charm.
Unfolding the Trivia and Behind-the-scenes Secrets
Interestingly, the scene where Heath Ledger's character, Patrick, serenades Kat at the school stadium was accomplished in a single take. Moreover, the movie includes several homages to classic rock, including strategically painted band logos as set decorations and a band performance featuring Letters to Cleo on the rooftop during the credits.
The film's title, "10 Things I Hate About You," is derived from a sonnet written by Kat towards the end, where she outlines ten reasons she hates Patrick, flipping the negativity into a confession of love. Furthermore, new fans who watch "10 Things I Hate About You" may be surprised to learn that the quaint Stratford house was a real house in Tacoma, Washington, and stands tall today.
Experiencing the Sneak Peek: Trailer of '10 Things I Hate About You
The Cultural Impact and Legacy
The mark that "10 Things I Hate About You" has left on teen cinema cannot be overstated. The film has managed to attract a broad audience, ranging from teenagers to adults, with its universal themes of love, rebellion, and coming-of-age. Amidst the bustling genre of 90's teen films, it stands out for its intellectual charm, wit, and timeless humor, thanks to its rooting in Shakespeare's classic.
Moreover, the movie served as a springboard for the careers of breakthrough actors like Heath Ledger, Julia Stiles, and Joseph Gordon-Levitt. It's hard not to watch "10 Things I Hate About You" without a sense of nostalgia for the talents we saw emerge from it.
Have a Bad Day? Watch "10 Things I Hate About You"
It's rare to see a movie as delightful and timeless as "10 Things I Hate About You". The film's sharp wit and emotional depth, the unforgettable characters, the authentic take on high school life, blossoming love, and rebellion are myriad reasons why you should watch "10 Things I Hate About You". Its rebellious spirit, combined with elements of romance and teenage struggles, promises authenticity that never grows old.
If you are having a bad day or need a reminder of the magic of youthful romance, watching "10 Things I Hate About You" can instantaneously uplift the spirit. Truly, it's a treat you wouldn't want to deny yourself!
FAQ's about "10 Things I Hate About You"
Question: Is "10 Things I Hate About You" based on a Shakespeare play?
Answer: It's a modern adaptation of Shakespeare's "The Taming of the Shrew".
Question: Who wrote the sonnet in "10 Things I Hate About You"?
Answer: Julia Stiles' character, Kat Stratford, wrote the sonnet in the film.
Question: Where was "10 Things I Hate About You" filmed?
Answer: The majority of the movie was filmed in Tacoma, Washington.
Question: Who sang the closing song in "10 Things I Hate About You"?
Answer: The closing song, "I Want You To Want Me," was performed by Letters To Cleo.
Some Reviews of "10 Things I Hate About You"
"Smart and funny, '10 Things I Hate About You takes a classic tale and spins it into relatable, modern high school fare – plus, it's the film that made Heath Ledger a star." – Rotten Tomatoes
"10 Things I Hate About You is a particular standout in the world of '90s teen cinema because, while it didn't shy away from showcasing the depth of adolescent feelings, its stakes were refreshingly low key." – Empire
"The movie is charming, has fun with its premise, and benefits enormously from the chemistry of its leads; as was evident when Heath Ledger was on screen, you can't manufacture that kind of charisma; you can only hope to bottle it." – The Guardian
"I found it harder to get as invested in the frenemies-to-lovers journey of Kat and Patrick as I had in my teens, but the uniquely '90s touches (the fashion! the music! the very concept of a 'party house'!) and classically comedic moments kept me nostalgically entertained." – Buzzfeed
"This charming romantic comedy has something for everyone. If you missed it when it first came around in 1999, watch "10 Things I Hate About You" today — you won't be disappointed." – New York Times.
In Conclusion: The Legacy of "10 Things I Hate About You"
Two decades after its initial release, "10 Things I Hate About You" remains as relevant as ever. Whether it's because of Ledger's seductively rebellious Patrick, Stiles' complex and forthright Kat, or the timeless Shakespearean plot injected with a dose of 90s teen spirit, the movie has secured its place in the pantheon of unforgettable teen romances.
So, why should you watch "10 Things I Hate About You"? Because it's everything you could want from a high school rom-com – enigmatic characters, a believable love story, and an ultimate nostalgic trip back to the 90s. It's a product of its time, but it stands the test of time, for it perfectly encapsulates the essence of young love and the trials of teenage life.