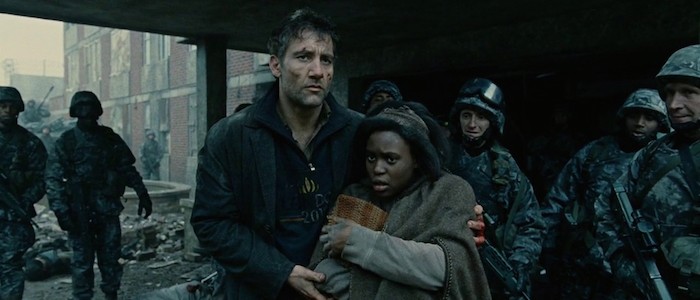 When you crunch the numbers, releasing a film in December really has little to do with how much Oscar attention it will get. But that doesn't stop all of the major studios from pushing their award-show hopefuls each and every December.  Sometimes the end-of-year push pays off and sometimes it doesn't. Either way, the final month of the year is always a veritable candyland for movie buffs.
Call it Oscar-bait if you like, there's nothing better than an ambitious and highly entertaining December release. Here are some of our favorites from the last fifteen years or so.
Up in the Air
Type: Drama, Romance, Travel, Comedy
Release Date: 2009
Director: Jason Reitman
Starring: George Clooney, Vera Farmiga, Anna Kendrick
Rating: 91% RT, 7.4/10 IMDb
With a stellar performance from George Clooney and Anna Kendrick shining in the role that made her famous, this 2009 drama still feels fresh and relevant almost ten years after its release.
La La Land
Type: Drama, Romance, Musical, Comedy
Release Date: 2016
Director: Damien Chazelle
Starring: Ryan Gosling, Emma Stone, John Legend
Rating: 91% RT, 8/10 IMDb
Two years later, La La Land is just as magical, dreamy, and heartbreaking as it was the first time you saw it. The embarrassing yet inspiring mistake at the Oscars may live on in YouTube infamy, but behind it is a truly beautiful film that celebrates the age of old Hollywood.
Atonement
Type:  Drama, Romance, Mystery, Thriller
Release Date: 2007
Director: Joe Wright
Starring: Keira Knightley, James McAvoy, Saoirse Ronan
Rating: 83% RT, 7.8/10 IMDb
Based on the novel of the same name by author Ian McEwan, Atonement tells a tale of a lie that becomes bigger than itself and alters the lives of many in its wake. Gorgeously shot and beautifully acted, this English tragedy is what December releases were made for.
The Royal Tenenbaums
Type: Drama, Comedy
Release Date: 2001
Director: Wes Anderson
Starring: Gene Hackman, Gwyneth Paltrow, Anjelica Huston
Rating: 80% RT, 7.6/10 IMDb
You are probably well aware that we are big, big fans of Wes Anderson, and being that The Royal Tenenbaums is one of his, it certainly had to make this list. While the film is not his only December release, it is perhaps the most notable.
Into the Woods
Type: Action & Adventure, Fantasy, Musical, Comedy, Drama
Release Date: 2014
Director: Rob Marshall
Starring: Meryl Streep, Emily Blunt, James Corden
Rating: 71% RT, 6/10 IMDb
Into the Woods is the film adaptation of the Sondheim stage musical, and it is well worth watching (over and over) again. Notable here is the performance by everybody's favorite carpool king James Corden and (surprisingly) Chris Pine as a prince that is anything but charming.
Les Miserables
Type: Drama, Musical, Romance, Comedy
Release Date: 2012
Director: Tom Hooper
Starring: Hugh Jackman, Russell Crowe, Anne Hathaway
Rating: 69%, 76/10 IMDb
What is it about December and musical releases? The big production values, the uber-talented cast lists, the sweeping drama of it all. Les Miserables is perhaps one of the most epic of all movie musicals. Its December release was highly anticipated and did not disappoint.
 I, Tonya
Type: Biography, Drama, Sport, Comedy
Release Date: 2017
Director: Craig Gillespie
Starring: Margot Robbie, Sebastian Stan, Allison Janney
Rating: 89% RT, 7.5/10 IMDb
https://www.youtube.com/watch?v=iZbTLdDHRvs
Last year's I, Tonya, a drama detailing the troubled life of American figure skater Tonya "Triple Axel" Harding, is probably one of the best biopics of all time. The film manages to portray Tonya as both brash and sympathetic at the same time, and Margot Robbie's performance is certainly one for the record books.
Black Swan
Type: Drama, Mystery, Thriller
Release Date: 2010
Director: Darren Aronofsky
Starring: Natalie Portman, Mila Kunis, Vincent Cassel
Rating: 85% RT, 8/10 IMDb
Is 2010's Black Swan simply an allegory or a tale of one ballet dancer's descent into madness? It may be that the answer is a little bit of both. No matter which side you'd argue for, you have to agree that this dark drama is positively mesmerizing to watch.
Children of Men
Type: Cult, Fantasy, Science Fiction, Drama, Mystery, Thriller, Action & Adventure
Release Date: 2006
Director: Alfonso Cuaron
Starring: Clive Owen, Michael Caine, Julianne Moore
Rating: 92% RT, 7.9/10 IMDb
Children of Men asks us to imagine a world in which humans have become unable to bear children. One generation later, there are no children left on earth and one woman's pregnancy may be humanity's last hope for survival. This post-apocalyptic picture from Alfonso Cuaron contains one of the most impressive continuous tracking shots in cinematic history.