Tobey Maguire is one of Hollywood's most beloved and recognizable actors, with a career spanning over two decades. His diverse roles have made him a fan favorite, from drama to comedy to action films. Tobey Maguire has had his share of box office successes, and here's a look at some of his best movies.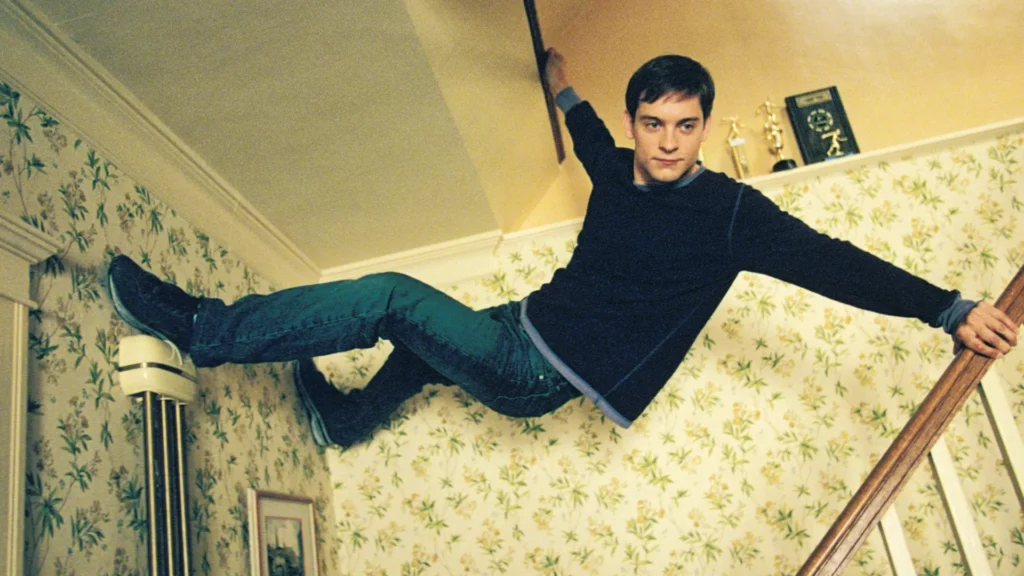 Spider-Man (2002)
The first Tobey Maguire movie to break the box office was 2002's Spider-Man – based on Marvel's popular comic book character – directed by Sam Raimi. Tobey plays Peter Parker, an ordinary teenager who gains superhuman abilities after being bitten by a radioactive spider. Tobey Maguire stars alongside Kirsten Dunst as Mary Jane Watson and Willem Dafoe as the villainous Green Goblin. Spider-Man earned over $821 million at the worldwide box office, making it Tobey's highest-grossing movie to date.
Watch Spider-Man (2002) on Reelgood
Seabiscuit (2003)
In 2003 Tobey Maguire starred in Seabiscuit – a true story of an undersized thoroughbred horse who became a national sensation during the Great Depression, directed by Gary Ross. Tobey plays Red Pollard, the jockey who rides on Seabiscuit's back to victory. Tobey shares the screen with Jeff Bridges, who plays Seabiscuit's trainer, and Elizabeth Banks as the female lead. The movie earned Tobey Maguire his first nomination for the Best Actor Oscar.
Watch Seabiscuit (2003) on Reelgood
The Great Gatsby (2013)
Tobey Maguire stars in 2013's adaptation of the F Scott Fitzgerald novel, directed by Baz Luhrmann. Tobey plays Nick Carraway – the narrator who is caught up in the excesses of 1920s high society on Long Island's Gold Coast. Tobey co-stars with Leonardo DiCaprio as Jay Gatsby, Carey Mulligan as Daisy Buchanan, and Isla Fisher and Joel Edgerton in supporting roles. Tobey was praised for his subdued performance as the movie's moral center.
Watch The Great Gatsby (2013) on Reelgood
Wonder Boys (2000)
In 2000 Tobey Maguire stars in Wonder Boys – a comedy-drama directed by Curtis Hanson and co-starring Michael Douglas, Frances McDormand, and Robert Downey Jr. Tobey plays James Leer – an aspiring novelist who is under pressure to finish his second novel while coping with a tumultuous love life. Tobey delivers a subtle performance that highlights his versatility as an actor, earning him critical acclaim and a nomination for Best Supporting Actor at the Golden Globe awards.
Watch Wonder Boys (2000) on Reelgood
The Cider House Rules (1999)
Tobey Maguire made his first breakthrough in Hollywood with 1999's The Cider House Rules, directed by Lasse Hallström. Tobey plays Homer Wells – an orphan who is taken in and raised at a Maine cider mill, where he eventually takes over the family business while finding love along the way. Tobey shares the screen with Michael Caine, Charlize Theron, Kathy Bates, and Paul Rudd. Tobey earned his first Oscar nomination for Best Supporting Actor for this role.
Watch The Cider House Rules (1999) on Reelgood
Pleasantville (1998)
In 1998 Tobey Maguire stars in Pleasantville – a fantasy comedy-drama written and directed by Gary Ross about two modern teenagers who are transported into a 1950s black-and-white TV show world. Tobey plays David Wagner, one of the protagonists who helps shake up the perfect Pleasantville world, with Reese Witherspoon playing his sister Jennifer. Tobey delivers a nuanced performance in this movie, highlighting his comedic and dramatic talents.
Watch Pleasantville (1998) on Reelgood
Brothers (2009)
Tobey stars in 2009's Brothers – a drama directed by Jim Sheridan about two very different brothers whose lives intersect after one is sent off to fight in Afghanistan and the other takes care of his family back home. Tobey plays Captain Sam Cahill, a decorated Marine whose life unravels when he returns from war, while Jake Gyllenhaal plays Tommy Cahill, an ex-convict who steps in to care for his brother's family. Tobey was praised for his nuanced performance in the film.
Watch Brothers (2009) on Reelgood
The Good German (2006)
In 2006 Tobey Maguire appeared in The Good German, directed by Steven Soderbergh and starring George Clooney and Cate Blanchett. Tobey plays Tully – an American journalist who is sent to investigate a murder mystery in post-war Berlin. Tobey gives a powerful performance highlighting his dramatic chops as he navigates a world filled with spies, corruption, and violence.
Watch The Good German (2006) on Reelgood
Pawn Sacrifice (2015)
Tobey stars alongside Tobey Jones as Bobby Fischer in 2015's Pawn Sacrifice – based on the true story of the legendary chess grandmaster's faceoff against Russian master Boris Spassky during the Cold War. Tobey delivers a powerful performance that shows off his range as an actor, while Jones is equally impressive in his portrayal of Spassky. Tobey was praised for his subtle yet powerful performance in this film.
Watch Pawn Sacrifice (2015) on Reelgood
Conclusion
Tobey Maguire has established himself as one of Hollywood's most versatile actors, with diverse roles showcasing his acting talents. From the rom-com Pleasantville to the biopic Seabiscuit Tobey Maguire has left an indelible mark on Hollywood and proved himself as one of its brightest stars. Tobey's performances have earned him critical acclaim and numerous nominations, cementing his place in cinema history. Tobey's impressive body of work offers something for everyone, making it worth exploring for any movie fan.
From heartwarming tales to gripping dramas, Tobey Maguire has consistently delivered powerful performances throughout his career. His commitment to developing unique and compelling characters that move audiences is undeniable – Tobey is an actor who deserves to be remembered for generations to come.