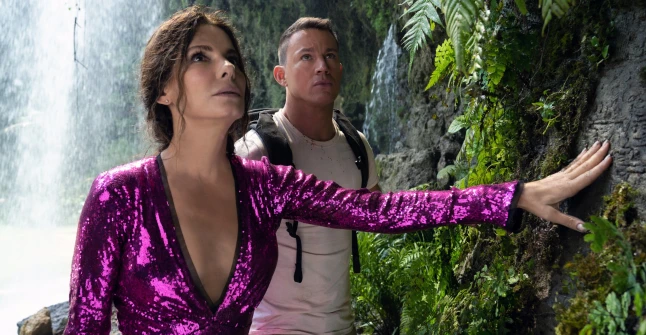 By Josh Terry
In Vulture, critic Kathryn VanArendonk laments the loss of what we used to consider "Summer TV." She writes, "Summer was the territory for silly reality-competition series, weird burn-off shows no one really believed in, and short-lived "event" TV that often translated to low-budget limited series." Gone are the months where we'd take a load off watching stakes-free fare like Wipeout or 100 Questions: In 2022, it's peak TV and peak film all year long. Considering the sheer volume and the often great quality of movies and shows hitting streaming services now, this might not be a terrible problem.
If anything, it's not a problem for Reelgood users who are really digging offerings from Paramount+ (two movies and two shows in the Top 10!), Netflix, Prime Video, and more. Each week, we break down the Top 10 Movies and Shows watched by our U.S.-based users. Read on for what they're watching from May 19 through May 25, 2022.
1. The Lost City (Streaming now on Paramount+)
The Lost City is once again the top-performing title on Reelgood for another week. It's no surprise names like Sandra Bullock, Channing Tatum, and Daniel Radcliffe hold viewers' attention even in 2022. This romantic, action, comedy, and mystery film has a little bit for everyone: archeological wonders, exotic locales, eccentric and evil billionaires, and even Brad Pitt cameos. It's still the tenth highest-grossing film in 2022 after a successful theatrical run.
2. The Lincoln Lawyer (Streaming now on Netflix)
The Lincoln Lawyer is only getting more popular, bumping up to #2 from #3 in a week. Sure, there was the 2011 movie by the same name that starred Matthew McConaughey and was based on the 2005 Michael Connelly novel, but this is different. The Netflix Lincoln Lawyer, while also based on a Michael Connelly novel, is actually an adaptation of his 2008 book The Brass Verdict, which was a sequel to The Lincoln Lawyer. The hero Mickey Haller is played by Manuel Garcia-Rulfo this time. According to our viewers, this Netflix adaptation is worth watching too.
3. Top Gun (Streaming now on Netflix and Paramount+)
Considering this weekend's theatrical release of Top Gun 2: Maverick, a sequel 36 years in the making, it makes a lot of sense people would want to catch up or refresh their memory with the original. Reviews for the Tom Cruise-piloted movie are so far spectacular, with critics raving about Cruise's performance and the movie's ambition. While the New York Times' A.O. Scott wasn't entirely on board, he did write, "an earnest statement of the thesis that movies can and should be great." It's been on our Top 10 for three consecutive weeks now.
4. The Night Sky (Streaming now on Amazon Prime Video)
Prime Video is the streaming service for seemingly low-stakes, family-based sci-fi that finds its wonder in smaller and more intimate moments rather than robot fights, space chases, or alien invaders. Like the excellent Tales From the Loop, the streamer's latest offering The Night Sky is visually stunning and finds its voice in quiet drama. Starring J.K. Simmons and Sissy Spacek, the two play a married couple who have a portal to another world in their basement.
5. Candy (Streaming now on Hulu)
Clocking at #5 for a second consecutive week, Candy seems to be enjoying a slow but steady buzz on Reelgood. In 1980, Texas housewife and mother Candy Montgomery was accused of murdering Betty Gore, the wife of the man she was having an affair with, striking her 41 times with an ax. Jessica Biel plays the titular Candy in this Hulu miniseries. Oddly enough, there's also an HBO series in the works about the crime where Elizabeth Olsen plays Candy.
6. Chip N' Dale: Rescue Rangers (Streaming now on Disney+)
Every generation gets the Who Framed Roger Rabbit? they deserve. People really seem to love the new CGI iteration of Chip N' Dale: Rescue Rangers, an animated Disney show that hasn't aired since 1990. The titular chipmunks in this film are voiced by Andy Samberg and John Mulaney, two comedians likable, goofy, and arguably pipsqueak-y enough to be perfect for their roles. It holds strong with an 82 percent Critic and Audience Score on Rotten Tomatoes.
7. Star Trek: Strange New Worlds (Streaming now on Paramount+)
When CBS first launched a streaming service in CBS All-Access, one of their early big bets was on original series and spin-offs in the Star Trek universe. With the success of Star Trek: Discovery and Star Trek: Picard, which are on their fourth and second seasons respectively, it's only natural to expect Star Trek: Strange New Worlds to do similarly well.
8. Sonic the Hedgehog 2 (Streaming now on Paramount+)
Even though this movie hit Paramount+ on May 24, it already cracked our Top 10 in just a little over a day. Critics seemed to like Sonic the Hedgehog 2 slightly more than its predecessor according to Rotten Tomatoes, with one reviewer succinctly writing, "Slightly grating, way too long, but not terrible." It features the return of Jim Carrey as Doctor "Eggman" Robotnik and Ben Schwartz as the voice of Sonic, but it also boasts actors like Idris Elba voicing Knuckles the Edichina. There will be a third movie coming soon as well as a Knuckles spin-off series with Elba reprising his role.
9. Love, Death, & Robots (Streaming now on Netflix)
Now in its third season, Love, Death, & Robots has been a hub for remarkable and experimental animation filmmaking. The Netflix anthology series, which is executive produced by David Fincher and developed by Deadpool director Tim Miller, gives viewers a new short story in each episode that's directed by a different filmmaker and animator. This season features the animated debut of Fincher, whose episode tackles a man-eating crustacean that terrorizes a ship at sea.
10. The Staircase (Streaming now on HBO Max)
The original documentarians who covered the twist-heavy and gruesome murder of Kathleen Petersen in 2004's The Staircase aren't happy with the HBO TV series based on their work, saying that the show has been "inaccurate" and that they feel "betrayed" after giving the showrunners access to their archives. That said, it's been a hit with fans and critics, who have highlighted the gritty performances from Colin Firth and Toni Collette as well as the engrossing and still unsettled story.