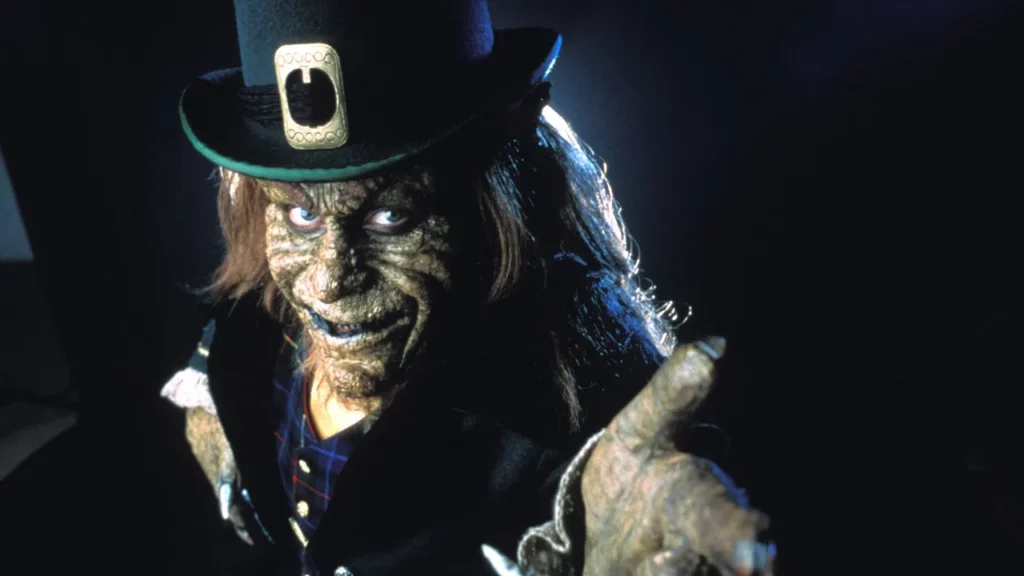 Greetings, fellow seekers of intriguing tales and urban legends! Today, we embark on a journey that delves into the mysterious world of "Leprechaun in the Hood," a curious and captivating story that weaves together elements of folklore, fantasy, and urban lore. Prepare to be enchanted as we dive deep into the heart of this unique narrative, uncovering its origins, exploring its cultural significance, and separating fact from fiction. From leprechauns to the hood, this enigmatic saga promises to captivate your imagination and leave you questioning the boundaries between myth and reality. So, grab your shillelagh and your curiosity as we unravel the secrets of "Leprechaun in the Hood: Everything We Know So Far."
Leprechaun in the Hood is not streaming in your country?
Any of our picks not streaming in your country? ExpressVPN unlocks Reelgood and all of your streaming services, giving you access to all movies and TV shows from around the world. Stream them from anywhere with a 30-day money-back trial from ExpressVPN.
Unblock Streaming with ExpressVPN (3 months free for Reelgood users!)
Connect to a US or UK server via ExpressVPN.
Let ExpressVPN run in the background as you watch all of your movies and TV shows, securely and with no throttling or bandwidth limits.
A Unique Twist in the Leprechaun Franchise
Set against the backdrop of an urban landscape, "Leprechaun in the Hood" takes a daring departure from the franchise's earlier installments. This time, the mischievous Leprechaun finds himself in the heart of the city, where he crosses paths with a group of aspiring hip-hop artists with dreams of fame and fortune. As he pursues his elusive pot of gold, the Leprechaun becomes entangled in a world of music, ambition, and unexpected alliances.
The film's setting in an urban environment injects a fresh dose of energy and modernity into the narrative. While maintaining the franchise's signature blend of horror and humor, "Leprechaun in the Hood" introduces a unique thematic exploration. It delves into the intersection of folklore and contemporary culture, seamlessly weaving elements of hip-hop and urban legends into the tapestry of the story.
Release Date and Trailers
Release Date: March 28, 2000
Meet the Cast and Crew of "Leprechaun in the Hood"
Rob Spera – Director
Leading the creative charge behind "Leprechaun in the Hood" is director Rob Spera. With a keen eye for storytelling, Spera guides the film's visual and narrative elements, orchestrating the unique blend of horror and humor that defines the franchise.
Warwick Davis – Leprechaun
A familiar face in the Leprechaun series, Warwick Davis reprises his iconic role as the titular character. Davis embodies the mischievous and malevolent Leprechaun, infusing the role with his distinct charm and sinister flair.
Ice-T – Mack Daddy
Rap icon and actor Ice-T steps into the shoes of Mack Daddy, a character that adds a layer of intrigue to the film's urban landscape. His portrayal brings depth to the story, intertwining the world of hip-hop with the supernatural.
Anthony Montgomery – Postmaster P.
Anthony Montgomery takes on the role of Postmaster P., an integral figure in the unfolding tale. With his acting prowess, Montgomery breathes life into a character that navigates the crossroads of music and magic.
Rashaan Nall – Stray Bullet
In the role of Stray Bullet, Rashaan Nall injects his unique charisma into the narrative. His portrayal adds a dynamic layer to the film's ensemble, contributing to the colorful fabric of the story.
Red Grant – Butch
Red Grant takes on the role of Butch, bringing his own brand of charisma and energy to the screen. His performance complements the film's urban setting, creating a well-rounded cast of characters.
Dan Martin – Jackie Dee
As Jackie Dee, Dan Martin adds depth to the ensemble with his acting prowess. His portrayal contributes to the film's multifaceted narrative, ensuring each character plays a crucial role in the story's development.
Lobo Sebastian – Fontaine Rivera
Lobo Sebastian steps into the shoes of Fontaine Rivera, another character intricately woven into the film's fabric. Sebastian's performance adds layers of complexity to the urban setting, enriching the overall cinematic experience.
Compelling Reasons to Make "Leprechaun in the Hood" a Priority for Fans
A Fresh Urban Twist: This installment takes a daring departure from its predecessors, transporting the notorious Leprechaun into the vibrant urban setting. The infusion of hip-hop culture and urban legends promises a unique blend of suspense and modernity.
Warwick Davis Returns The return of Warwick Davis as the mischievous Leprechaun ensures a seamless connection to the franchise's roots. Davis's charismatic portrayal adds an air of familiarity while he weaves his malevolent magic once again.
Iconic Hip-Hop Influences: With the inclusion of legendary rapper Ice-T and themes rooted in the hip-hop world, "Leprechaun in the Hood" taps into a fascinating intersection of music and supernatural folklore, offering a captivating journey for fans.
Evolution of Themes: This installment's evolution from a rural setting to an urban landscape showcases the franchise's ability to adapt and explore new narratives while staying true to its essence. Expect a refreshing thematic exploration that resonates with modern audiences.
A Blend of Humor and Horror: Just like its predecessors, "Leprechaun in the Hood" expertly balances humor with horror, providing a rollercoaster of emotions. Get ready for moments that will make you both laugh and gasp, all in the same breath.
Watch "Leprechaun in the Hood" Anywhere
Step 1: Choose the Right Streaming Service
Several streaming platforms offer access to "Leprechaun in the Hood," but one stands out: DIRECTV STREAM. This exclusive streaming service hosts the film, providing a seamless viewing experience with high-quality playback and additional perks.
Step 2: Subscribe to DIRECTV STREAM
Begin by subscribing to DIRECTV STREAM. This process involves signing up for an account on their official website. Depending on the subscription plan you choose, you'll gain access to various channels, on-demand content, and exclusive releases like "Leprechaun in the Hood."
Step 3: Consider Using a VPN for Geo-Restricted Access
While DIRECTV STREAM offers an incredible selection, access might be limited in certain regions due to geo-restrictions. This is where a Virtual Private Network (VPN) comes into play. A VPN can mask your location, granting you access to content as if you were in a different country.
Step 4: Opt for ExpressVPN for a Trustworthy Solution
Among the VPN options available, ExpressVPN is widely regarded as a reliable choice for bypassing geo-restrictions. Its fast and secure servers enable smooth streaming while maintaining your online privacy. By connecting to a server in a country where "Leprechaun in the Hood" is available, you'll gain unrestricted access to the film.
Step 5: Install and Configure ExpressVPN
After selecting ExpressVPN, install the application on your device. Follow the setup instructions provided by ExpressVPN to configure the settings according to your preferences.
Step 6: Connect to a Server
Launch ExpressVPN and connect to a server in a country where "Leprechaun in the Hood" is accessible. This will make your streaming platform believe you're located in that country, granting you full access to the movie.
Step 7: Stream "Leprechaun in the Hood"
With ExpressVPN in place, log in to your DIRECTV STREAM account. You're now all set to stream "Leprechaun in the Hood" from any country! Enjoy the movie without any geographical barriers.