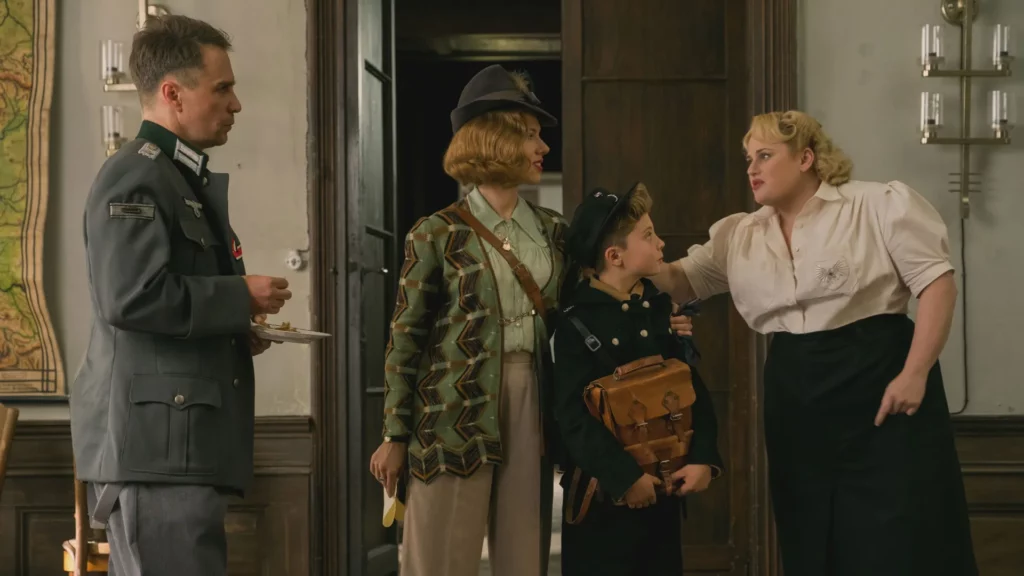 There is a refreshing wave of change sweeping across cinema with films like "Jojo Rabbit" that delightfully blends comedy within the boundaries of drama. Directed by Taika Waititi, it is a thought-provoking and emotionally stirring motion picture that effectively seals a place in the viewer's heart through the delicate infusion of laughter and tears. It's a film that is well worth your leisure time, and conveniently, Jojo Rabbit streaming is widely available on platforms, offering a compelling movie experience at your fingertips.
Jojo Rabbit is not streaming in your country?
Any of our picks not streaming in your country? ExpressVPN unlocks Reelgood and all of your streaming services, giving you access to all movies and TV shows from around the world. Stream them from anywhere with a 30-day money-back trial from ExpressVPN.
Unblock Streaming with ExpressVPN (3 months free for Reelgood users!)
Connect to a US or UK server via ExpressVPN.
Let ExpressVPN run in the background as you watch all of your movies and TV shows, securely and with no throttling or bandwidth limits.
The context in Historical Backdrop
Set against the backdrop of World War II Germany, Jojo Rabbit is a masterful satire draped over a painful historical context. The atmosphere is sobering and daunting, yet executed with such a light-hearted approach that it offers a uniquely engaging perspective.
Art of Characterization
Waititi breathes life into memorable characters where the movie's charm ignobly lies. The eponymous Jojo, played flawlessly by Roman Griffin Davis, is a devoted member of the Hitler Youth, wherein he treats his involvement with humor and unwavering enthusiasm. His companion – a ridiculous and imaginary representation of Adolf Hitler, portrayed by Waititi himself – serves as an absurdist caricature of evil, successfully brewing a comedy of the bizarre while subtly reminding the audience of his terrifying reality. 
Scarlett Johansson plays alongside these characters in her sterling portrayal of Rosie, Jojo's loving and rebellious mother, whose character delicately balances between imparting warmth and wisdom. Young Jewish girl Elsa, hidden by Rosie in their house and played by Thomasin McKenzie, provides emotional depth, drawing out Jojo's internal conflicts.
Waititi's Blending of Styles
The stylistic approach of Jojo Rabbit is groundbreaking. It straddles the line between brutal reality and campy surrealism, interspersing tragic moments with biting humor, which allows the audience to digest the truth of the narrative without being overwhelmingly sad. The director understands the art of tapping into lighter moments even amidst the darkest situations, encapsulating laughter in the heart of drama.
Multifaceted Themes
The movie depicts an extraordinary range of complex themes. It explores the conflict between indoctrination and personal growth, intolerance and acceptance, blind faith, and the process of questioning authority, cleverly juxtaposing these contrasting ideas through comedic yet deeply stirring storytelling.
The Unforgettable Cinematic Experience
Cinematographically, Jojo Rabbit is a visual delight. It understands the power that colors exert over moods and uses it to advantage, enhancing the movie's lighter and darker moments alike. Likewise, its riveting soundtrack, hybridizing contemporary pop songs with German lyrics, further underscores the movie's quirky spirit.
Jojo Rabbit's Impact
The true triumph of Jojo Rabbit lies in the indelible emotional impact it leaves. It elicits laughter, brings tears to the eyes, and provokes thought, often all at once. This movie presents an important whisper into humanity's dark past and pulls it into the present context, challenging us to recognize the absurdity of bigotry.
Jojo Rabbit: Humanizing the Inhuman and Reinvention in Storytelling
An essential part of the charm of Jojo Rabbit lies in its unexpected plot twist: the transition of Jojo from an ideological Hitler devotee to a lovable young boy who learns to question his beliefs. While the audience might initially recoil from his fanaticism, this sentiment swiftly gives way to sympathy as he begins to sense the fallibility in his early indoctrination.
The Courage of Rosie
Jojo's mother, Rosie, played impeccably by Scarlett Johansson, is the unyielding moral compass of the narrative. Amidst the dominant scene of fascist fanaticism, Rosie remains true to her beliefs, demonstrating unwavering courage and resilience. The depiction of Rosie's character allows the audience to grasp the personal toll of war on those who resist oppression. 
Sneak Peek into the World of Jojo Rabbit: An Analysis of the Movie Trailer
The Power of Comedy
Waititi employs satire and humor as an entertaining factor and a powerful tool to shed light on the bleak reality of war, prejudice, and bigotry. The comedic lens offers a fresh perspective on the war front, encouraging viewers to contemplate profound themes while enjoying their Jojo Rabbit streaming experience.
A Soldier's Heart
Despite his steadfast commitment to becoming a soldier, Jojo's gentle and sensitive heart shines through his interactions, particularly with Elsa. This depiction is an innovative departure from the typical portrayal of soldiers in war films, thus adding another glimmer to the movie's multidimensional characterization.
The Magical Cast of Jojo Rabbit – A Pivotal Element in its Storytelling 
Excellent casting is the cornerstone of any successful film, and Jojo Rabbit is no exception. The cast delivers exceptional performances, injecting their roles with conviction necessary for the film's authentic portrayal of its historical context.
Sam Rockwell as Captain Klenzendorf
Rockwell's depiction of Captain Klenzendorf – a demoted army officer running a Hitler Youth camp – showcases his character's acting mastery. Despite the comedic tendencies of his character, Rockwell infuses Klenzendorf with a depth of humanity and regret, offering a touching commentary on the impact of war.
Rebel Wilson as Fraulein Rahm
In her role as Fraulein Rahm, Comedy maven Rebel Wilson injects her scenes with her brand of wit and humor. Her animated disposition balances comedy and war-time austerity, adding a distinct flavor to Jojo Rabbit's narrative.
Alfie Allen as Finkel
Bringing a sense of pathos and loyalty to his character, Finkel, Alfie Allen presents a narrative of unrequited love. His nuanced performance, marked by subtle comic timing, ensures a memorable character, further enriching the overall experience for those engaging with Jojo Rabbit streaming.
Trivia: Did you know?
Jojo Rabbit became Waititi's first mainstream film to receive an Academy Award, resulting in Best Adapted Screenplay. Despite the film's controversial theme, it was loved by many and marked a significant turning point in his career.
Director Waititi, of Maori descent, is the first indigenous director to receive an Oscar, bringing a refreshing perspective to Hollywood.
Another interesting trivia about Jojo Rabbit is Rebel Wilson's character, Fraulein Rahm. Although the character's allusions to multiple children and willingness to fight were made for comedic effect, they were based on the real accounts of women during World War II, making Fraulein Rahm more than just a comical character.
Summing Up
The cast of Jojo Rabbit constitutes a key component in this cinematic marvel – their performances eloquently threading laughter with tragedy and light with dark. The array of complex emotions they provoke reveals their commitment to their roles, ensuring that each scene is as authentic and impactful as possible. 
Whether you've seen it before or are about to embark on a new cinematic journey, Jojo Rabbit streaming is a treasure trove of talent and creativity. This film is a testament to the transformative power of laughter in even the bleakest of spaces, offering enrichment for both the heart and the mind.
Conclusion:
In conclusion, with its captivating performances, seamless blending of drama and comedy, and striking visual execution, Jojo Rabbit stands as a groundbreaker in cinema. It is a poignant tale told with humor, a narrative that is as entertaining as it is enlightening. The movie effectively engages with its intended satire, taking the audience on a roller coaster ride of emotions that leaves them both heartbroken and uplifted. With Jojo Rabbit streaming readily accessible, there is no reason to miss out on this cinematic paragon that is simultaneously deeply human and enthusiastically humorous.
This movie, cleverly wrapped in wit and wisdom, will leave you with a heart full of cheer and contemplation, the perfect blend of laughter and tears.