John Travolta has been a recognizable name in Hollywood since his breakout role as Danny Zuko in the 1978 musical Grease. In the four decades since, he has starred in many critically acclaimed films and earned himself numerous awards, including an Academy Award nomination. Travolta's diverse filmography, from thrillers to comedies, is filled with memorable classics that will entertain any viewer. Here is a closer look at some of John Travolta's best movies.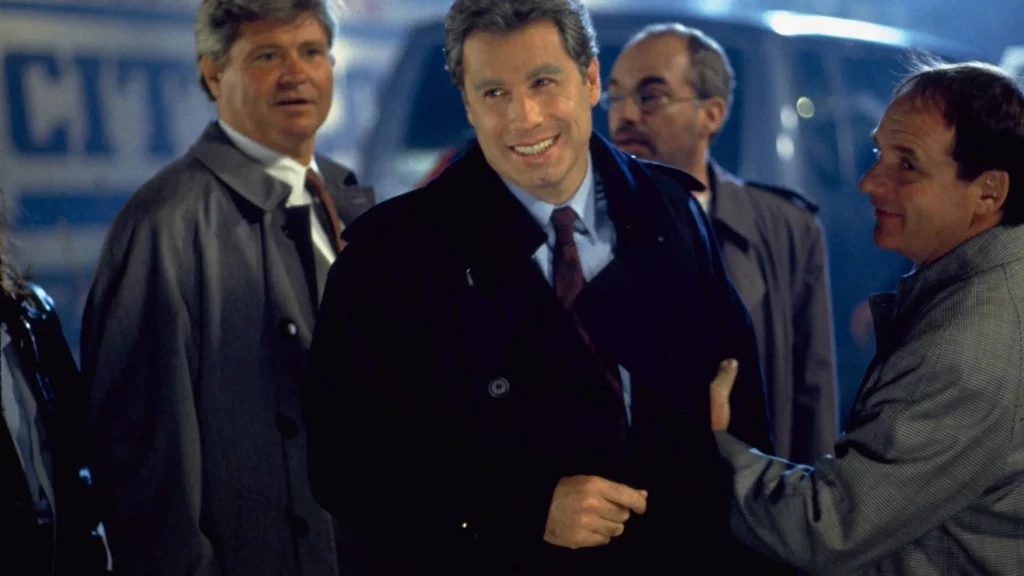 Pulp Fiction (1994)
One of the most iconic films of all time, Pulp Fiction, was written and directed by Quentin Tarantino and stars John Travolta and Samuel L. Jackson as hitmen working for a crime boss. Travolta's character, Vincent Vega, is one of the most memorable characters in the movie, and his performance earned him multiple awards, including an Academy Award nomination. Pulp Fiction has become a cult classic that has been referenced in numerous films, TV shows, and books, making it one of John Travolta's best movies.
Saturday Night Fever (1977)
John Travolta became an international sensation with his portrayal of Tony Manero in Saturday Night Fever. The film follows Tony as he attempts to make something out of himself by becoming a disco king on the dance floor at the local discotheque. With its unforgettable soundtrack and Travolta's iconic dance moves, the film has become a classic that has inspired numerous remakes over the years.
Look Who's Talking (1989)
John Travolta plays James Ubriacco in Look Who's Talking – a cab driver and single father who is trying to make ends meet for himself and his daughter Mikey (played by Kirstie Alley). In this comedy, audiences get to see Mikey's thoughts as she navigates her way through life with her dad. With its hilarious scenes and light-hearted plot, Look Who's Talking proved to be an audience favorite and cemented John Travolta as one of Hollywood's top stars.
Get Shorty (1995)
In Get Shorty, John Travolta stars as Chili Palmer – a loan shark who moves to Hollywood to try his hand at the movie business. With a great cast and interesting premise, Get Shorty proved to be commercially and critically successful. The film is filled with comedic moments and witty dialogue, which earned it numerous awards, including a Golden Globe for Best Motion Picture – Musical or Comedy.
Face/Off (1997)
Another one of John Travolta's most memorable films is Face/Off, starring Nicolas Cage as FBI Agent Sean Archer and Travolta as master criminal Castor Troy. In this science fiction action thriller, the two characters go head-to-head in an epic battle combining drama, suspense, and action elements. Travolta's performance has been praised for its intensity, and the film is considered to be one of the best action movies ever made.
Primary Colors (1998)
In Primary Colors, John Travolta stars as Governor Jack Stanton – a fictionalized version of former U.S. President Bill Clinton who is running for candidacy in the 1996 presidential election. The movie follows his campaign and the obstacles that he faces along the way. With its strong cast and unique storyline, Primary Colors was met with critical acclaim and earned Travolta numerous awards, including an Academy Award nomination for Best Actor.
Ladder 49 (2004)
John Travolta plays Captain Mike Kennedy in Ladder 49 – a firefighter who goes through a life-altering experience after getting trapped inside a burning building. The movie follows Kennedy's story and examines the courage and camaraderie shared among firefighters in such dangerous situations. With its heartfelt themes and humanistic approach to the subject matter, Ladder 49 was an audience favorite and impressed critics alike.
John Travolta has certainly had no shortage of successful films over the years, making him one of Hollywood's most iconic stars. Whether you're looking for some lighthearted fun or thrilling action, there are plenty of John Travolta movies to choose from. From his Academy Award-nominated performances in Primary Colors and Pulp Fiction to fan-favorite classics like Look Who's Talking and Get Shorty, there is a John Travolta movie to suit every type of moviegoer.
Conclusion
John Travolta has had an impressive career in Hollywood, and his films have entertained audiences for decades. From the classic Saturday Night Fever to the action-packed Face/Off, his diverse range of roles and memorable performances have made him one of Hollywood's most beloved stars. Whether you're looking for some lighthearted entertainment or intense drama, John Travolta's extensive filmography has something for everyone.