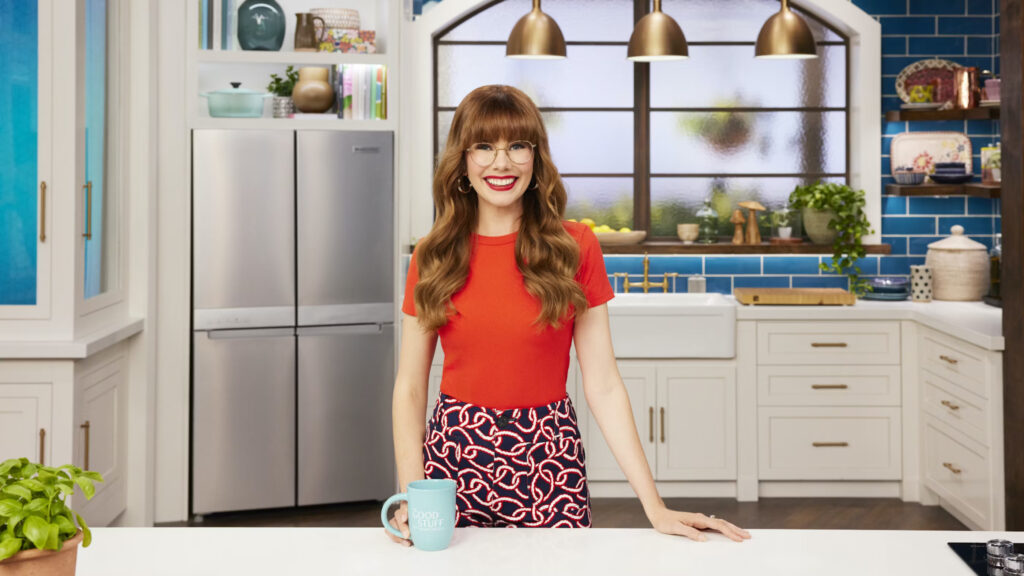 The Good Stuff with Mary Berg stands as a beacon for those who cherish contemporary trends, ingenious home solutions, and tales that touch the soul. Led by the renowned Mary Berg, a seasoned host and author, this series guarantees a mosaic of wisdom from experts, gastronomic journeys, and poignant stories.
Seeking to immerse yourself in The Good Stuff with Mary Berg from the US? Tuning into CTV has never been easier. To seamlessly access and enjoy the show, I'd point you towards ExpressVPN, the go-to for uninterrupted viewing pleasure.
Step-by-Step: How to watch The Good Stuff with Mary Berg in the US on CTV for free using a VPN
Select a VPN service that is optimized for streaming. We recommend ExpressVPN
Download the VPN and connect to the Canadian server.
Log in to CTV.
Find The Good Stuff with Mary Berg and stream it no matter where you are!
The Good Stuff with Mary Berg Synopsis
The Good Stuff with Mary Berg, led by Canada's acclaimed TV anchor and culinary aficionado, Mary Berg, is a reality spectacle showcasing a harmonious blend of modern lifestyle cues, innovative home solutions, audience-centric games, and inspiring tales. Expert maestros from different arenas drive these segments, with Mary's spirited touch being especially evident in her delectable daily recipes crafted for the home-based cook.
Beyond the recipes, the show thrives on engaging cooking rendezvous with special guest chefs, alongside deep dives into hands-on endeavors like gardening, DIY undertakings, and transformative home refurbishments. With an inviting demeanor, Mary Berg gathers a spectrum of guests – spanning celebrated authors, entertainment icons, trendsetters, and the real heroes of our daily narratives.
The Good Stuff with Mary Berg Cast
Unveiling a fresh talk and lifestyle saga, The Good Stuff with Mary Berg is steered by Mary Berg, a distinguished recipient of multiple Canadian Screen Awards and a celebrated author. This series illuminates the latest in lifestyle trends, ingenious home tweaks, captivating audience engagements, and motivational narratives, all orchestrated by the industry's leading luminaries.
When does The Good Stuff with Mary Berg premiere?
The Good Stuff with Mary Berg, an upcoming daily talk and lifestyle show, is gearing up for its grand premiere on September 5, 2023.
How many episodes does The Good Stuff with Mary Berg have?
Season 1 Episode 1 (September 5, 2023): Mary crafts a cherished meal for her loved ones and introduces Canadian Jeopardy victor, Mattea Roach. Join her as she unveils the CGI magic of Spider-verse with prodigy Preston Mutanga and thrills the audience with generous giveaways.
Season 1 Episode 2 (September 6, 2023): Mary's culinary genius transforms an everyday pantry into gourmet meals. Relish her delectable French toast muffins, and embark on a journey of familial organization with Megan Arthurs. Revel in scientific wonders with Sarah Habibi and get inspired by young Arushi Nath's asteroid-shielding mission.
Season 1 Episode 3 (September 7, 2023): Join Alexis Honce and Antonia Fifi as they revamp summer styles for the fall. Mary converses with Sharon, Bram, and Randi about their illustrative masterpiece while whipping up classic PB&J sandwiches. Dive into Seth Falk's exotic animal kingdom and discover a distinctive dining haven.
Season 1 Episode 4 (September 8, 2023): Mary teams up with culinary legend Andrea Buckett for a feast to remember. Engage in rhythmic moves with Shawn Desman's latest musical hit and indulge in a sumptuous tomato cheddar pie. Witness the altruistic spirit of Melly's Market & Café.
Season 1 Episode 5 (September 11, 2023): Details coming soon!
The Good Stuff with Mary Berg Trailer
Check out the trailer below.
Start Watching The Good Stuff with Mary Berg Now
The Good Stuff with Mary Berg is a captivating talk and lifestyle series curated for enthusiasts of modern trends, innovative home hacks, and inspiring tales. As Mary Berg, an acclaimed host and author, takes center stage, you're promised a delightful blend of expert insights, culinary adventures, and heartwarming narratives. Each episode offers a unique experience, whether it's the magic of CGI with prodigious talents or delectable recipes that elevate everyday cooking.
For viewers outside of the original broadcast region or those seeking a seamless streaming experience, there's an ideal solution. To ensure you never miss a moment of this riveting series, we recommend using ExpressVPN. It ensures uninterrupted access to the show, allowing you to immerse in Mary Berg's captivating world, regardless of where you are.