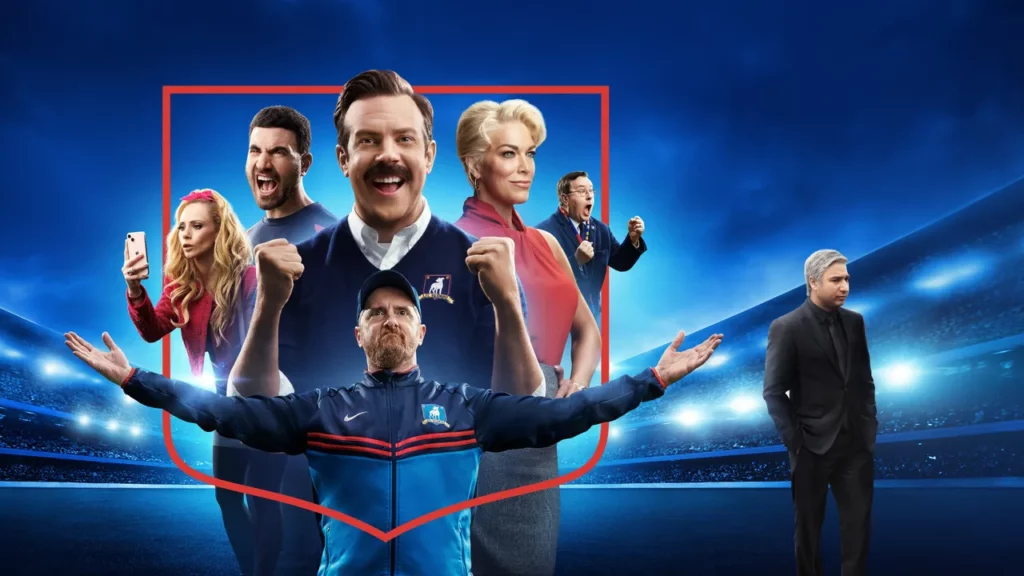 Welcome to the world of "Ted Lasso," a heartwarming and comedic series that is sure to leave you with a smile on your face. Join the charismatic and optimistic Ted Lasso as he navigates the challenges of coaching a professional soccer team in England, bringing his unique approach and infectious enthusiasm to the sport. Get ready for a delightful and uplifting journey filled with laughter, friendship, and unexpected triumphs. Let's dive into the extraordinary world of "Ted Lasso" and experience the joy it has to offer!
Ted Lasso is not streaming in your country?
Any of our picks not streaming in your country? ExpressVPN unlocks Reelgood and all of your streaming services, giving you access to all movies and TV shows from around the world. Stream them from anywhere with a 30-day money-back trial from ExpressVPN.
Unblock Streaming with ExpressVPN (3 months free for Reelgood users!)
Connect to a US or UK server via ExpressVPN.
Let ExpressVPN run in the background as you watch all of your movies and TV shows, securely and with no throttling or bandwidth limits.
The cast of Ted Lasso
Jason Sudeikis as Ted Lasso: The titular character, an American football coach who becomes the coach of a British soccer team.
Hannah Waddingham as Rebecca Welton: The owner of the soccer team, AFC Richmond, initially seeks to sabotage the team's success.
Brendan Hunt as Coach Beard: Ted Lasso's loyal and trusty assistant coach.
Jeremy Swift as Leslie Higgins: The team's Director of Football Operations, who has a complicated relationship with Rebecca.
Juno Temple as Keeley Jones: A model and love interest of one of the players on the team.
Brett Goldstein as Roy Kent: A seasoned and no-nonsense soccer player who struggles with his aging career.
Phil Dunster as Jamie Tartt: The team's talented but arrogant young player.
Nick Mohammed as Nathan Shelley: A timid and underestimated team kit man who gains confidence throughout the series.
Sarah Niles as Sharon Fieldstone: A sports psychologist brought in to work with the team.
Toheeb Jimoh as Sam Obisanya: A young and talented player from Nigeria who brings a fresh perspective to the team.
Trailer for Ted Lasso
Where to Watch Ted Lasso?
You can experience the delightful journey of "Ted Lasso" exclusively on Apple TV+. While season 1 is available for free, subsequent seasons may require a subscription. For viewers outside the United States, like those in San Marino, using a VPN can be beneficial as it allows access to US servers, ensuring the uninterrupted streaming of this exceptional series.
Plot for Ted Lasso
"Ted Lasso" follows the story of Ted Lasso, a small-time American football coach from Kansas who is unexpectedly hired to coach a professional soccer team in England, AFC Richmond. Despite having no prior experience in soccer, Ted brings his positive attitude, unwavering optimism, and folksy charm to the team.
As the series unfolds, Ted faces numerous challenges, including skeptical players, a divided fanbase, and a hostile press. However, with his unique coaching style and genuine care for his players, Ted gradually wins the respect and admiration of the team and the community.
The show explores themes of resilience, teamwork, personal growth, and the power of kindness. Alongside the on-field struggles, "Ted Lasso" delves into the personal lives of the characters, delving into their relationships, triumphs, and setbacks.
Ted Lasso's Filming Locations
"Ted Lasso" is primarily filmed in various locations in and around London, England. The series takes advantage of the city's diverse and vibrant settings to bring the story to life.
One of the notable filming locations for "Ted Lasso" is the Emirates Stadium, the home ground of Arsenal Football Club. The stadium serves as the backdrop for the home matches of AFC Richmond, the fictional soccer team in the series. Other soccer stadiums in London, such as Selhurst Park and Craven Cottage, have also been used for filming.
Additionally, several real-life locations in London are featured throughout the show. The iconic Trafalgar Square, known for its historic landmarks and bustling atmosphere, is showcased in some episodes. The streets of London, including areas like Richmond and Notting Hill, provide a picturesque backdrop for various scenes.
Viewer's Reaction to Ted Lasso
Review for Ted Lasso
"Ted Lasso" is a heartwarming and delightful series that has captured the hearts of viewers worldwide. With its clever writing, charismatic characters, and uplifting storyline, it stands out as a truly remarkable show.
The brilliance of "Ted Lasso" lies in its ability to seamlessly blend comedy and drama, offering a perfect balance of laughter and emotional depth. The titular character, played brilliantly by Jason Sudeikis, brings a contagious positivity and unwavering optimism that is both inspiring and endearing.
FAQs
What genre is "Ted Lasso"?
"Ted Lasso" is a comedy-drama series that combines elements of sports, humor, and heartfelt storytelling. It offers a unique blend of laughter and emotional depth.
Is "Ted Lasso" suitable for all audiences?
"Ted Lasso" is generally considered family-friendly, with its positive messages and uplifting themes. However, it does contain some mild language and mature themes, so parental discretion is advised for younger viewers.
Is it worth watching?
Yes, "Ted Lasso" is worth watching. The series has received critical acclaim for its heartwarming and feel-good storytelling. It offers a refreshing blend of comedy, drama, and sports, with well-developed characters and a positive message. "Ted Lasso" has been praised for its humor, emotional depth, and themes of empathy, kindness, and resilience. It has resonated with audiences for its uplifting and optimistic approach, making it a highly recommended show for those seeking an enjoyable and uplifting viewing experience.
Here's your ultimate guide to dive deep into the captivating universe of "Ted Lasso."
Download and install reliable VPN software like ExpressVPN on your device to ensure a secure and smooth streaming experience for "Ted Lasso".
Launch the VPN application and log in using your credentials to establish a protected connection.
Connect to a US server where the series is available, granting you access to stream "Ted Lasso".
Once connected, visit the streaming platform hosting "Ted Lasso" and get ready for an unforgettable journey.
Ensure that you have an active subscription or rental option for the series to enjoy uninterrupted viewing.
Using the platform's search bar, type "Ted Lasso" and dive into the captivating world of this incredible series.
Click on the title of the show and immerse yourself in the delightful episodes of "Ted Lasso".
Keep your VPN connection active throughout the streaming session for uninterrupted enjoyment.
Remember, for a seamless streaming experience, it's recommended to download and install trusted VPN software like ExpressVPN. With ExpressVPN, you can safeguard your privacy, bypass geographical restrictions, and fully embrace the captivating world of "Ted Lasso".