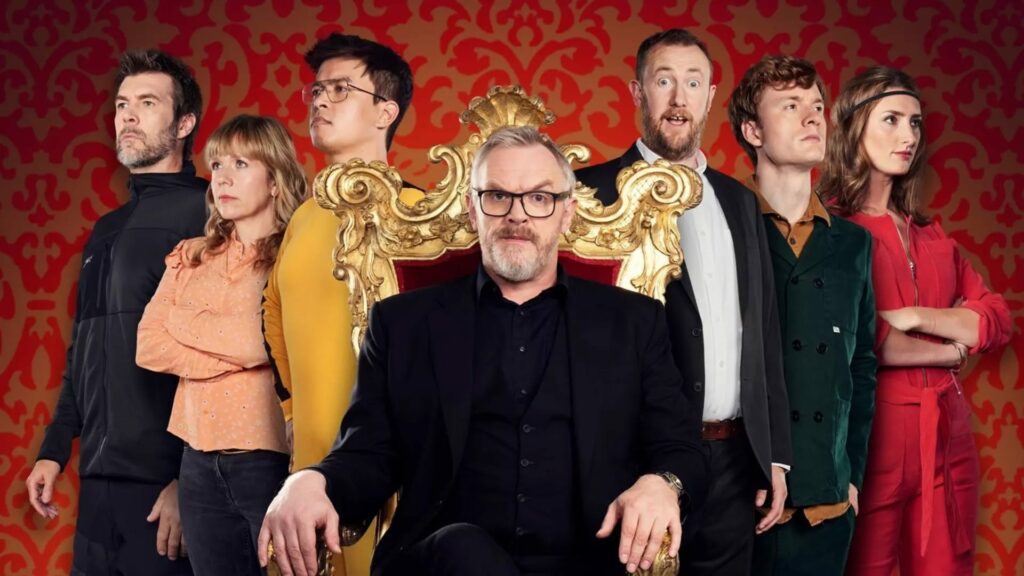 Taskmaster, Channel 4's delightfully whimsical game show, is back, boasting a brand-new cast of hilarious comedians eager to win favor from the imposing yet always entertaining Greg Davies. With Alex Horne faithfully by his side, Davies puts these five competitive comedians through a whirlwind of fun, brain-teasing challenges.
Missed the show and can't view it in Europe? No worries. To catch every laugh, twist, and challenge, I recommend using ExpressVPN for seamless streaming. Dive into this comedic journey and witness the comic brilliance unfold.
Step-by-Step: How to watch Taskmaster UK Season 15 in Europe on Channel 4 for free using a VPN
Select a VPN service that is optimized for streaming. We recommend ExpressVPN
Download the VPN and connect to the UK server.
Log in to Channel 4.
Find Taskmaster UK Season 15 and stream it no matter where you are!
Taskmaster UK Season 15 Synopsis
Taskmaster UK Season 15 is back with its signature flair. Dive into a world where five top-notch comedians and celebrities battle it out, aiming to impress the indomitable duo, Greg Davies and Alex Horne. The tasks? Ingeniously hilarious! Whether it's attempting to squeeze into a box or embodying an animal for a mere 30 seconds, these challenges are the perfect blend of creativity and humor. It's no wonder this show stands out for its side-splitting, unforgettable moments.
Taskmaster UK Season 15 Cast
Taskmaster UK Season 15 Contestants:
Frankie Boyle: The Scottish stand-up maestro with a no-holds-barred comedic style. Recognized for hosting his own BBC Two chat show and lighting up "Mock The Week".
Jenny Eclair: Comedy powerhouse and former "Loose Women" panelist, she's the brains behind "Grumpy Old Women" and is loved for her unfiltered wit.
Kiell Smith-Bynoe: Acclaimed for portraying Mike Cooper in "Ghosts" and enthralling audiences with his dynamic sketches in "Red Flag".
Mae Martin: The multi-talented Canadian-born comedian, actor, and producer shines brightly with their BAFTA-nominated performance in Netflix's "Feel Good", charming fans with self-aware humor.
Ivo Graham: The Eton-educated humorist who brilliantly weaves his elite upbringing into his stand-up. A familiar face on hits like "Mock the Week", "Live at the Apollo", and "Have I Got News For You".
When does Taskmaster UK Season 15 premiere?
Taskmaster UK Season 15 is gearing up for its grand premiere on Channel 4! Mark your calendars for 9 pm local time on Thursday, March 30, 2023. This season's unveiling comes a tad sooner than we're accustomed to. After the thrilling debut, ensure you're tuned in every Thursday at 9 pm on the channel to catch all the ensuing episodes of comic genius.
How many episodes does Taskmaster UK Season 15 have?
Taskmaster UK Season 15 Episode Guide:
Episode 1: "The Curse of Politeness" – March 30, 2023
Episode 2: TBA – April 6, 2023
Episode 3: TBA – April 13, 2023
Episode 4: TBA – April 20, 2023
Episode 5: TBA – April 27, 2023
Episode 6: TBA – May 4, 2023
Episode 7: TBA – May 11, 2023
Episode 8: TBA – May 18, 2023
Episode 9: TBA – May 25, 2023
Episode 10: TBA – June 1, 2023
Taskmaster UK Season 15 Trailer
Check out the official trailer for Season 15! Get a glimpse of the upcoming tasks, meet the fresh batch of contestants, and brace yourself for an avalanche of laughs awaiting you.
Start Watching Taskmaster UK Season 15 Now
Eager to dive into a world of comic genius? The 15th season of Taskmaster UK is here to satisfy all your comedic cravings. From intriguing new tasks to a fresh lineup of contestants, there's a whirlwind of laughter and challenges to indulge in. The official trailer teases a series filled with wit, hilarity, and memorable moments, promising viewers a season unlike any other.
If you're outside the UK and facing geo-restrictions, fret not. We've got a solution that ensures you don't miss a single moment. We recommend using ExpressVPN to enjoy seamless streaming. Dive into the entertaining escapades of Taskmaster UK and be part of the global audience laughing out loud!