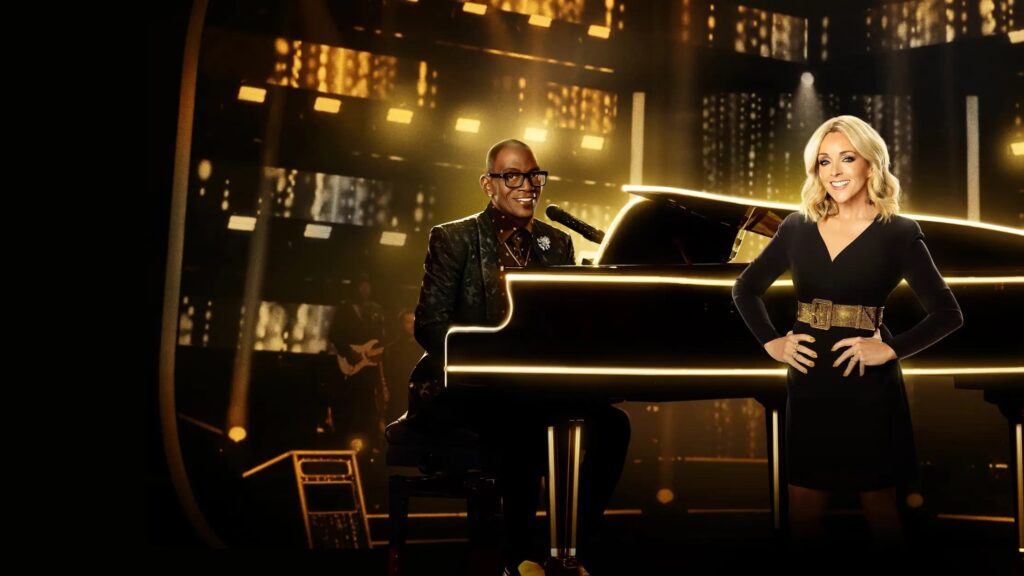 Name That Tune Season 4 returns, offering a melody-driven contest that's impossible to resist. Delve into this enthralling challenge where contestants' prowess in identifying song lyrics becomes more than just a game—it's a nail-biting race against the clock. The effervescent Jane Krakowski takes the helm, and this time, she's adding a dash of surprise. In a captivating twist, celebrities from a mosaic of backgrounds step onto the stage, competing not for personal accolades, but for noble charitable causes.
For those in Australia keen on catching every beat of this rhythmic showdown, there's a silver lining. I highly recommend giving ExpressVPN a whirl, ensuring you stay connected to every musical moment. After all, borders shouldn't dampen our harmonious passions.
Step-by-Step: How to watch Name That Tune season 4 in Australia on Hulu using a VPN
Select a VPN service that is optimized for streaming. We recommend ExpressVPN
Download the VPN and connect to the US server.
Log in to Hulu.
Find Name That Tune season 4 and stream it no matter where you are!
Name That Tune season 4 Synopsis
Name That Tune Season 4 plunges contestants into a captivating musical maze, challenging them to pinpoint iconic tracks from fleeting clips. Under the spotlight of Jane Krakowski and the seasoned ears of Randy Jackson, participants navigate rounds that span genres and generations, proving their mettle in tune recognition.
This legendary game show sets the stage with two contenders locked in a rhythmic duel, racing the clock to identify tunes belted out by a live ensemble. Rounds like By Request, Remix'd, and the formidable Golden Medley push contestants to their limits, as they bet on identifying songs from the slimmest of hints. With the pulsating blend of memory, melody, and white-knuckle competition, stakes rise even higher this season. Season 4 welcomes celebrity faces, all vying for up to $150,000 for charity. Expect a whirlwind of laughter, nostalgia, and unexpected twists as stars shoot for a charitable jackpot.
Name That Tune season 4 Cast
Host
Jane Krakowski, an acclaimed actress and singer, anchors Name That Tune Season 4 with flair. Known for her remarkable prowess across TV and Broadway, Jane infuses the show with warmth and charm, ensuring a delightful experience for everyone tuning in. Her musical roots make her an apt choice to steer contestants through the show's harmonious hurdles. With Jane at the helm, the show transcends typical game show bounds, offering viewers a truly enthralling spectacle.
Band Leader
Randy Jackson, the celebrated musician, producer, and former linchpin of American Idol, steps in as the Band Leader for Name That Tune Season 4. His vast repertoire in the music realm lends unparalleled authenticity to the show. Central to the game's essence, Randy's keen musical insights elevate the live band segments, adding depth and expertise. His seasoned ear and industry insights ensure the show's musical segments are nothing short of impeccable.
Contestants
While the official cast of Name That Tune Season 4 remains under wraps, buzz points to a star-studded roster. Glimpses from teasers hint at an eclectic mix of talents—from athletes and musicians to actors and comedians. Names generating excitement include Melanie C., Lolo Jones, Darren Criss, Carson Kressley, John Salley, Adam Rippon, Rashad Jennings, and Todd Gurley, signaling a season not to be missed.
When does Name That Tune season 4 premiere?
Name That Tune Season 4 premieres Tuesday, September 19, 2023, at 8 PM ET exclusively on Hulu.
How many episodes does Name That Tune season 4 have?
Name That Tune Season 4 boasts a lineup of 9 engaging episodes, dropping weekly.
Episode 1 (September 19, 2023): Spice Up the Tunes
Stars in the spotlight: Melanie C. championing Support and Feed, Darren Criss advocating for Planned Parenthood, Lolo Jones supporting her eponymous Lolo Jones Foundation, and Carson Kressley playing for the Kempton Community.
Episode 2 (September 26, 2023): Sport Star Showdown
The arena heats up with John Salley, former basketball pro, backing PETA, Adam Rippon, Olympic medalist and entertainer, vouching for Pups without Borders, Rashad Jennings aiming for victory for The Rashad Jennings Foundation, and Todd Gurley rallying behind M.A.D.E Sports Foundation.
Episode 3 (October 3, 2023) – TBA
Episode 4 (October 10, 2023) – TBA
Episode 5 (October 17, 2023) – TBA
Episode 6 (October 24, 2023) – TBA
Episode 7 (November 7, 2023) – TBA
Episode 8 (November 14, 2023) – TBA
Episode 9 (November 21, 2023) – TBA
Name That Tune season 4 Trailer
The official trailer for Name That Tune Season 4 is still under wraps. However, as soon as it's unveiled, we'll update this guide. Stay tuned!
Start Watching Name That Tune season 4 Now
The beat drops and the challenge begins. Name That Tune Season 4 is all set to serenade fans with its electrifying musical face-offs and a cast glittering with both charm and talent. Each episode promises a harmonious blend of nostalgia, competition, and high-stakes drama, with stars battling it out for causes close to their hearts. Don't miss the chance to witness this symphony of fun, laughter, and edge-of-your-seat suspense, as the most awaited season of this iconic show comes alive.
If you're facing geographical restrictions or want an uninterrupted streaming experience, consider our top pick to ensure you don't miss a note. We highly recommend ExpressVPN for smooth, borderless access to the show. Dive into the musical world of Name That Tune, and let nothing stand in the way of your rhythm!