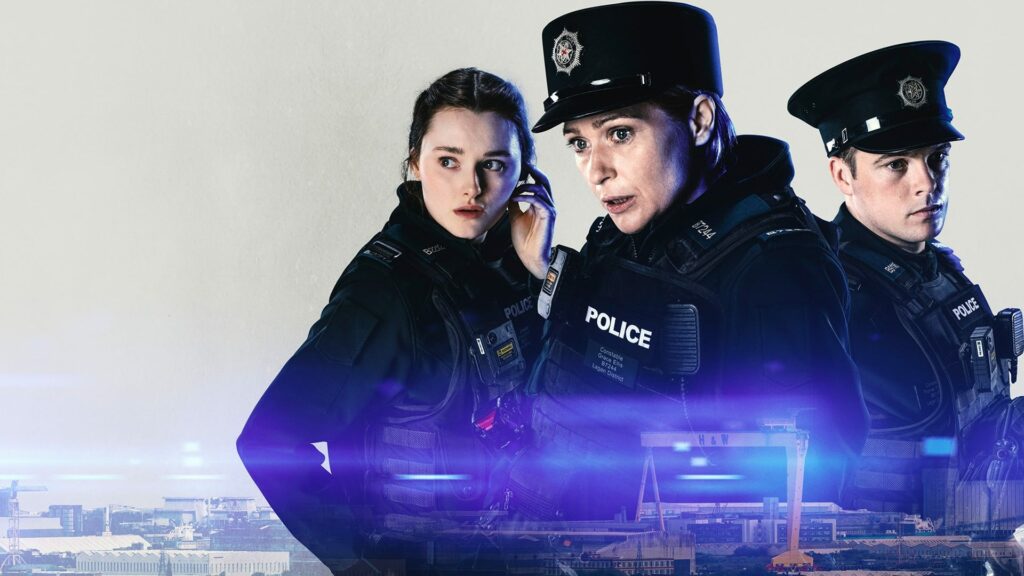 Blue Lights dives deep into the heart of Northern Ireland, unraveling the challenges rookie police officers face in the pulsating streets of modern-day Belfast. This gripping crime drama, soon to air on BBC iPlayer, throws the spotlight on a unique blend of risks and strains frontline response cops grapple with every day.
For those in Europe eager to immerse themselves in this Belfast-based narrative, the hunt to stream it seamlessly ends here. Navigating geo-restrictions? I'd steer you towards ExpressVPN – a trusted solution ensuring you catch every moment of Blue Lights without a hitch. Dive in, and let Belfast's gritty tales captivate your senses.
Step-by-Step: How to watch Blue Lights in Europe on BBC iPlayer for free using a VPN
Select a VPN service that is optimized for streaming. We recommend ExpressVPN
Download the VPN and connect to the UK server.
Log in to BBC iPlayer.
Find Blue Lights and stream it no matter where you are!
Blue Lights Synopsis
Blue Lights chronicles the journey of Grace, a mother to a teenage son, who trades her role in social work for the demanding corridors of the Police Service of Northern Ireland. Teaming up with rookie officers Annie and Tommy, Grace shoulders the daunting challenge to stand out and navigate her probationary phase in the PSNI.
As the trio delves into the nuances of law enforcement, they are faced with unsettling decisions: Is it possible to trust their own community? And how do they distinguish between genuine pleas for help and those who bear animosity because of the colors they wear? This story captures the essence of trust, duty, and identity.
Blue Lights Cast
Stepping into the spotlight, Siân Brooke brilliantly embodies Grace, a nascent police officer striving to seamlessly merge her personal world with her demanding profession. Drawing inspiration for her role, Siân conferred with her father, a veteran in the realm of law enforcement. Fans might recall her impeccable portrayal of Eurus Holmes in Sherlock, sharing the screen with icons like Benedict Cumberbatch and Martin Freeman.
Katherine Devlin embraces the role of Annie, another fresh face on the police force. Audiences previously marveled at her acts as Siobhan in the 2018 cinematic piece, The Dig, and as Natasha in the riveting Vikings series.
In a dazzling debut, Nathan Braniff graces our screens as Tommy, the novice officer under the guidance of Gerry, a character brought to life by the renowned Richard Dormer, celebrated for his impactful role in Game of Thrones.
Who's completing the cast of Blue Lights? The roster brims with talent, featuring Jonathan Harden as David 'Jonty' Johnston, Martin McCann as Stevie Neil, and a slew of others like Dane Whyte O'Hara, Hannah McClean, and Valene Kane.
Rounding off this star-studded lineup, we have Andi Osho, Michael Shea, Nabil Elouahabi, and an array of gifted actors, solidifying Blue Lights as a beacon for drama aficionados.
When does Blue Lights premiere?
Premiering Monday, March 27 at 9 pm, Blue Lights unfolds as a captivating six-part series, available for binge-watching exclusively on BBC iPlayer.
How many episodes does Blue Lights have?
Blue Lights Episode Guide:
Episode 1: The Code (March 27, 2023) – Grace, alongside her partner, rushes to a scene where a worried mother, Angela Mackel, is anxious her teenage son is falling prey to manipulation.
Episode 2: Bad Batch (March 27, 2023) – As the squad scrambles to counteract a lethal drug circulation, Annie grapples with unsettling information, causing her to reevaluate her trust circle. Meanwhile, the McIntyres scramble to erase their traces.
Episode 3: The Fear (March 27, 2023) – Fueled with determination, Grace zeroes in on the McIntyres post a paramilitary-themed attack. Angela's desperation peaks as she watches her son drift away.
Episode 4: Full Moon Fever (March 27, 2023) – The unit faces scrutiny from the police ombudsman following a tumultuous night shift. Helen stumbles upon a shocking revelation, while personal upheavals have Grace questioning her professional path.
Episode 5: The Q Word (March 27, 2023) – Mo's covert dealings jeopardize his bond with his father. As Tommy preps for an advanced firearms assessment, Stevie strives to persuade Grace to rejoin the force.
Episode 6: Love the One You Are With (March 27, 2023) – Post a shooting incident, unity defines the team's response. Tensions escalate between Stevie and the secret agents, Mo confronts unsettling truths about his father, and Grace is caught in a dilemma over her commitment to Angela.
Blue Lights Trailer
Check out the trailer below!
Start Watching Blue Lights Now
The captivating world of the Police Service of Northern Ireland awaits you in the BBC's Blue Lights. This gripping series promises to delve deep into the intricacies and challenges faced by officers, offering viewers an authentic behind-the-scenes look. If the trailer's intensity is anything to go by, this is one series you won't want to miss.
For those outside the UK eager to catch this thrilling drama, fret not. We recommend using ExpressVPN. It's a reliable and user-friendly way to access BBC iPlayer from any corner of the globe. With ExpressVPN, you're just a click away from diving into the heart-stopping moments of Blue Lights. So gear up, and let the binge-watching begin!