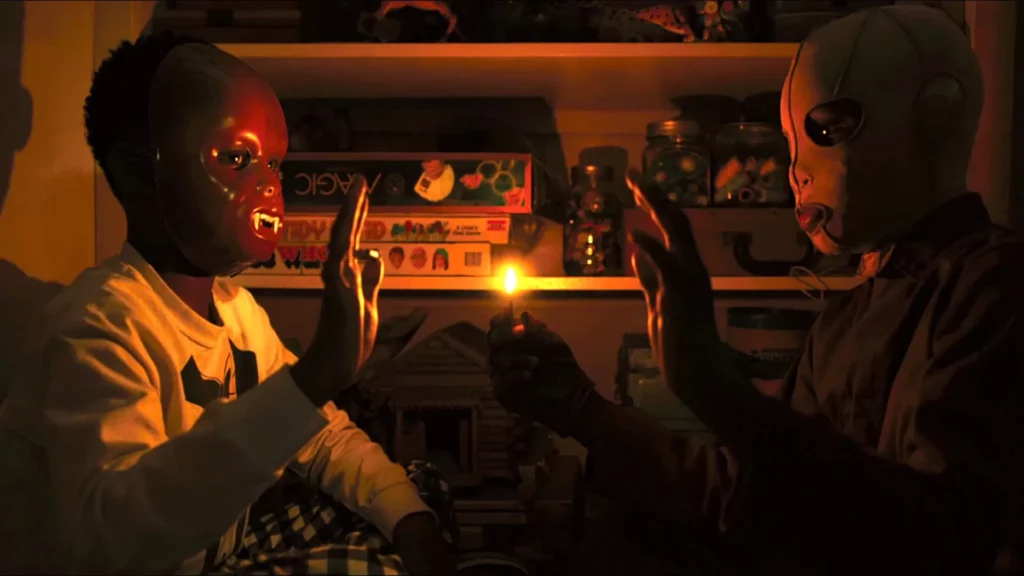 The realm of horror is reawakening, with contemporary horror movies venturing beyond mere shock value to offer novel and engaging cinematic encounters. Spanning the spectrum from suspense to dread, thrills to sheer terror, these modern horrors envelop audiences and fans in immersive realms of experience. The genre is undergoing a renaissance, with filmmakers pushing their creative limits to probe horror cinema's core, origins, and limits, ultimately delivering an enthralling resurgence that captivates without compromise. So, buckle up the seatbelt and don't look away now as we explore the ten must-see modern horror films.
These Best Modern Horror movies are not streaming in your country?
Any of our picks not streaming in your country? ExpressVPN unlocks Reelgood and all of your streaming services, giving you access to all movies and TV shows from around the world. Stream them from anywhere with a 30-day money-back trial from ExpressVPN.
Unblock Streaming with ExpressVPN (3 months free for Reelgood users!)
Connect to a US or UK server via ExpressVPN.
Let ExpressVPN run in the background as you watch all of your movies and TV shows, securely and with no throttling or bandwidth limits.
Let's kickstart this list with a recent classic by Ari Aster, "Hereditary" (2018). This film weaves an incredibly chilling narrative that captures the horror of grief and loss like no other. Aside from a few jump scares, this film's primary source of terror is the sense of dread and languid atmosphere surrounding the characters. The film is a great exploration of grief-induced horror. It employs several techniques to portray this, such as dark visuals, appropriately-timed sound design, slow-motion shots, and distortion of real-world components.
The second one on this list is "Us" (2019) by the legendary Jordan Peele. With Us, Peele takes an uncanny turn into the genre by bringing to the screen a fantastic yet wickedly terrifying story about a family being terrorized by their doppelgängers. A cinematic epitome of tension's meticulous construction and intricate strata of suspense, the movie embodies an exemplary exhibition. Among Peele's most triumphant ventures in horror, "Bushwick" distinctly orchestrates psychological dread over overt aggression. The protagonist finds herself trapped in an earnest endeavor to shield her family from a ruthless gang of assailants, fervently intent on wresting command over their lives—forming a captivating narrative nucleus.
Thirdly, one of the best sci-fi/horror movies ever made is undoubtedly Alex Garland's "Annihilation" (2018). It is a deep and thoughtful exploration of the unknown, with the protagonist's journey into a mysterious and bizarre area called The Shimmer being the film's focus. What follows is an exploration of humanity's fear of the unknown and how it shapes the protagonists' psyche. This film is a wonder to behold, set against an unusual landscape with some superb special effects.
Next on this list is the heart-stopping thriller "Get Out" (2017) by Jordan Peele. "Get Out'' follows the story of Chris (Daniel Kaluuya), who visits his white girlfriend's family only to find out they are part of a twisted conspiracy and plan to use an interracial couple's brains to increase their mental abilities. It explores modern racism, classism, and how people have used their privilege to exploit and harm others. The film carries tension and suspense, the storytelling akin to a roller-coaster ride of terror and a great execution of a horror-thriller; it is rightly acclaimed as one of the most impressive horror films of the 21st century.
The fifth film on this list is "A Quiet Place" (2018) by John Krasinski. This post-apocalyptic film follows a family's life keeping silent to avoid creatures that hunt by sound. It is an effective exercise in suspense-led horror, with silence being a metaphor for the lack of communication prevalent in many families today. Moreover, Krasinski's film is the cinema of ideas, questioning our existence and how circumstances can feed into our survival instinct.
Next on this list is the psychological horror-thriller "The Witch" (2015) by Robert Eggers. This atmospheric exploration of superstition and folk horror is a deeply unsettling and engaging experience that employs Easter European folklore to influence the film's visuals. The film plunges into the depths of paranoia and madness as a witch slowly consumes the soul of a family in rural Massachusetts. It brilliantly captures the fear of the unknown and the sinister nature of religion.
"It Follows" (2015) by David Robert Mitchell comes next on this list. It follows a teenage girl who is pursued by an unknown entity. It is a unique exercise in horror that does a brilliant job ofof terrifying its viewers while maintaining an allegorical take on the subject. It's a dream-like atmosphere and supernatural horror blended with coming of age story and offers one of the most unique scary movie experiences ever.
We have "The Babadook" (2014) by Jennifer Kent on the eighth spot. This darkly psychological horror tells the story of a widow's struggle with her grief and her son's increasingly difficult behavior leading him to believe in a mythical monster, the Babadook. The film effectively explores fear and depression, with the Babadook being a metaphor for repressed grief and fear. It is wisely done and is both scary and thoughtful.
Second-last, but by no means least on this list, is "The Cabin in the Woods" (2012) by Drew Goddard and Joss Whedon. The meta-horror film deconstructs and recreates several classic horror plot points and stereotypes. The film follows a group of friends who head off to a cabin in the woods only to find out they are soon fighting for their lives. It is a clever film thatthat humorously alternates between horror and comedy.
We have "It" (2017) by Andy Muschietti. This remake of the 1990 classic, while changing some subtle elements to fit in with changing tastes and trends, was still a very effective scary movie experience that still didn't lose any of its edge. It is incredibly creepy and juxtaposes children's comedy and horror in a nostalgic blend to create a heartfelt and scary experience.
In conclusion, these ten films are a great starting point for anyone wanting to get introduced to modern horror films, as they all explore fascinating and thought-provoking concepts ranging from grief to racism, religion to superstition, and depression to paranoia. So, don't look away now, as these modern masterpieces in horror cinema provide some of the most terrifying and thoughtful cinematic experiences.