Are you looking for a great selection of horror movies to watch on Hulu? Look no further! We've compiled a list of 13 of the best horror movies currently streaming on Hulu. From psychological thrillers to slasher films, these horror movies will have you on the edge of your seat. With creepy monsters, mysterious vans, and relentless bullies, these movies will keep you up at night. So grab some popcorn and prepare for spooky thrills with these 13 best horror movies on Hulu.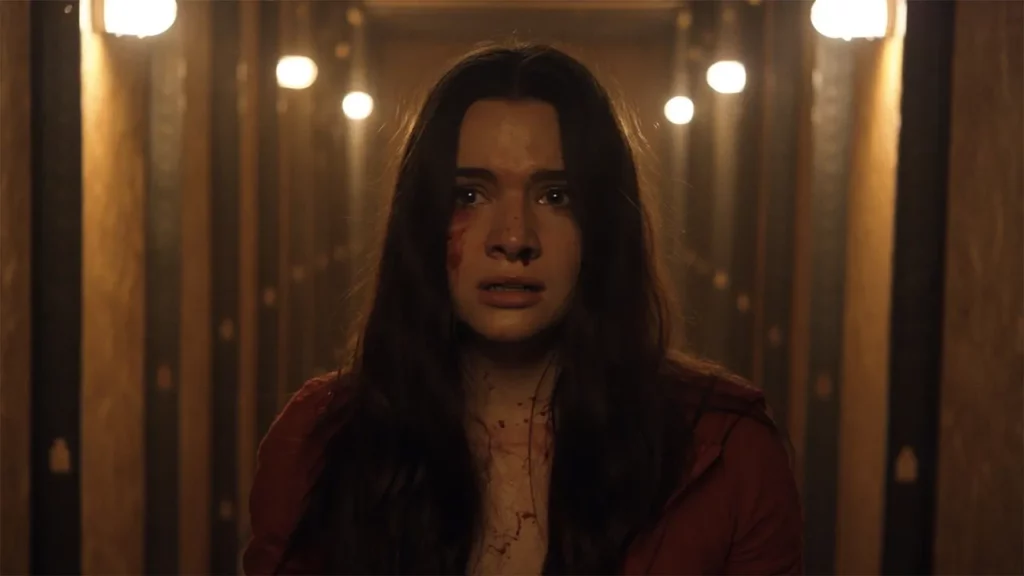 Written and directed by Carlota Pereda, "Piggy" paints a vivid picture of the horrific experience of being bullied. The film follows teenager Sara (Laura Galán) as her peers relentlessly torment her in public and on social media for her weight. When Sara attempts to escape from their harassment at her local pool, her bullies hunt her down, taunt her, and take away her clothes and towel. As these monstrous acts of cruelty continue, a mysterious white van appears in the woods, and some of Sara's tormentors start to go missing. When Sara makes eye contact with the van's driver – a slasher killer – she is left to wonder whether those who have only made her life worse had it coming to them after all.
Justin Benson and Aaron Moorhead star in the 2022 American science-fiction comedy, Something in the Dirt. Benson plays Levi, and Moorhead plays John in the fifth feature film directed by the duo. The film premised online at the 2022 Sundance Film Festival in January 2022. Benson and Moorhead bring a unique energy to their roles, making this an exciting watch for fans of their work.
Run is a 2020 American psychological thriller film directed by Aneesh Chaganty and written by Chaganty and Sev Ohanian. The film stars Sarah Paulson, Kiera Allen, and Onalee Ames and follows a homeschooled teenager who is kept isolated by her overprotective mother. As the teenager begins to explore her independence, she discovers a sinister secret about her mother that could change her life forever. Run is an intense and suspenseful watch that keeps viewers on the edge of their seats until the end. With its captivating performances and clever plot twists, it will surely be a hit with thriller fans.
Possessor (2020) is a science-fiction horror film written and directed by Brandon Cronenberg. The film stars Andrea Riseborough, Christopher Abbott, Jennifer Jason Leigh, and Sean Bean. Possessor follows Tasya Vos (Riseborough), an elite corporate assassin who uses technology to take control of people's bodies and drive them to commit acts of violence on her behalf. As she takes on her latest assignment, she finds herself in a dangerous situation where she must fight for her own survival. Possessor is a gripping and intense thriller that keeps viewers on the edge of their seats until the end. With its strong performances, stylish visuals, and dark themes, Possessor will surely be a hit with fans of the genre.
Prometheus (2012) is a science-fiction adventure film directed by Ridley Scott. Starring Noomi Rapace, Michael Fassbender, Charlize Theron, and Guy Pearce, the film follows a team of scientists and explorers on a mission to a distant moon in search of the origins of humanity. The team discovers something far more sinister than they could have imagined and must fight to stay alive in the face of overwhelming danger. With its bold visuals and powerful performances, Prometheus is an unforgettable sci-fi experience that will leave viewers on the edge of their seats. Fans of the genre will not want to miss this thrilling ride.
The Green Mile (1999) is a drama film directed by Frank Darabont and starring Tom Hanks, Michael Clarke Duncan, and David Morse. It is based on the Stephen King novel of the same name. The Green Mile tells the story of Paul Edgecomb (Hanks), a prison guard at Cold Mountain Correctional Facility who discovers that an inmate on death row, John Coffey (Duncan), has mysterious powers. As Edgecomb gets to know Coffey, he learns more about his powers and the amazing life story he has to tell. With its emotional performances, brilliant direction, and powerful themes of mercy and justice, The Green Mile is an unforgettable film that will stay with viewers long after seeing it.
Zombieland (2009) is a post-apocalyptic horror comedy directed by Ruben Fleischer and starring Jesse Eisenberg, Woody Harrelson, Emma Stone, and Abigail Breslin. The film follows the adventures of four survivors as they make their way across America in search of a safe haven from the zombie hordes. Along the way, they must face off against both the living dead and some crazy human survivors. Zombieland is an entertaining mix of horror and comedy that will have viewers laughing and screaming in equal measure. With its sharp script, memorable characters, and nonstop action, Zombieland is a must-see for fans of the genre.
Antlers is a 2021 horror-thriller film directed by Scott Cooper. It stars Keri Russell, Jesse Plemons, Jeremy T. Thomas, Graham Green, and Scott Haze.
The film follows a small-town teacher and her brother investigating a mysterious student whose dark secrets can potentially unleash a monster from the woods. They soon discover that the boy is being pursued by an ancient force that has been living in the woods for centuries and is determined to take him back with it.
To save the boy and protect their town, they must uncover the truth about what's lurking in the woods. Along their journey, they face unexpected horrors that will test their courage and strength as they fight to keep one step ahead of the terrifying creature in pursuit.
With suspenseful suspense-building sequences, Antlers is an exciting horror-thriller that will keep viewers on the edge of their seats right until its shocking conclusion.
Haunt is a 2019 horror movie directed by Scott Beck and Bryan Woods. The film follows a group of friends who find themselves in an abandoned haunted house on Halloween night. As they explore the house, they soon discover that there is more to the house than meets the eye and they must fight to survive. The film stars Katie Stevens, Will Brittain, Lauryn Alisa McClain, Andrew Caldwell, and Schuyler Helford.
The Happening is a 2008 psychological thriller directed by M. Night Shyamalan and starring Mark Wahlberg, Zooey Deschanel, John Leguizamo, and Betty Buckley. The movie follows a group of people trying to survive an inexplicable and mysterious event that is slowly killing off the entire population of the northeastern United States.
Censor is a 2021 psychological horror movie directed by Prano Bailey-Bond, starring Niamh Algar, Nicholas Burns, Vincent Franklin, and Sophia La Porta. The film follows a film censor in 1980s Britain who discovers a mysterious tape that could be connected to her sister's disappearance. As she investigates further, she finds herself in the middle of a terrifying conspiracy that could be more dangerous than she realized.
28 Weeks Later is a 2007 post-apocalyptic horror movie directed by Juan Carlos Fresnadillo and starring Robert Carlyle, Rose Byrne, Jeremy Renner, and Harold Perrineau. The film is set in a dystopian future where London has been left in ruins after a deadly virus has caused the population to turn into zombie-like creatures. The story follows a group of survivors who must fight to stay alive while the virus threatens to consume them all.
Marrowbone is a 2017 Spanish horror-thriller film directed by Sergio G. Sánchez. It stars George MacKay, Anya Taylor-Joy, Charlie Heaton, Mia Goth, and Matthew Stagg.
The film follows a group of siblings who are trying to evade the law after the death of their mother. To do so, they hide in an old family estate called Marrowbone. They must also hide their dark secrets while trying to survive in the isolated location.
As they struggle to make it through each day, they soon discover that there is something sinister lurking in the depths of Marrowbone and it is up to them to discover the truth before it's too late. Along their journey, they must face their own fears and confront unexpected horrors that will test their courage and strength as a family unit.
In conclusion, Hulu is one of the best streaming services for horror movies. It has a wide selection of films ranging from classic horror films like The Shining to modern horror films like Antlers. Hulu also has many foreign horror films like Marrowbone and Piggy. No matter what kind of horror film you're looking for, you're sure to find something that will keep you on the edge of your seat with Hulu's 13 best horror movies.