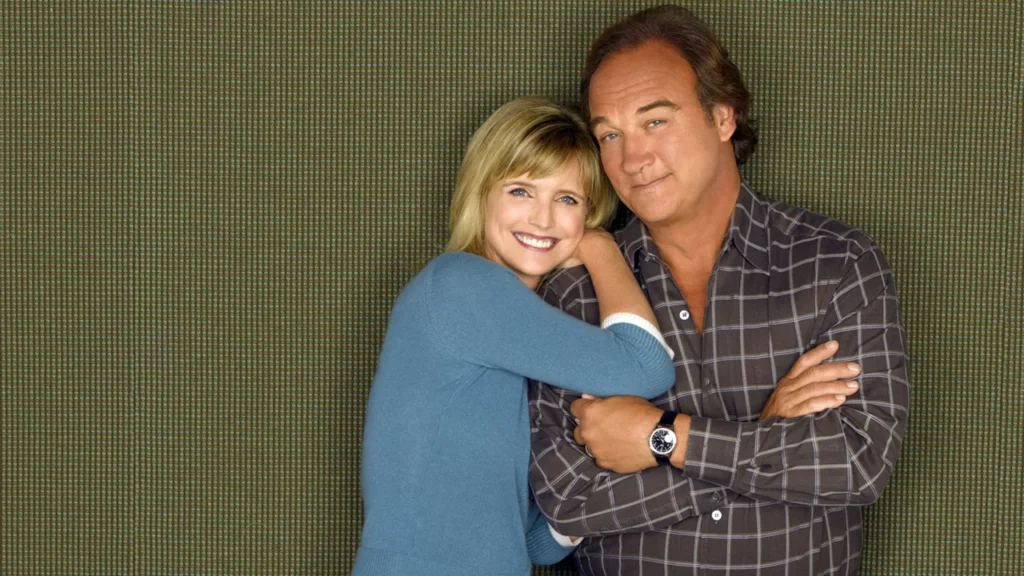 Welcome to the world of "According to Jim"! This beloved sitcom, starring Jim Belushi, has captured the hearts of audiences with its hilarious and heartwarming family dynamics. From its premiere in 2001 to its final episode in 2009, "According to Jim" has left a lasting impression on fans around the world. In this blog post, we will dive into everything you need to know about the show, including its plot, cast, memorable moments, and why it continues to be cherished by viewers to this day. So, grab a seat on the couch, get ready for some laughter, and let's explore the delightful world of "According to Jim" together.
According to Jim is not streaming in your country?
Any of our picks not streaming in your country? ExpressVPN unlocks Reelgood and all of your streaming services, giving you access to all movies and TV shows from around the world. Stream them from anywhere with a 30-day money-back trial from ExpressVPN.
Unblock Streaming with ExpressVPN (3 months free for Reelgood users!)
Connect to a US or UK server via ExpressVPN.
Let ExpressVPN run in the background as you watch all of your movies and TV shows, securely and with no throttling or bandwidth limits.
Rediscovering the Laughter: An Overview of "According to Jim" and its Distinctive Charm
In the sitcom "According to Jim," the central character, Jim Belushi, portrays Jim, as a lovable yet sometimes bumbling husband and father. The show revolves around Jim's humorous escapades and his interactions with his wife Cheryl (played by Courtney Thorne-Smith), their three children, and his quirky circle of friends.
The theme of "According to Jim" centers on the challenges and joys of family life, often highlighting the comical situations that arise from Jim's laid-back parenting style and his unconventional approach to problem-solving. The setting predominantly takes place within the cozy confines of the family's suburban home, providing a relatable backdrop for everyday adventures and mishaps.
As the series progresses, viewers may notice some changes and developments compared to earlier seasons. These can include character growth and evolving dynamics within the family, as well as the introduction of new recurring characters that add fresh dimensions to the storylines. While the essence of the show remains intact, these shifts contribute to the ongoing evolution of the characters and their relationships, keeping the humor and entertainment engaging throughout the seasons.
Lights, Camera, Comedy: Release Date and Trailer Analysis of "According to Jim"
Release Date: October 3, 2001
The series primarily focuses on Jim's humorous antics and the challenges he faces in balancing his responsibilities as a husband, father, and occasionally a working man. Each episode typically follows a self-contained storyline, often highlighting Jim's laid-back approach to life and his clashes with his more practical and organized wife.
The show is known for its lighthearted humor and family-friendly themes, often exploring relatable situations and delivering comedic moments. While "According to Jim" doesn't involve complex overarching storylines or theories, it aims to entertain audiences through its portrayal of family dynamics and Jim's comedic personality.
Cast of "According to Jim": Bringing Comedy to Life
Jim Belushi (Jim): Jim Belushi is the heart and soul of "According to Jim," portraying the titular character. With his natural comedic timing and larger-than-life personality, Belushi brings Jim to life as a lovable and mischievous husband and father. His portrayal of Jim's laid-back attitude and humorous escapades forms the core of the show's comedic appeal.
Courtney Thorne-Smith (Cheryl): Courtney Thorne-Smith portrays Cheryl, Jim's practical and level-headed wife. As the voice of reason in the household, Thorne-Smith's performance adds a necessary balance to the dynamic between Jim and Cheryl. Her chemistry with Belushi contributes to the show's humor, as their contrasting personalities often clash, leading to comedic situations.
Larry Joe Campbell (Andy): Larry Joe Campbell plays Andy, Jim's best friend and loyal sidekick. Campbell's comedic timing and expressive face make Andy a scene-stealer. Andy's character provides a constant source of comic relief, often getting caught up in Jim's schemes or offering witty banter. Campbell's presence ensures the show maintains its humorous momentum.
Taylor Atelian (Ruby): Taylor Atelian portrays Ruby, Jim, and Cheryl's oldest daughter. Ruby's character evolves throughout the series, and Atelian's performance captures the transition from a precocious child to a teenager dealing with typical adolescent challenges. As the show progresses, Ruby's storyline becomes more prominent, allowing Atelian to showcase her acting abilities and deepen the emotional aspects of the series.
Billi Bruno (Gracie): Billi Bruno plays Gracie, Jim, and Cheryl's youngest daughter. Bruno's portrayal of Gracie adds a delightful charm to the show. Gracie's innocence and adorable antics provide countless comedic moments. As the youngest member of the family, Bruno's performance captures the innocence and youthful spirit that brings joy to the audience.
Top Reasons Why "According to Jim" is a Must-Watch for Fans: Endearing Comedy and Relatable Family Dynamics
Compelling Reasons for Fans:
Hilarious and Endearing Characters: The ensemble cast of "According to Jim" brings a perfect blend of humor and heart to the screen. Jim's larger-than-life personality, Cheryl's practicality, Andy's loyalty, and the adorable antics of Ruby and Gracie create a lovable and relatable group of characters that fans will grow to adore.
Lighthearted and Family-Friendly Humor: The show's comedic style is light, enjoyable, and suitable for all audiences. With its focus on family dynamics and everyday situations, "According to Jim" delivers humor that resonates with viewers on a relatable level, making it an ideal choice for fans seeking a show that can be enjoyed by the whole family.
Chemistry and Performances: The cast's chemistry and comedic timing are a highlight of the show. Jim Belushi's charismatic portrayal of Jim, combined with the excellent performances from the rest of the cast, creates a synergy that keeps the humor flowing and the audience engaged throughout each episode.
Relatable Family Situations: "According to Jim" excels at portraying relatable family dynamics and everyday challenges. The show tackles common issues faced by parents, couples, and siblings, offering humorous perspectives and providing comfort through laughter. Fans will appreciate the show's ability to capture the ups and downs of family life in a light-hearted and relatable manner.
Long-Lasting Appeal: Despite ending its original run in 2009, "According to Jim" has maintained a dedicated fan base. The show's enduring popularity speaks to its ability to provide timeless humor and relatable storytelling. For fans discovering the series or those eager to revisit the beloved characters, "According to Jim" offers a timeless and enjoyable viewing experience.
Unlocking the Laughter: How to Watch "According to Jim" from Any Country
Step-by-Step Guide to Watching "According to Jim" from Any Country
Determine the Available Streaming Services: Start by identifying the streaming platforms that offer "According to Jim" in your country. One of the popular options is Prime Video, which exclusively streams the series. Check if Prime Video is accessible in your country and if "According to Jim" is available in its content library.
Install a VPN: To access Prime Video and watch "According to Jim" from any country, it is recommended to use a Virtual Private Network (VPN). A VPN allows you to bypass geo-restrictions by masking your IP address and making it appear as if you are browsing from a different location. ExpressVPN is a trusted and reliable VPN service that offers secure and fast connections.
Subscribe to a VPN Service: Visit the official website of ExpressVPN (expressvpn.com) and sign up for a subscription plan that suits your needs. Follow the instructions provided to complete the registration process and make the payment.
Download and Install the VPN App: Once you have subscribed to ExpressVPN, download the appropriate app for your device. ExpressVPN supports a wide range of platforms, including Windows, Mac, iOS, Android, and more. Follow the installation instructions provided by the VPN service.
Connect to a Server: Launch the ExpressVPN app and log in with your credentials. From the list of available server locations, choose a server in a country where "According to Jim" is accessible on Prime Video. This will enable you to bypass any geo-restrictions and access the content.
Connect to the VPN Server: Click on the "Connect" button to establish a secure connection with the chosen server. Once connected, your IP address will be masked, and your location will appear as if you are browsing from the selected country.
Access Prime Video: Open a web browser or launch the Prime Video app on your device. Log in to your Prime Video account or sign up for a new account if necessary. You should now have access to the Prime Video library of the country you selected with the VPN.
Search for "According to Jim": Use the search function within Prime Video to find the series "According to Jim." Browse through the available seasons and episodes, and start streaming your favorite episodes of the show.