If you are searching for Jamie Foxx movies, then you came to the right place! Jamie Foxx is an Academy Award-winning actor and musician whose career has spanned three decades. Throughout his illustrious career, Foxx has starred in some of Hollywood's most beloved films, ranging from biopics to comedies to action franchises. Here is a comprehensive list of movies by Jamie Foxx: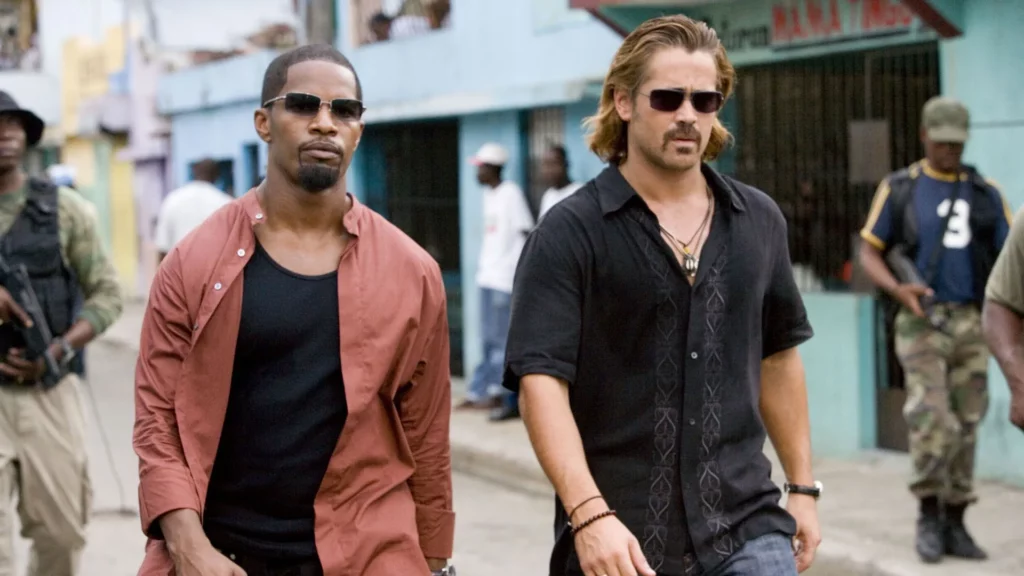 Ray (2004): This biopic followed the life of legendary singer Ray Charles and won Jamie Foxx an Oscar for Best Actor.
Collateral (2004): A crime thriller directed by Michael Mann, this movie stars Foxx as Max, a cabbie who unwittingly drives a hitman around LA on the night of several assassinations.
Miami Vice (2006): A remake by Michael Mann of the classic 1980s cop show, Foxx stars as Detective Ricardo Tubbs, who teams up with a partner to take down a drug lord.
The Kingdom (2007): In this action-filled drama directed by Peter Berg, Foxx plays FBI agent Ronald Fleury on an undercover mission in Saudi Arabia to track down terrorists responsible for a deadly bombing.
Dreamgirls (2006): This musical comedy-drama showcases Foxx's singing talents as he portrays Curtis Taylor Jr., the manager behind an all-girl singing group's rise to fame.
Django Unchained (2012): Jamie Foxx stars alongside Christoph Waltz and Leonardo DiCaprio in Quentin Tarantino's Spaghetti Western about a freed slave who embarks on a mission to rescue his wife from a plantation owner.
Stealth (2005): Foxx plays daredevil Lt. Ben Gannon in this action-packed sci-fi film about three pilots tasked with controlling an artificial intelligence-powered unmanned fighter jet.
Any Given Sunday (1999): Oliver Stone's sports drama features Jamie Foxx as Willie Beamon, the young quarterback whose success is threatened when a veteran player returns to the team.
Law Abiding Citizen (2009): Foxx stars as a district attorney in this crime thriller, where he must navigate a complex case involving a death row inmate seeking revenge.
The Amazing Spider-Man 2 (2014): Foxx plays the role of Max Dillon, an electrical engineer and Oscorp employee who is transformed into the villainous Electro after being struck by lightning.
Just Mercy (2019): This drama follows Jamie Foxx as Walter McMillian, an Alabama prisoner falsely convicted and sentenced to death, and his lawyer Bryan Stevenson's efforts to prove his innocence.
Soul (2020): Foxx voices Joe Gardner, a jazz musician who embarks on an extraordinary journey of self-discovery after his soul is separated from his body.
All Star Weekend (2018): In this comedy, Foxx plays Damon, the manager at a luxury hotel whose weekend takes a turn for the worse when two feuding NBA superstars check in for the all-star game.
Baby Driver (2017): Foxx stars as Bats, a crime boss who masterminds elaborate heists with a group of talented drivers in this thrilling action movie.
Sleepless (2017): Foxx portrays undercover Las Vegas police officer Vincent Downs, who is caught in a dangerous web of corrupt cops and the mob after a drug heist goes wrong.
Jamie Foxx is an incredible actor with a long list of memorable performances. From comedic roles in films like All-Star Weekend and Django Unchained to intense action thrillers such as Baby Driver and Sleepless, he has repeatedly shown why he deserves his place among Hollywood's elite. We can only hope that there will be more Jamie Foxx movies for us to enjoy in the future!