Here's where you probably recognize the actors in HBO's latest George R.R. Martin adaptation.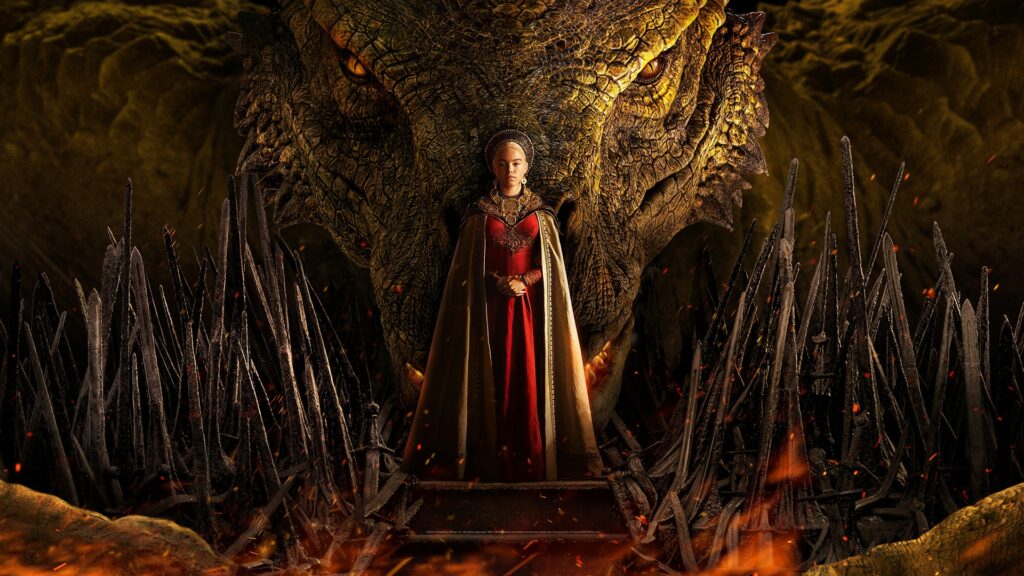 When Game of Thrones first aired in 2011, it launched an excellently-assembled ensemble cast of established character actors and relative unknowns to mainstream success. Newcomers like Maisie Williams and Kit Harrington became household names, just like Peter Dinklage and Lena Headey, who have always been excellent in their supporting roles throughout their careers. With George R.R. Martin's dense and history-filled world full of several kingdoms, dragons, mythical beings, and medieval intrigue, there were dozens and dozens of new characters throughout the show's eight-season run.
Now, with HBO's latest entry into the Westeros world, House of the Dragon, a new TV series that takes place 200 years before the events of Game of Thrones, co-showrunners Ryan Condal and Miguel Sapochnik have an opportunity to build their own world and introduce some fantastic actors to audiences worldwide. Like its predecessor, House of the Dragon, which features new showrunners Ryan Condal (Colony) and Miguel Sapochnik (Finch, GoT's "Battle of the Bastards"), boasts several beloved actors who have either been leading roles throughout their careers or excelled on the sidelines in supporting but essential parts. Following the premiere of the marquee HBO series, Reelgood has broken down some of the most familiar faces in the House of the Dragon cast and made a guide to the cast so you can know more about their careers so far.
Matt Smith (Daemon Targaryen): Dr. Who (HBO Max), The Crown (Netflix)
Matt Smith is arguably the most well-known and ubiquitous cast member on House of the Dragon, especially if you're from the United Kingdom. From 2010 to 2013, Smith played the Eleventh Doctor on Dr. Who, the long-running and enduringly popular British sci-fi TV series, which catapulted him to prominence. Since then, he's had prominent roles on Netflix's The Crown, where he played a young Prince Philip, Duke of Edinburgh, in the first two seasons. Now, Smith headlines the House of the Dragon cast as Daemon Targaryen, the brash, violent, and impulsive brother of King Viserys, whose place as heir to the throne is taken away from him in the pilot.
Milly Alcock (Young Rhaenyra Targaryen): Upright (AMC+, Sundance Now)
In the first episode of House of the Dragon, Australian actress Milly Alcock stole the show as a young Rhaenyra Targaryen. As the daughter of King Viserys, she later becomes his heir to the Iron Throne following a tragedy in the family, and Daemon's many transgressions become too much for his brother Viserys to tolerate. More likely than not if you live in the United States, Alcock is a total unknown to you prior to her excellent turn on House of the Dragon. But if you're from Australia, like Alcock, you may have seen her star in the television series Upright, where she plays a young runaway who makes an unlikely connection with a man named Lucky who needs to drop off an upright piano for his ailing mother.
Emma D'Arcy (Rhaenyra Targaryen): Truth Seekers (Prime Video)
Emma D'Arcy plays an adult Rhaenyra Targaryen, and they become a central part of the series in what's surely going to be a breakout role, catapulting them to international prominence. If you're familiar D'Arcy, alright, it might be through Prime Video's Truth Seekers, a comedy-horror series from Shaun of the Dead collaborators Simon Pegg and Nick Frost. In the show, D'Arcy plays Astrid, a woman who is haunted by ghosts but teams up with a pair of amateur paranormal investigators named Gus and Elton John (no, not that Elton John). Keen observers will also recognize the actor in season two of Prime Video's Hanna as Sonia Richter. While D'Arcy has not yet appeared in House of the Dragon, they will be an integral part of the show moving forward.
Olivia Cooke (Alicent Hightower): Thoroughbreds (HBO Max)
If you only watched the pilot for House of the Dragon, you did not see Olivia Cooke, who plays an older iteration of Alicent Hightower, but you did see actress Emily Carey play the younger version of the character—just like Emma D'arcy. That said, Cooke shows up for the rest of the series and will likely factor into the series more heavily than the pilot suggests (her episode one meeting with the King will probably become a much larger storyline, just a guess). Cooke's presence is enough to take a flier on House of the Dragon because she's been excellent in everything she's done so far: playing the titular girl in Me and Earl and the Dying Girl, starring in Ready Player One, and starting her career in the creepy TV series Bates Motel. But her real highlight is the pitch-black satire Thoroughbreds, where she plays a psychopathic wealthy teen.
Paddy Considine (King Viserys Targaryen): Hot Fuzz (Hulu)
The actor who plays King Viserys Targaryen is an incredibly accomplished Englishman whose multi-decade career is full of excellent leading roles, awards for those leading roles, and dozens of excellent credits to his name. For most Americans, however, Paddy Considine isn't quite yet a household name despite his acclaimed career. He's collaborated quite a bit with cult U.K. director Shane Meadows (Dead Man's Shoes, This Is England) as well as Edgar Wright (Hot Fuzz, The World's End). In Hot Fuzz, Considine steals the show as a doofus cop. If that's not where you recognize him, maybe try HBO's spooky The Third Day with Jude Law or The Outsider.
Sonoya Mizuno (Mysaria): Ex Machina (HBO Max, Showtime Anytime)
British-Japanese actress Sonoya Mizuno got her start as a ballet dancer and later as a model. In every role she's been cast in so far, her past comes in handy: there's a physicality to her work that feels organically choreographed and mesmerizing. While she's consistently excellent and a welcome familiar face in the House of the Dragon ensemble, her best work has been collaborations with writer-director Alex Garland. Her breakthrough role was undoubtedly 2014's tense sci-fi Ex Machina, but she's also shined in roles like Annihilation and as the lead FX's Devs, all done with Garland. Here, she plays Mysaria, a savvy prostitute who is Daemon's mistress and confidant.
Eve Best (Rhaenys Targaryen): The King's Speech (Starz)
Playing the "Queen Who Never Was" Rhaenys Targaryen, a character who was snubbed from the Iron Throne in favor of Viserys, actress Eve Best presents a coolness and an icy demeanor. Scorned by her family from her rightful place as Queen, Rhaenys might become an unpredictable wildcard if there's an open season for the throne. Best is a decorated veteran of the U.K. theatre, television, and film scene and has appeared in supporting TV roles like Nurse Jackie and The Honourable Woman. In 2011, she guested on an Oscar-winning film, The King's Speech, playing socialite Wallis Simpson.
Steve Toussaint (Corlys Velaryon): Small Axe (Prime Video)
With his piercing blue eyes and platinum white dreadlocks, Corlys Velaryon is one of the most striking characters introduced in House of the Dragon, and Steve Toussaint plays him with a steady strength and mysterious aura. Married to Rhaenys, the couple promise to be major players in the upcoming battle for the Iron Throne that House of the Dragon promises to cover. Toussaint is perfect for the role too. An actor who's had small but potent supporting parts in action films and movies (his biggest credit might be the 2010 Jake Gyllenhaal film Prince of Persia: The Sands of Time), he might be the most perplexing and charismatic character yet. In an installment of Steve McQueen's Small Axe anthology, he's incredible as a disapproving father to John Boyega's character.