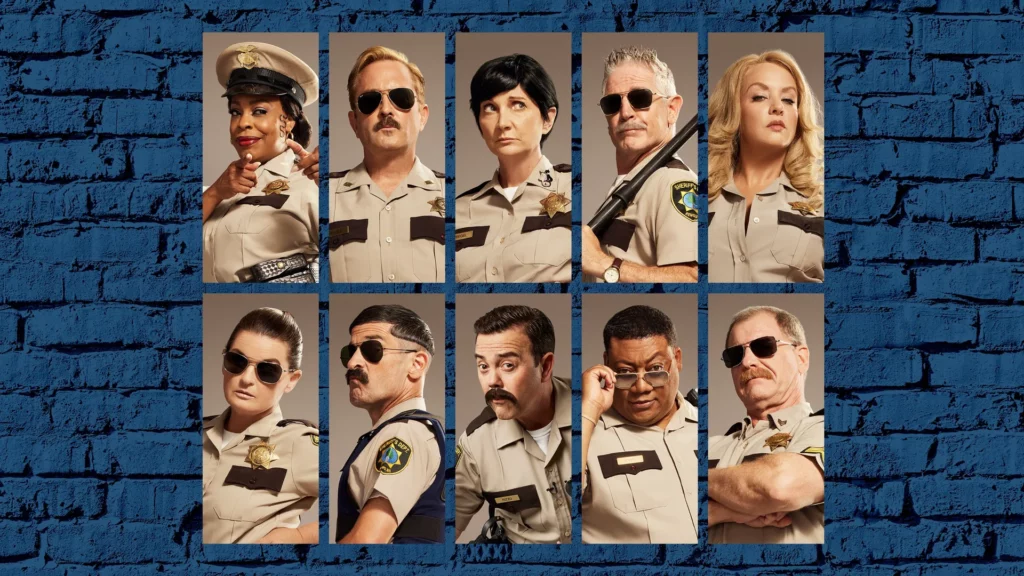 In the panorama of comedy crime movies and television series, "Reno 911" occupies a unique place. Originating as a parody of law enforcement documentaries like "Cops," this comedy series holds a mirror up to society with its humorous exaggeration of an American small-town police department.
Reno 911! is not streaming in your country?
Any of our picks not streaming in your country? ExpressVPN unlocks Reelgood and all of your streaming services, giving you access to all movies and TV shows from around the world. Stream them from anywhere with a 30-day money-back trial from ExpressVPN.
Unblock Streaming with ExpressVPN (3 months free for Reelgood users!)
Connect to a US or UK server via ExpressVPN.
Let ExpressVPN run in the background as you watch all of your movies and TV shows, securely and with no throttling or bandwidth limits.
'Reno 911': The Quintessence of Crime-Comedy
The brainchild of writers and comedians Thomas Lennon, Robert Ben Garant, and Kerri Kenney-Silver, "Reno 911" adeptly weaves comedy and crime together. The show introduces us to the lives and happenings around the homicide investigators of a fictional Reno Sheriff's Department in Nevada. 
With its innovative mockumentary style, "Reno 911" offers an unconventional, yet hilarious perspective of the mishaps and misadventures of a team of bumbling and incompatible law enforcers who are out there solving crimes, although often with more personal flaws than professional ethical standards.
Impeccable Characters and Performances
Each character in "Reno 911" is ingeniously sketched with exaggerations and absurdities that strike at human follies with a humorously sharp edge. From Lieutenant Jim Dangle's odd short-shorts obsession to Deputy Trudy Wiegel's neurotic personality, from Deputy Travis Junior's gruffly misguided enthusiasm to Deputy Raineesha Williams' oversized confidence, the characters are unquestionably unforgettable. 
These vibrant sparks create a humorous frenzy, ensuring an uproarious outcome in every episode. The improvised dialogues and action, with no laugh track or studio audience, make the performances feel more organic and genuinely funny.
High Comedy value
"Reno 911" makes the most out of every opportunity to bring out the ludicrous and the bizarre. It embellishes ordinary incidents with over-the-top theatrics, hypes up the dramatics, and delivers brilliantly on uncomfortable humor. It is a commentary on petty bureaucracy, class bias, and cultural stereotypes, but it's viewed through a prism of absurdity that takes away the sting yet leaves you chuckling.
Where To Watch Reno 911
Are you intrigued and wondering where to watch "Reno 911?" Well, the show originally aired on Comedy Central and ran for six successful seasons from 2003 to 2009. A short-lived revival stint happened on Quibi in 2020. Now, the complete series is available to stream on Comedy Central's website and app. Moreover, you can find 'Reno 911' on other online platforms like iTunes, VUDU, YouTube, and Google Play. The spin-off movie "Reno 911!: Miami" is also available on the same platforms.
The Enduring Legacy
Through all its quirks and flaws, "Reno 911" carved out a niche for itself in the comedy, crime genre. Being a progenitor in the mockumentary-style comedy, it served as an inspiration for a new wave of shows and films that adopted a similar format. The show's enduring appeal lies in its ability to laugh at itself and its characters, showcasing a type of humor that is more accepting than mocking.
Supplementary Content: Reno 911!: Miami and Accessing the Hilarity
The phenomenal success of "Reno 911" on the small screen eventually led to its expansion into the big screen with "Reno 911!: Miami." Released in 2007, the film was widely awaited by fans who had fallen in love with the unconventional crime-comedy storytelling of the TV series. The zany and clumsily heroic officers were now set to make us laugh on a larger platform.
"Reno 911!: Miami" takes our beloved motley crew of the Nevada law enforcement department to the sunny city of Miami for a police convention. However, when the convention centre gets subjected to a bio-chemical attack, our favourite bumbling officers find themselves tasked with protecting the city.
The film carries forward the wacky and spontaneous humor of the series, as it parodies conventional cop dramas and classic crime films. Although the film met mixed reviews from critics, it is a delight for fans who appreciate its eccentric humor and the unique charm of its characters.
Exploring the Colorful Cast of "Reno 911"
"Reno 911" brings to life an ensemble of memorable characters, hilariously portrayed by a cast that perfectly embodies their unique quirks and personality traits. Beyond the main characters, the wider cast is chock-full of comedy experts who each bring something unforgettable to the table.
Thomas Lennon as Lt. Jim Dangle
Thomas Lennon, who is also one of the creators of the show, gives an outstanding performance as the enthusiastically strange Lt. Jim Dangle. Known for his peculiar predilection for short-shorts and bicycle riding, Dangle's earnest yet often misguided efforts to maintain law and order are a staple of the show's comedy.
Niecy Nash as Deputy Raineesha Williams
Embodying the role of Deputy Raineesha Williams is the immensely talented Niecy Nash. Cloaked in tangible confidence and a larger-than-life personality, Nash's Deputy Williams is a force to reckon with. Her frank dialogues and no-nonsense approach moments camouflage her vulnerability, presenting an intricately woven character.
Cedric Yarbrough as Deputy S. Jones
Deputy S. Jones, played by Cedric Yarbrough, is a rational and calm oasis among a whirlpool of wacky co-workers. He often heaps light-hearted sarcasm on his colleagues' antics and projects a persona of the common-sense professional in an otherwise eccentric environment. 
Carlos Alazraqui as Deputy James Garcia
Carlos Alazraqui, while lending his voice to many famous animated characters like the Taco Bell dog and Rocko from "Rocko's Modern Life", portrays Deputy James Garcia with flair. His character is comically racist, homophobic, and unique, making him an indispensable part of the ensemble.
Guest Appearances
"Reno 911" is not just about its principal cast. The show has also seen numerous guest appearances that enriched its comedy world. Renowned actors such as Zach Galifianakis, Patton Oswalt, Craig Robinson, and Nick Swardson have graced the set of "Reno 911", adding their unique comic sensibilities to the show.
The Special Charm of the "Reno 911" Cast
The beauty of the "Reno 911" cast lies in their seamless blend of character and performance. Every actor morphs into their exaggerated screen persona effortlessly, making their flamboyant displays of incompetence believable and, more importantly, hilarious. Their chemistry creates a chaotic harmony that forms the heart of the show, a testament to their comic talent and the writers' creativity.
Trailer Teaser: Sneak Peek into the World of "Reno 911!"
Final Thoughts
While "Reno 911" takes place within the familiar territory of police procedural tropes, its satire of these tropes is subversive and unique. It is a vivid throwback to a time when television didn't strive for gritty realism but savored comedic absurdities. 
For anyone who enjoys comedy, crime cinema, and synthetically induced laughter, "Reno 911" is a must-watch. No other series captures human folly with such wit and humor while also pushing boundaries of the police comedy-crime genre. Even within its budget constraints and stylistic limitations, "Reno 911" thrives, turning potential deficits into strengths with an unmatched fervor and recklessness. Humor can't get any more real or spontaneous. So sit back, relax, and let the lunacy of "Reno 911" tickle your funny bone!