Here are this week's Top 10 most-watched movies and TV shows in streaming (June 9 – June 15)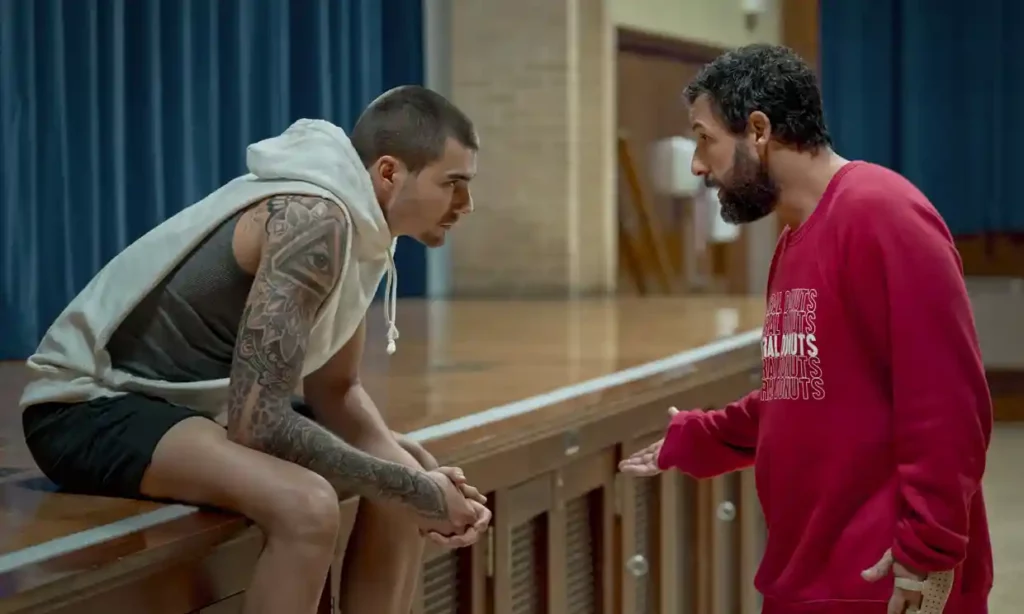 By Josh Terry
The season of Summer Blockbusters continues with Stranger Things, Top Gun, and Obi-Wan Kenobi all making repeat appearances on the Reelgood Top 10. However, the real story comes with what's new and making its debut appearance on our weekly list for the first time: Netflix properties Hustle and Peaky Blinders rounded out an excellent week for the streamer (despite some pretty nasty headlines and tweets about their greenlit and "nonfatal" Squid Game reality show). That said, the most interesting development is how Hustle has galvanized moviegoers and sports fans.
While there are a ton of movies about basketball players and basketball coaches, there aren't many if any about basketball scouts. Here, Adam Sandler plays Stanley Sugarman, a down-on-his-luck scout for the Philadelphia 76ers organization who finds a once-in-a-generation talent in a poor Spanish player (played by real-life Utah Jazz forward Juancho Hernagómez). Like Sandler's other recent film Uncut Gems, Hustle has a wealth of cameos from actual NBA stars including Boban Marjanović, Anthony Edwards, Seth Curry, Trae Young, Mattise Thybulle, and more. Rounding out the non-athlete cast is Queen Latifah, Ben Foster, and Robert Duvall.

Where other basketball films like High Flying Bird were well-reviewed or The Way Back which had a modest box office but had middling reviews, people seem genuinely excited for Hustle. Many of the reviews highlight Juancho Hernagómez and Anthony Edwards' legitimately impressive acting chops as well as how they either subvert or brilliantly execute the familiar sports movie tropes. I mean, Hustle features a workout montage in Philadelphia, which is not even the least subtle nod to Rocky in the film.
Hustle is one of those feel-good sports stories that's a good movie even if you're not a fan of the NBA but if you're a basketball sicko, the many references and cameos are almost overwhelming. While it may not be the best basketball movie of all time, it's certainly in the conversation now.
1. Stranger Things (Streaming now on Netflix)
If there's one show with the firepower to unseat Top Gun from multiple weeks of streaming domination, it's Stranger Things, a show that Netflix spent $30 million an episode on this season. The first batch of Season 4 episodes has done so well on the Reelgood Top 10 so far that it won't be surprising if it's still placing decent numbers as the next batch of new episodes comes this July. With the Kate Bush renaissance, and the endless charisma of stars like Millie Bobby Brown, Joe Keery, Maya Hawke, Sadie Sink, Finn Wolfhard, and Winona Ryder, Stranger Things has once again tapped into the zeitgeist.
2. Top Gun (Streaming now on Paramount+ and Prime Video)
After spending two consecutive weeks in the top spot of the Reelgood Top 10, the original Top Gun is no longer the top dog but it has been on our Top 10 for six consecutive weeks now. One of the rare blockbusters that both audiences and critics can agree on, Top Gun: Maverick still boasts a 97 percent on Rotten Tomatoes with reviewers and has grossed over $763,086,652 worldwide. Top Gun: Maverick is now the third highest-grossing movie of 2022 worldwide, closing in on titles like The Batman and Doctor Strange.
3. The Boys (Streaming now on Prime Video)
Amazon's The Boys is an anti-Marvel take on superheroes and it's rising on the Reelgood Top 10, bumping off Disney+ behemoth Obi-Wan Kenobi from a Top 3 perch. It's a show brave enough to ask, "What if superheroes were bad?" Now in its third season, The Boys is a satirical, brutal, and confrontational middle finger to a ubiquitous genre and it's still getting solid reviews. Considering the show's positive momentum, Prime Video has already renewed the series for a fourth season.
4. Hustle (Streaming now on Netflix)
Critics and fans agree: Hustle is fantastic. It's a slam-dunk if you will. On Rotten Tomatoes, the Adam Sandler-starring Netflix Original Film has a 92 percent score with both critics and audiences. That's a tough thing to do since very rarely do movie critics and the general public wholeheartedly agrees on much. Along with Sandler, Hustle stars a mix of marquee actors and marquee NBA athletes and icons like Queen Latifah, Juancho Hernangómez, Anthony Edwards, Ben Foster, Boban Marjanovic, and Robert Duvall.
5. Ms. Marvel (Streaming now on Disney+)
The star of this new Disney+ series is a 16-year-old girl named Kamala Khan (played by Iman Vellani, a Pakistani immigrant, and an Avengers superfan, who eventually develops her powers and becomes Ms. Marvel. Khan is the first Muslim character to lead a comic book series in the Marvel universe and this series will serve as a prequel to 2023's feature film The Marvels, which will contain Vellani's Ms. Marvel, Brie Larson's Captain Marvel, and Monica Rambeau (who you may recognize from both WandaVision and Captain Marvel).
6. Obi-Wan Kenobi (Streaming now on Disney+)
In a somewhat shocking turn of events, the Ewan McGregor-starring miniseries Obi-Wan Kenobi lost a little bit of steam on the Reelgood Top 10, dropping from third to sixth. Despite the blip in chatter around this six-episode series, it's actually been a fascinating and action-packed ride so far. The last episode, which set the stage for what's ultimately going to be a tense finale, featured all kinds of intrigue, twists, bad guys actually being good guys, daring escapes, and lightsaber battles. Basically, it was everything you'd want in a Star Wars franchise.
7. The Northman (Streaming now on Peacock)
This Robert Eggers film performed disappointingly at the box office, grossing just $68 million worldwide against an estimated $90 million production budget. But it's done well streaming on Peacock coming in at a decent showing on the Reelgood Top 10 for a second consecutive week. The Northman stars Alexander Skarsgård, Nicole Kidman, Anya Taylor-Joy, Ethan Hawke, Willem Dafoe, Björk, and many more.
8. Peaky Blinders (Streaming now on Netflix)
The gritty and long-running Cillian Murphy-starring period drama Peaky Blinders has been prestige TV for what feels like an eternity. Though the show's first episode aired in the fall of 2013, it's finally back for its sixth and likely final season after a three-year hiatus. While the sixth season has hit Netflix, much of the conversation this week is speculation about whether or not this is actually the end for the well-liked series. Creator Steven Knight fueled these rumors by saying it was always the plan to end Peaky Blinders with a feature film.
9. Jurassic World: Fallen Kingdom (Streaming now on Hulu and FuboTV)
Call this phenomenon the Top Gun: Maverick effect. On the heels of Jurassic World: Dominion hitting theaters it only makes sense that the last installment of the dinosaur franchise 2018's Jurassic World: Fallen Kingdom gets a streaming bump. With fans wanting to catch up on the Bryce Dallas Howard and Chris Pratt-starring reboots, the only thing surprising is that you would imagine a higher showing on the Reelgood Top 10.
The Orville (Streaming now on Hulu)
Family Guy creator and sometimes Frank Sinatra-cosplayer Seth MacFarlane's pretty obvious Star Trek-spoof The Orville has cracked the Reelgood Top 10 for the second week in a row. The Orville: New Horizons, the third season of this series which is out on Hulu has been getting actually pretty good reviews. Collider, which notes the show hasn't had a new episode since 2019, called this season "worth the wait."