We live in cord-cutting times. There are more streaming services than ever before — over 200! It can be stressful to choose between different streaming subscriptions.
So, let data lead your way — we put together all the stats to compare on-demand streaming services.
Whether your streaming device is a smart TV, Roku, or Apple TV, the average American subscribes to only three streaming services.
Which streaming service offers the best perks?
Movie Selection
Amazon Prime Video offers a whopping 14,210 movies, leaving competitors in the dust.
To compare streaming services in this respect, you have to subtract a few thousand movies.
Netflix

offers 3,803 movies, a number that has

shrunk by thousands

.

Hulu

comes in third with less than half that — 1,437.

HBO Now

offers 926 movies.

Disney+

is

estimated to have

more than 500 movies within its first year.

Showtime

trails with 489 movies.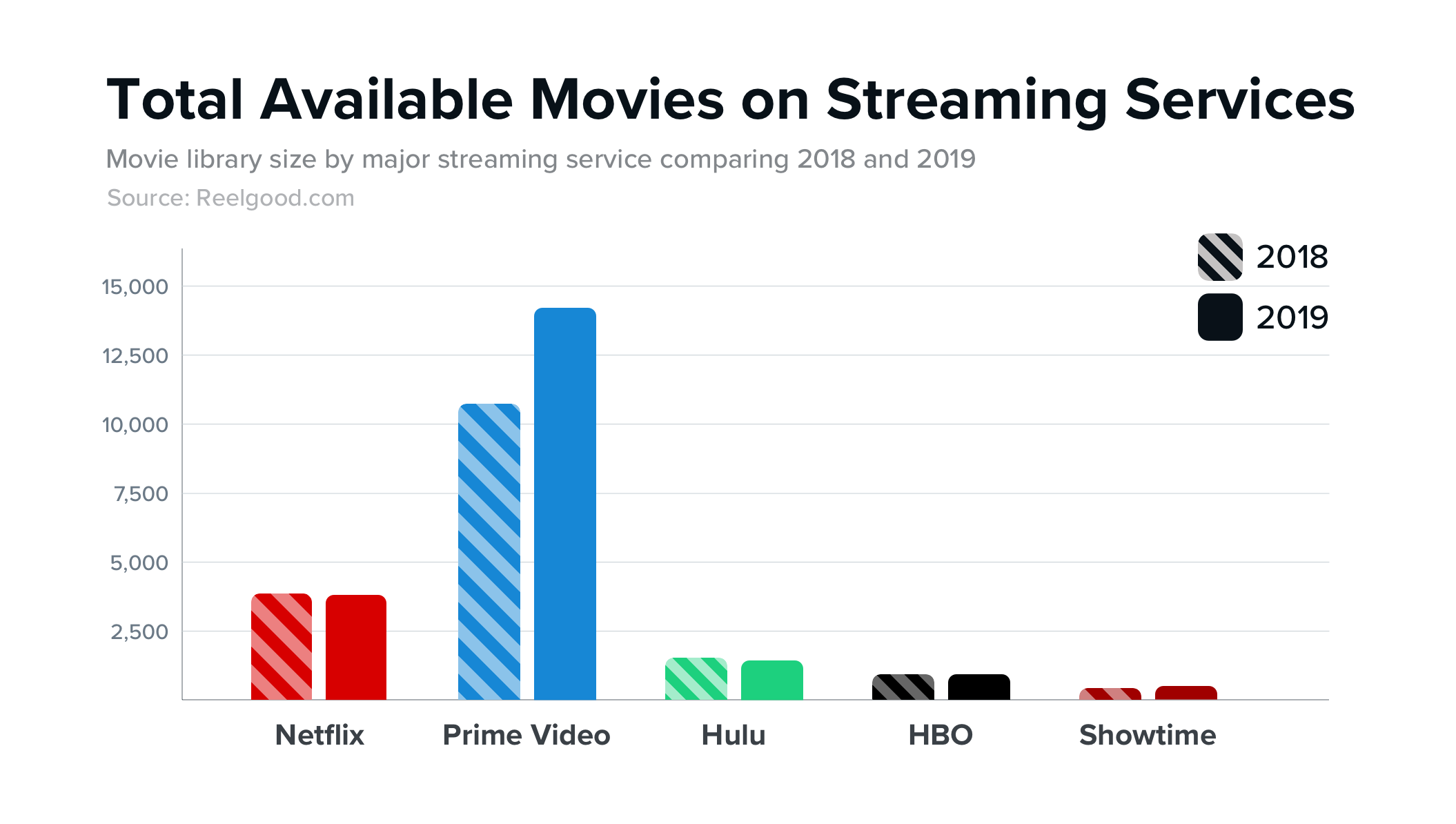 TV Shows Available
The major TV streaming services all increased TV shows on their platforms in 2019. However, Amazon Prime Video ekes out a win with 2,317 TV shows available.
Netflix

comes in second with 1,966 TV shows. Netflix spends more than anyone on original content.

Hulu

comes in a close third with 1,931 TV shows.

HBO Now

drops to 189 TV shows.

Showtime

only offers 70 TV shows on its platform.

Apple+

will by far have the least amount when they launch (November 1st, 2019) with 9 original shows and 5 scheduled for post-launch.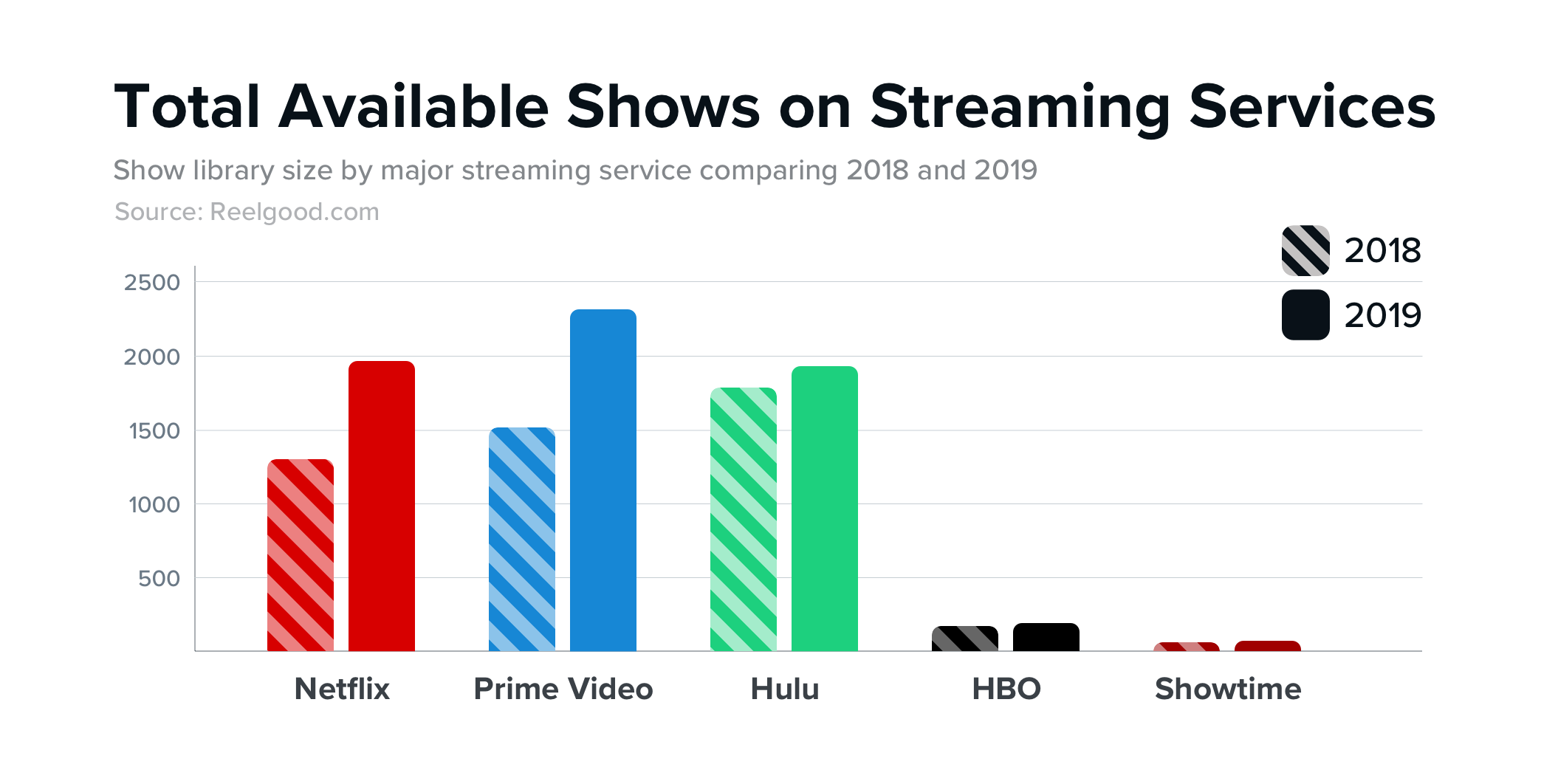 Quality Over Quantity
Hulu hosts higher quality TV shows than anyone else. Many would attribute Hulu's recent success to the award-winning show, The Handmaid's Tale.
A study examined shows earning more than 8 stars on IMDb, and Hulu came in first place with 213. That's 11% of the TV shows Hulu offers.
Netflix

misses the top prize, with 203 TV shows rated eight stars or higher.

Amazon Prime Video

sports 142 "high-quality" TV shows. Amazon, however, had the most "high-quality" movies, followed by Netflix.

HBO Now

has 43. It's worth noting that this is 22% of their TV shows. Also, HBO earns

more Emmy nominations

than any other network or streaming service.

Showtime

comes in fifth with 12 "high-quality" shows.
Much has been said about the quality of what Disney+ and AppleTV+ have to offer to this growing market. However, the proof is in the pudding…Or the episodes, in this case.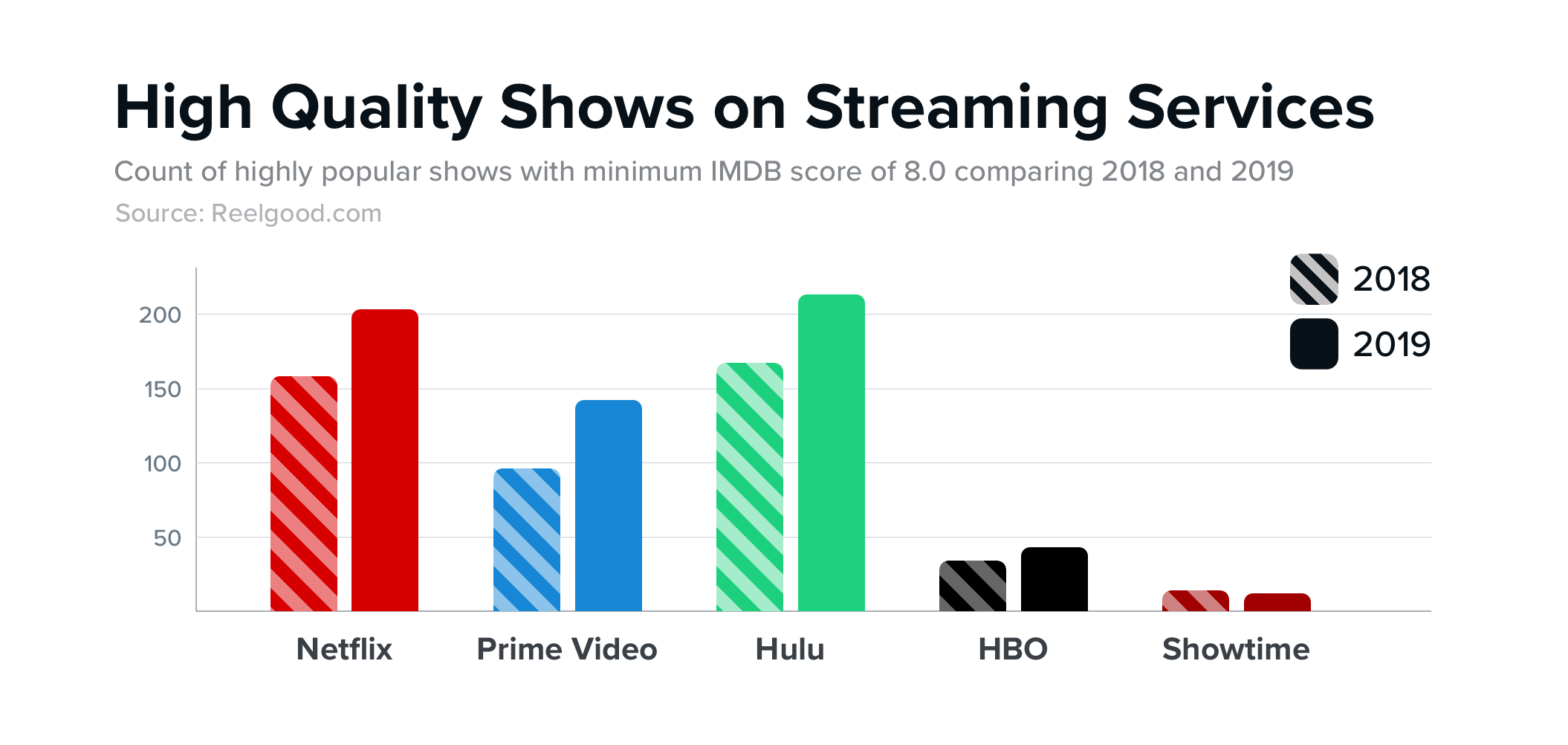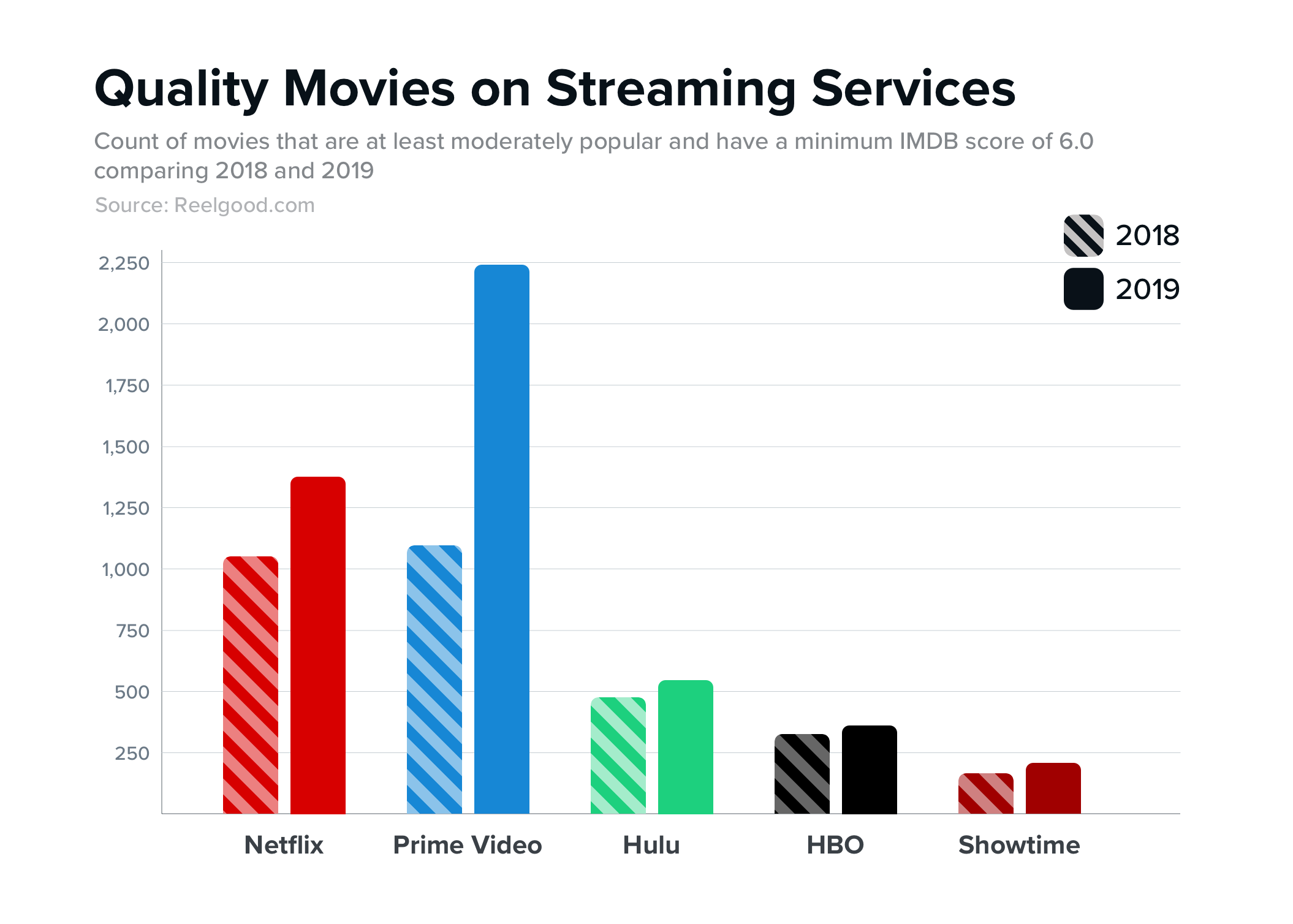 Cost Comparison
When released, Apple+ will be the least expensive streaming service at $4.99/month. Disney+ is bursting onto the scene at $6.99/month for their basic package, another potential winner — especially when you consider the discounted annual rate of $69.99 if you pay by the year.
But Disney's low price point could drive other streaming services' prices down in the next year. Below, we compare streaming services' costs as of now:
Amazon Prime Video

comes in second place at $8.99/month.

Showtime

squeaks into third with $10.99/month.

Hulu without ads

costs $11.99/month.

Netflix's base package

costs $12.99/month.

HBO Now

costs $14.99/month.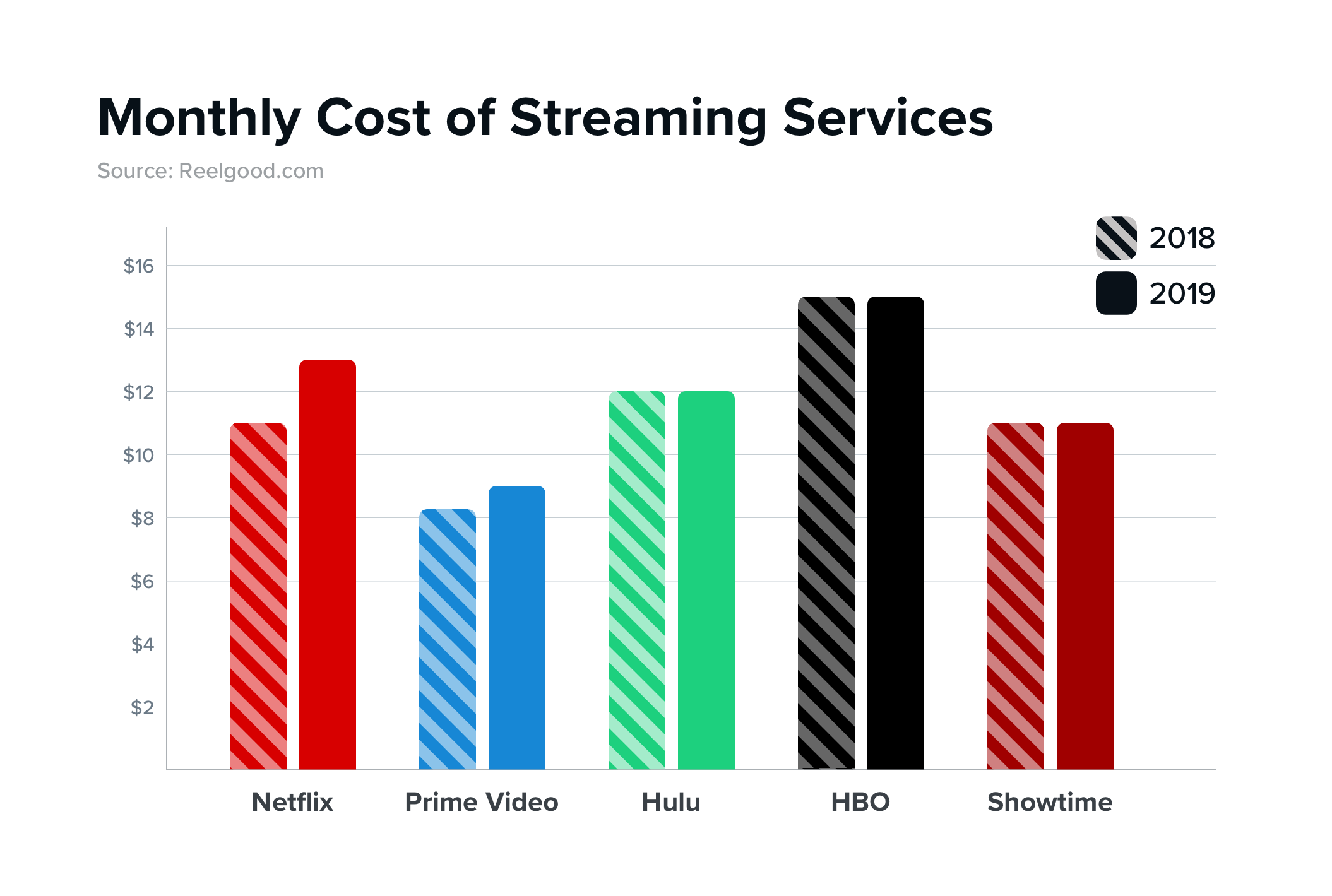 In Summary
Until NBC breaks onto the scene with their own streaming service boasting The Office, a fledgling like YouTube TV or AT&T TV NOW (formerly DirecTV Now) gains popularity, there are five streaming services who control the market.
Even though Amazon Prime Video offers more movies, more TV shows, and a low price, cord-cutters may want to look at the quality of that content. Hulu, Netflix, and HBO Now all have their own advantages over one another.
We compare streaming services and you're able to comfortably ditch live TV, if you wish, and pick the streaming service you prefer.
Sources