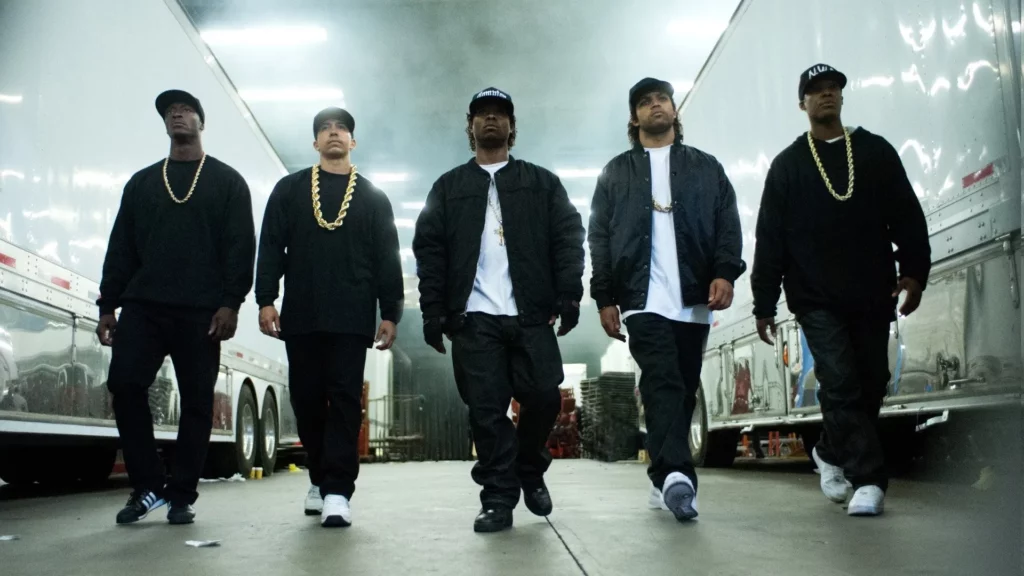 The journey of the significant group in the history of gangsta rap, the N.W.A., is remarkably depicted in the spellbinding biography film "Straight Outta Compton." Directed by F. Gary Gray, this 2015 film has remained an integral part of the musical and cinematographical history for the past several years due to its authentic portrayal of the rise and fall of this fascinating Hip-Hop group. This article dives deeper into the narrative and cinematic values of the movie. If you're trying to delve deeper into the roots of street culture or enjoy quality cinema, you might want to watch Straight Outta Compton today.
Straight Outta Compton is not streaming in your country?
Any of our picks not streaming in your country? ExpressVPN unlocks Reelgood and all of your streaming services, giving you access to all movies and TV shows from around the world. Stream them from anywhere with a 30-day money-back trial from ExpressVPN.
Unblock Streaming with ExpressVPN (3 months free for Reelgood users!)
Connect to a US or UK server via ExpressVPN.
Let ExpressVPN run in the background as you watch all of your movies and TV shows, securely and with no throttling or bandwidth limits.
The Gritty Narrative
Straight Outta Compton begins in 1985 and recites the sagacious tale of five friends—Eazy-E, Ice Cube, Dr. Dre, DJ Yella, and MC Ren—growing up in the degraded neighborhood of Compton, Los Angeles. This film chisels realistic scenarios of racism, police brutality, and gang violence that these young teenagers faced. It sketches their struggle to rise above their circumstances using their artistic flair and music as an expressive tool, eventually forming the iconic group N.W.A.
Behind the Beats
The movie showcases the genesis of N.W.A's unsettling, angry lyrics—blatantly dealing with their harsh reality—and how such bold, unfiltered representation of real-life incidents sparked controversy in the music industry and society. From "Fuck the Police," which criticizes law enforcement's treatment of black people, to "Express Yourself," acknowledging the importance of freedom of speech, every track from N.W.A portrayed the dark truths they faced.
Distinctive Style and Performances
Straight Outta Compton is unlike most music biopics filmmakers decorate with glam and glitter. Fueled with concrete drama and a political undertone, the film's raw and visceral style can be attributed to Gray's astute direction. Together with writers Jonathan Herman and Andrea Berloff, they've explored anger, power, friendship, and freedom.
The acting performances are equally impressive. Jason Mitchell (Eazy-E), O'Shea Jackson Jr. (Ice Cube), and Corey Hawkins (Dr. Dre) are convincing in their respective characters—imbibing the fury, genius, and ambition of these real-life figures. Mitchell's portrayal of Eazy-E, the 'Godfather of Gangsta Rap,' is particularly visceral and emotionally potent.
Rhythm of the Streets
In the process, Straight Outta Compton does not dismiss the aspects of street culture and gangsta rap that might be perceived as controversial. The misogynistic elements, violent tendencies, and graphic language inherent in the genre are bare. The film doesn't justify these traits but presents them as part of their harsh realities. This unbiased perspective draws us closer to understanding the complex mindsets of individuals who struggled to survive amidst insurmountable hurdles.
Capturing the Cultural Context
This film also provides glimpses into the wider socio-political context of the time. It highlights events like the Rodney King trials and the L.A. Riots, effectively capturing society's disturbing racial tension. The film disseminates the idea that N.W.A.'s music was not an individual act of rebellion but an expressive voice of an oppressed community begging for change.
Experiencing the Beats: The Trailer for "Straight Outta Compton"
Delving Deeper: Trivia about "Straight Outta Compton"
A Peek Behind the Scenes
While the cinematic portrayal of N.W.A.'s journey prevails as the film's hallmark, numerous behind-the-scenes facts add to the fascinating exploration of "Straight Outta Compton." Let's dive into some intriguing trivia that adds dimension to this mesmerizing biography film.
Connection and Coincidences
O'Shea Jackson Jr. performs as a young Ice Cube, Ice Cube's real-life son. The family resemblance played a part in casting him; however, his dedication to character development solidified his role. He reportedly underwent two years of rigorous training and preparation, including a rigorous boot camp with acting coach Aaron Speiser, to flawlessly mirror Ice Cube's persona on screen.
Box Office Success
The popularity of N.W.A had the audience thronging to theaters to get a slice of their favorite rap band's life. In its opening weekend, the film topped the box office charts, grossing a whopping $60 million in North America. This impressive debut exceeded its $28 million budget, showcasing the film's financial success.
A Cultural Phenomenon
The film doesn't solely boast impressive performances and storytelling but has considerably shaped popular culture. Straight Outta Compton sparked a meme trend online upon its release, with the promotional tool allowing users to generate images emblazoned with the phrase "Straight Outta" followed by a place of their choosing.
A Nominated Soundtrack
After its commercial and critical success, the film's musical charm did not go unnoticed at prestigious award ceremonies. "Straight Outta Compton" was nominated at the 58th Annual Grammy Awards for Best Compilation Soundtrack for Visual Media, acknowledging its impeccable use of music to enhance the narrative's impact.
Unraveling the Starrs: A Look at the Cast of "Straight Outta Compton"
Beyond the Main Trio
While the lead, as mentioned earlier, performances by Jason Mitchell, O'Shea Jackson Jr., and Corey Hawkins very rightly take the central stage in "Straight Outta Compton," the film also spotlights various other talents. The supporting roles add to the storyline's marked depth, defining the narrative's tone and essence.
Neil Brown Jr. as DJ Yella and Aldis Hodge as MC Ren
Playing important parts in the iconic formation of N.W.A, Neil Brown Jr. as DJ Yella and Aldis Hodge as MC Ren proved crucial additions to the group's portrayal. Brown Jr. beautifully echoes DJ Yella's role in the group through his well-tuned performance. At the same time, Hodge captures the lyrical genius and creativity of MC Ren with a gripping and authentic performance.
Paul Giamatti as Jerry Heller
Paul Giamatti plays N.W.A's manager, Jerry Heller, in the film. With his seasoned acting finesse, Giamatti delivers an impressive portrayal of the influential figure. He complements the central characters by accurately depicting a manager grappling with his ambitious charges while trying to navigate a challenging industry.
Rounding up the Supporting Cast
"Straight Outta Compton" cast consists of numerous other artists who add substance to the plot. Playing crucial roles were R. Marcos Taylor as Suge Knight, founder of Death Row Records, Keith Stanfield as Snoop Dogg, and Marcc Rose as Tupac Shakur.
Their supporting performances were instrumental in creating an authentic environment of the 1980s-90s rap scene. They effectively narrated various artists' intertwined relationships and dynamics during this era.
Praising the Performances
Director F. Gary Gray has assembled a cast befitting the uniqueness and enormity of N.W.A's journey. These actors brought to life the characters they played and the spirit of a revolutionary era in music. Their performances were an amalgamation of raw talent, hard work, and commitment, which played a pivotal role in the success of this musical biography.
The leading and supporting actors of "Straight Outta Compton" deserve applause for creating a breathtaking, high-energy biopic. Their collective talent enhances the narrative, delivering layers of emotions, motivations, and personalities that elevate the film to a higher level. When you watch Straight Outta Compton, you not only witness the struggles and victories of the N.W.A. but also capture the essence of a significant era in music history through the lens of extraordinary performances.
One can only admire the marvelous casting effort that has contributed to bringing forth such vivid performances. For anyone profoundly interested in portraying real-life characters on the silver screen, the movie's talented ensemble is essentially a masterclass in acting.
Conclusion
To watch Straight Outta Compton, travel back in time to understand a crucial period in American history. It is an immersive experience that narrates a tale of resilience, rebellion, and rhythm. This film is not just a biography; it's a snapshot of the culture and the situation from which N.W.A was born. It not only revolutionized the music industry but instigated positive change, emphasizing the power of music as a tool for social commentary and advocacy. Marked by sterling performances, authentic storytelling, and bold representation, Straight Outta Compton remains an essential watch for those interested in the origins and evolution of the Gangsta Rap genre.
So, if you are looking for a profound and potent depiction of historical realities or want to understand the inception of this vibrant musical genre, gear up to watch Straight Outta Compton—an honest recital of bravura and beats!
These trivia tidbits intensify the intrigue related to the movie "Straight Outta Compton." They offer viewers an intimate look into the making of this compelling musical biography and spotlight its cultural significance. Fans of N.W.Followers of Hip Hop culture may find these behind-the-scene facts a thrilling accompaniment to their experience when they watch Straight Outta Compton. So, fasten your seatbelts and ride through stormy streets filled with history, music, and revolution that will etch a deep mark in your cinematic memory!