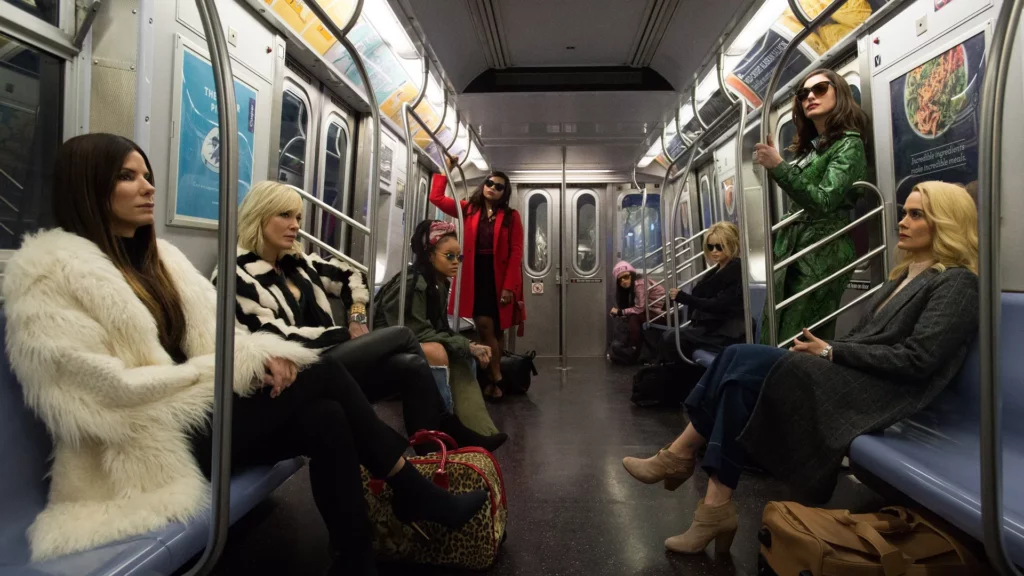 In the arena of heist movies, 'Ocean's Eight' breaks down walls, not just in terms of its unique storyline but also of its women-centric cast. Whether you are a die-hard fan of action-comedy drama movies or seek a film full of glamour, excitement, and intellect, this one is a must-watch. If you haven't joined the league yet, it's time to watch Ocean's Eight.
Ocean's Eight is not streaming in your country?
Any of our picks not streaming in your country? ExpressVPN unlocks Reelgood and all of your streaming services, giving you access to all movies and TV shows from around the world. Stream them from anywhere with a 30-day money-back trial from ExpressVPN.
Unblock Streaming with ExpressVPN (3 months free for Reelgood users!)
Connect to a US or UK server via ExpressVPN.
Let ExpressVPN run in the background as you watch all of your movies and TV shows, securely and with no throttling or bandwidth limits.
A Powerful Sequel To The Ocean Series
Ocean's Eight, a spin-off from the classic crime saga Ocean series, relishes the idea of masterminding high-profile thefts with a twist. Rather than the usual masculine appeal and action-packed sequences, this movie takes an enthralling turn with eight assertive, brilliant, and glamorous women who take control of the grand stage.
The Intriguing Plot
The tale unfolds with the release of the protagonist, Debbie Ocean (Sandra Bullock), from prison. Debbie, the sister of the infamous Danny Ocean, meticulously plans an extravagant heist at the Met Gala. The script has been woven around her and her recruitments, each an expert in their fields. This movie will give you a perfect taste of a hilarious yet thrilling blend of comedy and action.
The movie offers a seamless, suspense-filled narrative with brilliant characters and their backstories. You cannot look away, wondering what comes next, each plot twist keeping you at the edge of your seat.
Comedy Coupled With Action
Ocean's Eight hits the bullseye with the perfect concoction of comedy blended with action and drama. The humorous interactions between the characters add a refreshing touch to the otherwise intense plot. The scene where the characters nonchalantly discuss the intricacies of the planned heist over lunch is brilliant, with its humorously casual attitude towards a high-stakes crime.
The Fashion Statements
Undoubtedly, the movie is a visual feast. The elegant haute couture dresses sported by the cast at the Met Gala scene are mesmerizing and become characters in themselves. Fashion enthusiasts will have an array of styles to swoon over.
Visually Striking Cinematography
One of the great joys of watching Ocean's Eight lies in its visuals. Its expert cinematography skillfully navigates the glittering beauty of the Met Gala, the heartbeat of New York City, and the intricate designs of the central heist. Not to mention the jaw-dropping display of Cartier's historic necklace, which gives an allure of luxury. The visuals alone make this movie one to add to your watch list.
Meet the Powerhouse Cast of Ocean's Eight
Ocean's Eight is an absolute powerhouse of leading women, each one bringing something unique and compelling to their character. Here is more about these dynamic women, who collectively make up a reason to watch Ocean's Eight.
Sandra Bullock as Debbie Ocean
Sandra Bullock, a widely acclaimed actress known for her versatility, plays Debbie Ocean, the mastermind behind the grand plan to steal a precious necklace at the Met Gala. With her character's wit and charm, Bullock proves again why she is one of Hollywood's elite performers.
Cate Blanchett as Lou Miller
Cate Blanchett, two-time Oscar winner, plays Lou, Debbie's partner-in-crime. Her performance as this easygoing yet whip-smart character adds another memorable role to her expansive filmography.
Anne Hathaway as Daphne Kluger
One cannot help but admire Anne Hathaway's role as Daphne Kluger, the diva celebrity wearing the targeted necklace. Hathaway's comic timing and superb acting skills elevate Daphne's character from a simple mark to an exciting plot element.
Rihanna as Nine Ball
Rihanna, a pop sensation and brilliant actor, portrays Nine Ball, a gifted hacker with an affinity for coding. Her breezy island cool attitude adds a fresh touch to the group, making Nine Ball everyone's favorite character.
Mindy Kaling as Amita
Mindy Kaling, known for her roles in sitcoms like 'The Office' and 'The Mindy Project,' plays the character of Amita, a proficient jeweler. Her character's quest for independence and self-sufficiency creates a compelling narrative within the larger story.
Helena Bonham Carter as Rose Weil
Helena Bonham Carter, an actress known for her eccentric roles, plays Rose Weil, a fashion designer stuck in financial ruin. Carter's character injects the plot with her quirky antics, adding a different form of comedy.
Sarah Paulson as Tammy
Sarah Paulson, an Emmy-winning actress, plays the character of Tammy, a fence and former partner-in-crime of Debbie, who left the crime world behind for a domestic life. Paulson's superb depiction of a suburban mom-cum-criminal is both fascinating and humorous.
Awkwafina as Constance
Awkwafina, a rising star due to her impressive performances in recent years, portrays Constance as a skillful pickpocket. Her exceptional performance adds a hilarious layer of street-wise savvy to the group.
Each member of this stellar cast brings a unique flavor, making 'Ocean's Eight' a flavorful mix of diverse characters. They grace the movie with glamour, wit, humor, and talent rolled into one delightful package. All of this, combined with an absorbing plot, makes it worth watching Ocean's Eight.
The Unexpected Twists and Turns
While high-end theft is at the plot's core, the movie pulls you closer with its brilliant surprises and unforeseen scenarios. The stakes go north, and the suspense is amplified until the unexpected finale. Such layers of complexity only make you more eager to watch Ocean's Eight.
Celebrating Diversity
Ocean's Eight brings impressive diversity, showcasing character backgrounds from all walks of life. From Nine Ball (Rihanna), a Rastafarian hacker, to Tammy (Sarah Paulson), a suburban mom leading a double life, this diversity is an incredible step forward for women's representation in Hollywood and a reason to watch Ocean's Eight.
Dive Into the Exciting Snapshot: Ocean's Eight Trailer
Frequently Asked Questions (FAQs) About Ocean's Eight
Who are the leading actresses in the film?
The ensemble cast of Ocean's Eight includes Sandra Bullock, Cate Blanchett, Anne Hathaway, Helena Bonham Carter, Rihanna, Sarah Paulson, Mindy Kaling, and Awkwafina.
How does Ocean's Eight connect with the previous Ocean's movies?
Sandra Bullock plays Debbie Ocean, the estranged sister of Danny Ocean (George Clooney's character in the previous Ocean movies). While the new installment interacts with the original narrative, it's more of a new chapter than a continuation of the previous plot.
Is Ocean's Eight a comedy?
Ocean's Eight is a captivating blend of genres — part action, part comedy, and part heist.
Where can I watch Ocean's Eight?
You can watch Ocean's Eight on larger streaming platforms like Amazon Prime, Netflix, and HBO Max.
Armed with these facts and insights, you're all set to delve into the captivating world where crime, fashion, and humor intertwine. Popcorn in hand, it's time to watch Ocean's Eight and enjoy a thrilling cinematic experience!
Conclusion: Why You Should Watch Ocean's Eight
Ocean's Eight is not just another crime thriller. It's an innovative take on the genre that leaves an impact through its excellent casting, engaging plot, and satisfying blend of comedy and action. Despite having a legacy to follow, it raises its standard, offering an intriguing twist to the Ocean series.
'Watch Ocean's Eight' should be on everyone's bucket list who craves a thrilling yet humorous taste of action-packed drama. It caters to the action-comedy fanbase and offers an unprecedented charm with its glamorous appeal and astounding performances, proving that women can run the show and perhaps even better.
So why wait? Dive into this stylish world of crime, where glamour and thrill dance hand in hand! Watch Ocean's Eight!