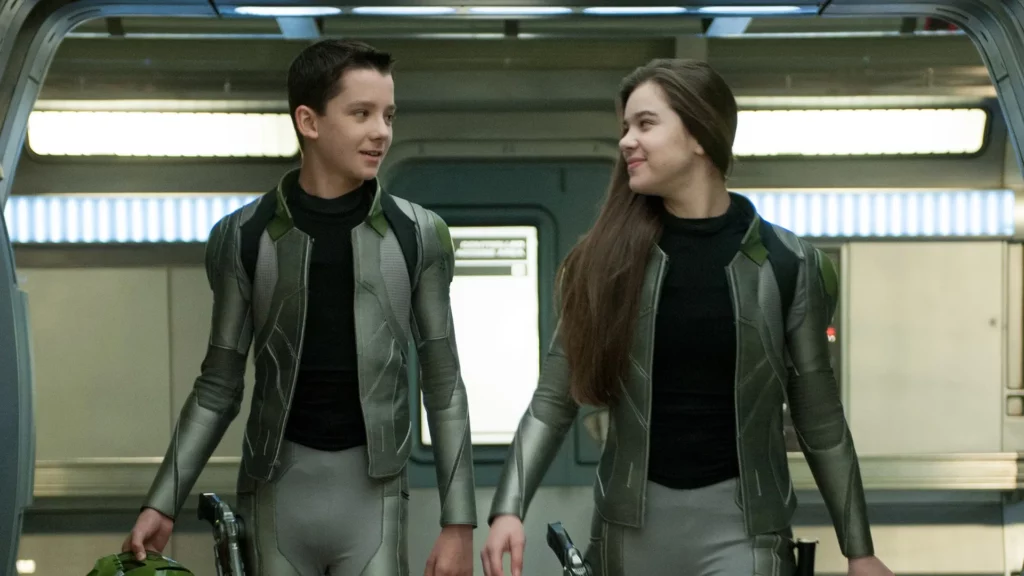 Ender's Game is a marvel in the grand tapestry of science-fiction, action, and adventure cinema. Its blend of child prodigies, high-tech warfare, and a dystopian backdrop offers much to intrigue a sci-fi fanatic. The film's multi-layered narrative and its futuristic aesthetics offer a thrilling cinematic journey that deserves recognition.
Ender's Game is not streaming in your country?
Any of our picks not streaming in your country? ExpressVPN unlocks Reelgood and all of your streaming services, giving you access to all movies and TV shows from around the world. Stream them from anywhere with a 30-day money-back trial from ExpressVPN.
Unblock Streaming with ExpressVPN (3 months free for Reelgood users!)
Connect to a US or UK server via ExpressVPN.
Let ExpressVPN run in the background as you watch all of your movies and TV shows, securely and with no throttling or bandwidth limits.
Ender's Journey: A Prodigy in a Dystopian World
From the outset, Ender's Game sets up a visually captivating landscape. In a future where the Earth is threatened by an alien invasion, a young genius named Andrew "Ender" Wiggin becomes humanity's last hope. The film successfully portrays its dystopian landscape through visuals and focuses on the sullen environment of a battle school where Ender is trained.
As a fervent cinephile, I implore you to watch Ender's Game not merely for its plot but to experience the profound character development of its protagonist. Ender's evolution from an astute, introverted boy to a military prodigy sustains audience engagement and further drives the storyline.
Merging Science Fiction and Adventure
Ender's Game manifests how science fiction and adventure genres can be intricately interwoven. The journey of Ender from the confines of his home into the high-tech International Fleet training center sets a perfect platform for hair-raising adventure. The cold, militaristic learnings of the Battle School starkly contrast with the beautiful, dangerous vastness of outer space, emphasizing the stark reality Ender faces. It is in this combination of rigorous training and daunting responsibilities that the adventure unfolds.
Admiration for Artful Cinematography
The visual aesthetics in Ender's Game is a sight to behold for any movie enthusiast. Its state-of-the-art graphics and CGI create visually stunning outer-space scenes, making the experience worthwhile for those fond of well-crafted films. The film's production, set, and costume designs speak volumes about the meticulous effort that has gone into creating a believable, futuristic world. If you prefer a visually immersive experience, watch Ender's Game and be astonished.
Sociopolitical Undertones: Reading Between the Lines
Beyond the visual amenity and exciting narrative, Ender's Game also showcases potent sociopolitical undertones. The film subtly unearths issues such as militarization, the ethics of war, and the psychological toll on child soldiers. Here, the narrative technique helps transform this movie from a simple sci-fi adventure into a deeper commentary on societal norms and practices. It exemplifies how a well-scripted narrative coupled with an action-packed storyline can deliver thought-provoking messages.
Delving Deeper into the Intricacies of Ender's Game
Ender's Game isn't just about high-tech warfare and alien invasions. It dives deep into the psychological and emotional complexities of its young protagonist, Ender Wiggin. Here, we see a child being molded as an instrument of war by his superiors while constantly grappling with its consequences. We see him deal with isolation, peer rivalry, and the interplay of fear and purpose.
The level of maturity showcased by Ender's character is commendable and worth mentioning. He astounds his overseers with each test he faces, but it comes with a personal cost to his childhood. As his vulnerability and innocence gradually give way to strategic, cold, militarized thinking, the audience grapples with guilt and complicity.
A Deeper Message in Ender's Game
In no uncertain terms, Ender's Game forces us to question the morality of using children in warfare, societal definitions of heroism, and the dangerous consequences of militarization. The moral undertones can sometimes be subtle, and it's easy to disregard them amidst the grandeur of the film's war setting. But it is this very subtlety that makes them powerful and impactful. If ethical exploration within the realms of futuristic environments sparks your interest, do watch Ender's Game and bear witness to this complex, thought-provoking narrative.
Importance of Teamwork
Apart from its overarching themes, Ender's Game also emphasizes the importance of camaraderie and teamwork. Ender's command of his squadron, Dragon, and his ability to develop effective strategies rely heavily on mutual respect and cooperation. Through different battle scenarios against other squadrons, Ender and his team learn the importance of unity, strategy, and trust. These elements form a core part of the narrative and enhance the cinematographical richness of the film.
Casting Brilliance: Breathing Life into the Characters
In bringing a beloved and intense science fiction novel to life, the casting of Ender's Game had to be spot-on. Apart from the critical roles played by Asa Butterfield, Harrison Ford, and Viola Davis, the ensemble cast has truly brought the characters to life, adding depth to the narrative.
Hailee Steinfeld's performance as Petra Arkanian, the film's primary female character, deserves special mention. Her portrayal of an intelligent, strong, and confident female character amidst young cadets is compelling and complements Butterfield's portrayal of Ender. Their evolving friendship not only injects humanity and warmth into the cold, mechanical world of Battle School but also reinforces the narrative's emphasis on friendship and teamwork.
Ben Kingsley also makes a substantial impression as Mazer Rackham, the celebrated war hero who won the previous war against the aliens. His portrayal of a mysterious and intense character adds intrigue and complexity to the plot. A seasoned actor like Kingsley delivers a captivating performance and adds gravitas to the narrative.
Moises Arias embodies the role of Bonzo Madrid, Ender's principal adversary in Battle School. His performance shines in scenes that depict rivalry and resentment, leading to a significant plot development.
Abigail Breslin's character, Valentine, Ender's empathetic elder sister, is also crucial. Valentine is a critical emotional anchor for Ender. Breslin's credible portrayal of a peace-loving individual who wants nothing more than to protect her brother adds a layer of human depth to the film.
The cast of Ender's Game perfectly encapsulates the range of characters and emotionally complex relationships within the original story. Their performances add substance and depth, creating a multifaceted cinematic experience. If you're a fan of potent performances in a tightly assembled narrative, then be sure to watch Ender's Game; the ensemble cast will not disappoint.
Experiencing the Glimpse: Delving into the Trailer of Ender's Game
Conclusion: A Complete Package
Offering a multitude of deep truths about morality and the burdens of war while not skimping on high-grade cinematic clarity, "Ender's Game" goes above and beyond your average sci-fi adventure flick. You would be amiss not to watch Ender's Game – it is a must-experience movie that offers thrilling sci-fi adventure, potent societal commentary, and unforgettable performances. Settle in for an exciting, heartrending view into a future that's as thought-provoking as visually stunning.
In conclusion, Ender's Game is the quintessential blend of science fiction, action, and adventure. It encapsulates a visually stunning, high-tech world rich with character development and a storyline that leaves a lasting impression. The cinematography, plot twists, and engaging performances make Ender's Game highly recommended. If you're a fan of thought-provoking science fiction with a touch of adventure, watch Ender's Game and prepare to be spellbound.