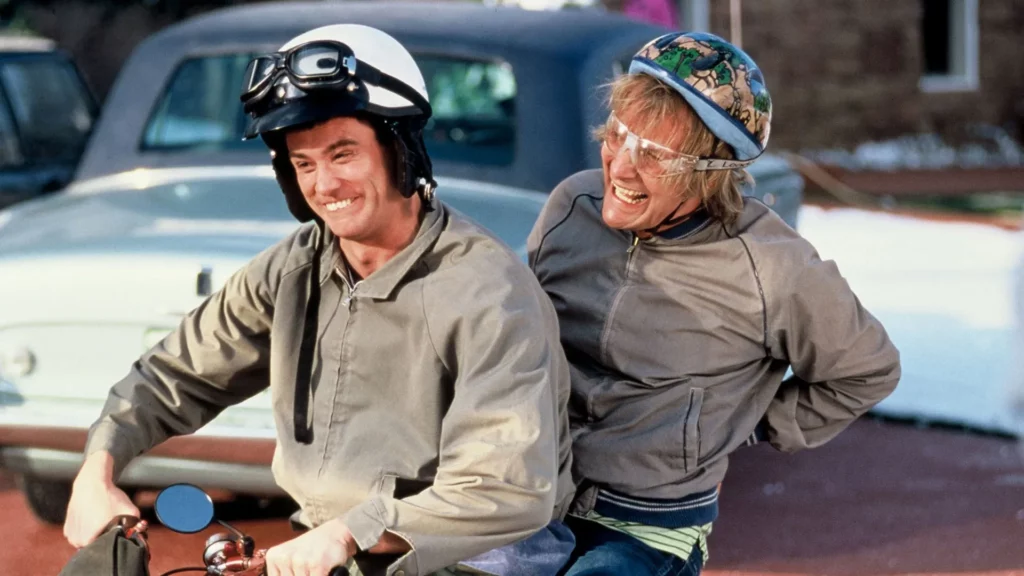 "Dumb and Dumber," directed by the legendary Farrelly Brothers – Peter and Bob, was released in 1994. The comedy film immediately achieved cult status, becoming an all-time beloved with its perfect blend of slapstick humor, unforgettable one-liners, and brilliantly played-out character idiosyncrasies. If one is fascinated by comedy with absurd themes, it is high time to watch "Dumb and Dumber."
Dumb and Dumber is not streaming in your country?
Any of our picks not streaming in your country? ExpressVPN unlocks Reelgood and all of your streaming services, giving you access to all movies and TV shows from around the world. Stream them from anywhere with a 30-day money-back trial from ExpressVPN.
Unblock Streaming with ExpressVPN (3 months free for Reelgood users!)
Connect to a US or UK server via ExpressVPN.
Let ExpressVPN run in the background as you watch all of your movies and TV shows, securely and with no throttling or bandwidth limits.
The Unconventional Heroes – Meet Lloyd and Harry
"Dumb and Dumber" tells the story of two lovable dimwits, Lloyd Christmas, portrayewed by the iconic Jim Carrey, and Harry Dunne, played by the versatile Jeff Daniels. Carrey and Daniels unfold a rare chemistry on screen; their witless yet endearing characters take the hilarity quotient to a new level. Lloyd, the ever-optimistic one with a heart full of gold, and Harry, his slightly less dim-witted yet equally bumbling buddy, embark on an unforgettable journey overloaded with humor and feel-good vibes.
The Laugh Riot – Analyzing the Humor in "Dumb and Dumber"
The film transcends the boundaries of conventional comedy by impeccably integrating situational humor, physical comedy, and one-liners into a single storyline. It toys with the viewers' sense of humor, daring them to pause and contemplate the stupidity before succumbing to the inevitable hearty laughter. The infamous "most annoying sound in the world" scene or the notorious "toilet scene" leaves everybody in unstoppable gales of laughter, no matter the age. Remember, in "Dumb and Dumber," no joke is too lowbrow, and no humor is too silly.
The Plot – From Providence to Aspen
The storyline in itself is a brilliant piece of comedy art. It revolves around a briefcase mistakenly left behind by a beautiful woman named Mary, played by the stunning Lauren Holly. In their unsophisticated brains, Lloyd and Harry take it upon themselves to stroll across the country to return the briefcase to its rightful owner. The chucklesome escapades during the road trip, alongside the naïve efforts of the duo to woo the lady, add to the ludicrous plot, making it a must-watch flick for all comedy lovers.
The Impact – "Dumb and Dumber" in Popular Culture
"Dumb and Dumber" left a long-standing effect on popular culture, spawning prequels, sequels, an animated TV series, and even a video game. One-liners like "So you're telling me there's a chance" and "We got no food, no jobs… our pet's heads are falling off!" have passed into everyday conversation and social media memes. This goes on to amplify the movie's iconic status in the realm of comedy cinema.
The Takeaway: What Makes "Dumb and Dumber" Unique?
"Dumb and Dumber" is a testament to the wide-ranging prowess of the comedy genre. Its success isn't only about sheer stupidity or slapstick humor; it's about the ability to connect with the audience on a whole different level. It proved that comedy is not just about laughing at gags; it's also about falling in love with characters, laughing at their absurdity, and rooting for their blissful ignorance.
Watch "Dumb and Dumber" if you seek a joyous cinematic journey that distracts you from mundanity and leaves you with infectious laughter.
The Reminiscence – Why You Should Watch "Dumb and Dumber" Again
In the sea of comedy movies, "Dumb and Dumber" stands out for its fantastic storyline, commendable acting, and, most importantly, its timeless humor. With its captivating narrative and engaging sequences, the film continues to entertain viewers even after 27 years of release. Those who have watched it can vouch for its re-watchability.
There's a certain charm in the stupidity depicted in "Dumb and Dumber," which is rarely seen in modern comedy. It's a gem of a movie that will always bring a smile to your face. So, buckle up your seatbelts and get ready to revisit the dumb yet loving world of Lloyd Christmas and Harry Dunne.
Undeniable Hilarity in Supporting Characters
"Dumb and Dumber" wouldn't pack such a comedic punch without its fast-paced supporting cast. Characters like "Mental," played by Mike Starr, and the exasperated FBI agent Beth Jordan, portrayed by Karen Duffy, add to the ridiculousness of Lloyd and Harry's circumstances. The characters unknowingly aid the movie's hilarity, providing a perfect foil to the protagonists' childlike innocence while deepening the zany humor.
The Farrelly Brothers – Comedy Geniuses
Peter and Bobby Farrelly deserve massive credit for crafting "Dumb and Dumber" with such comedic precision. The movie reflects their innovative directorial style, characterized by their unique blend of slapstick humor and heartwarming narrative overtones. The Farrelly Brothers masterfully build characters that, despite their dumbness, never become the butt of cheap or offensive jokes but rather lovable characters who unwittingly participate in hilariously wild escapades.
The Ensemble Cast – Adding Layers to the Laughter
Besides the dynamic duo of Jim Carrey and Jeff Daniels, many supporting actors embellish the storyline with their skillful performances.
One such actor is Charles Rocket, who plays Nicholas Andre, a greedy kidnapper who adds a dimension of intrigue and danger to the film. His portrayal of the cunning and smooth-talking criminal contrasts effectively with the guilelessness of our protagonists, adding to the story's humor.
Victoria Rowell plays the role of athletic beauty Beth Jordan, an undercover federal agent on Andre's tail. Her role as the only seemingly 'smart' character surrounded by misfits is played to perfection, her exasperation humorous in contrast to the chaos surrounding her.
The small yet significant presence of comic actor Harland Williams as the State Trooper is unforgettable. His deadpan exchange with Lloyd over 'drinking' urine is one of the most laugh-out-loud moments in the movie.
Brady Bluhm, who plays Billy, the blind and naive neighbor child, adds to the film's charm. The scene involving his pet bird, Petey, is an all-time favorite and talks much about the innocence of this character and our protagonists.
Cam Neely, a real-life hockey player, played the role of Sea Bass, a trucker with a nasty demeanor, yet ends up as a surprising joke. His reactions to the clueless duo's unintentional insults make for some of the movie's most humorous scenes.
Guest Appearances – The Icing on The Cake
"Dumb and Dumber" also boasts brief appearances from a few well-known faces. Felton Perry, famous for his role in "RoboCop," makes a cameo as Detective Dale. Lin Shaye, known for her role in "Insidious," plays Mrs. Neugeboren, marking another notable but tiny role in her extensive career.
The laughs don't end with the script in "Dumb and Dumber." Both leading and supporting casts masterfully amplify every comedic second, securing the film's place as a timeless classic in comedy cinema.
The Iconic Soundtrack
The orchestral score composed by the renowned Todd Rundgren plays an intricate role in cementing the comedic elements and highlighting the movie's whimsical tone. Hits like "New Age Girl" by Deadeye Dick and "Mmm Mmm Mmm Mmm" by Crash Test Dummies are just some examples of how the music underscores the fantastic comedic timing and absurdity of the character's actions in "Dumb and Dumber."
Unveiling Comical Madness – The "Dumb and Dumber" Trailer
"Dumb and Dumber" – A Cinematic Legacy
While the "Dumb and Dumber" storyline might seem absurd, it holds a mirror up to society's ludicrous norms. It underlies the importance of individuality and genuineness in a conformist society. In its own wacky way, the movie resonates with audiences and leaves a lingering effect.
"Dumb and Dumber" is a comedy phenomenon celebrated across generations. If you crave a good laugh or need a respite from reality, watch "Dumb and Dumber." With its heartwarming characters, brilliant comedic timing, and ludicrous yet engaging plot, the movie will surely tickle your funny bone and leave a lasting impression on your cinematic spirit.
Ending Note: Comedy is often viewed as a lightweight form of art, but anyone who has attempted to write a comedy will tell you otherwise. "Dumb and Dumber" is a perfect example of well-crafted comedy writing. If you haven't yet, do yourself a favor and watch "Dumb and Dumber"; it's a guaranteed good time!