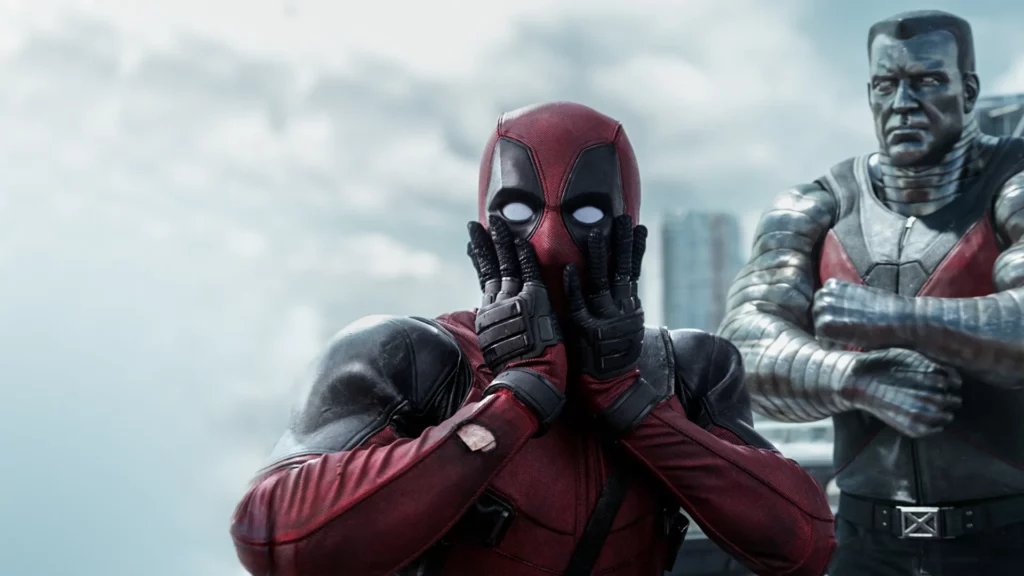 Meet the Quirkiest, Zaniest Superhero 
Is Deadpool not streaming in your country?
Any of our picks not streaming in your country? ExpressVPN unlocks Reelgood and all of your streaming services, giving you access to all movies and TV shows from around the world. Stream them from anywhere with a 30-day money-back trial from ExpressVPN.
Unblock Streaming with ExpressVPN (3 months free for Reelgood users!)
Connect to a US or UK server via ExpressVPN.
Let ExpressVPN run in the background as you watch all of your movies and TV shows, securely and with no throttling or bandwidth limits.
Release the mundane and embrace the wild, for we are about to take a leap into the world of the Merc with a Mouth – Deadpool. A world-praised creation by Marvel, Deadpool stakes his claim as one of the most idiosyncratic superheroes. Filled with brutality, quick-witted humor, and unexpected warmth, 'Watch Deadpool' makes for an exhilarating spectacle unlike any other. 
A Hero Like None Other
Best known for his daring humor and unapologetic violence, Deadpool (Ryan Reynolds) is as outrageous as he is compelling. For one, this anti-hero talks directly to the audience, breaking the fourth wall, making us confidantes in his zany misadventures and wacky antics. His ethos of self-awareness deconstructs the superhero genre while providing sheer entertainment at its best. 
Twists and Turns, Punches and Punchlines
Following the biting humor and relentless action, Deadpool's story takes shape majestically. Scene after scene, you meet the unexpected, and that is what makes this cinematic spectacle such a joyride. A former Special Forces operative turned mercenary, Wade Wilson, becomes Deadpool after a rogue experiment leaves him with accelerated healing powers. He is relentless, unhinged, and the quintessential bad boy of the superhero universe. With every passing moment, he pulls you deeper into his world, where violence meets wisecracks, and humor lies in the face of death.
The Beauty Lies in the Details
Undeniably, the brilliance of Deadpool lies not just in the titular character but also in the detail. Even the opening credits are a treasure in themselves, a testament to the film's irreverence. The not-so-subtle jabs at the hero culture, a seamless blend of comedy and action, or the introduction of characters such as the lovable cab driver Dopinder and the metal behemoth Colossus, these careful details craft a unique narrative.
Getting Under the Mask
Peel back Deadpool's mask, and you will find the beating heart of the story – Wade Wilson's romance with Vanessa (Morena Baccarin). Their chemistry adds depth and layers, making us care for him beyond his gunslinging bravado. This touching subplot infuses a sense of emotional honesty amidst all the chaos. It resonates with audiences, clearly suggesting that beneath the wisecracks and the swagger, there is an element of vulnerability to our scarred anti-hero.
Ryan Reynolds: The Man Behind the Mask
It's hard to imagine anyone else but Ryan Reynolds as Deadpool. The actor exudes the character's charm and energy with such gusto that the line between the actor and the character blurs. Reynolds aptly meshes irreverence, physical comedy, ad-libbed one-liners, and emotional depth to make Wade Wilson a character fans have come to adore.
A Breath of Fresh Air
In a landscape filled with PG-13 superhero movies taking themselves too seriously, Deadpool emerges, both swords swinging, as a refreshing R-rated spectacle. Loaded with crude humor, graphic violence, and unexpected depth, Deadpool is nothing short of a game-changing superhero movie.
The Stellar Cast of Deadpool
"Wade Wilson/Deadpool": Ryan Reynolds: 
Leading with his signature goofy charm, it is Ryan Reynolds as Wade Wilson, who transforms into Deadpool, the unexpected superhero whom you can't ignore in the Marvel Universe. His effortless portrayal of this offbeat character will make you laugh, revel, and injects an irresistible urge to "watch Deadpool" over and over again.
"Vanessa": Morena Baccarin: 
As the love interest of Wade Wilson and the driving force of his character transformation, Morena Baccarin brings a strong, captivating presence to the screen. Injecting depth and warmth, her performance would make you "watch Deadpool" again for her compelling impact.
"Weasel": T.J Miller:
Best friend to the mercenary, T.J Miller plays Weasel, spectators' darling. Miller delivers a performance that is full of wit and deadpan humour, providing a perfect balance to Deadpool's larger-than-life antics. One can't help but "watch Deadpool" for the entertaining banter between the two.
"Francis Freeman/Ajax": Ed Skrein
British actor Ed Skrein portrays the role of main antagonist Ajax, pulling us further into the "Watch Deadpool" experience. His intense portrayal provides the necessary contrast to Reynolds' Deadpool and sets the tone for their unique cat-and-mouse chase.
"Angel Dust": Gina Carano
Ex-MMA fighter Gina Carano plays Angel Dust, Ajax's powerful and loyal accomplice. Her fierce personality and impressive physical performance make her an imposing character to watch.
"Colossus": Stefan Kapicic
Colossus, a physically imposing yet morally virtuous X-men providing a hilarious contrast to Deadpool's amoral attitude, is brought to life by Serbian actor Stefan Kapicic. He becomes an integral part of the narrative and a reason to "watch Deadpool".
"Negasonic Teenage Warhead": Brianna Hildebrand
Brianna Hildebrand debuts as Negasonic Teenage Warhead, another X-Men character. Her distinctive punk style and curt attitude make her a memorable and interesting character in the Deadpool universe. She is compelling and has redefined superhero uniqueness.
"Dopinder": Karan Soni
Topping off the unique ensemble is Karan Soni as the well-meaning and rather amusing cab driver, Dopinder. He manages to steal the limelight in his hilarious interactions with Deadpool.
This ensemble of colourful characters, each shining in their unique roles, ensures that to "watch Deadpool" is to embark on an unforgettable journey. Each member of the cast brings something exciting and fresh to the table, making the Deadpool movie a rollicking roller coaster ride. They create an exciting world that is violent, hilarious, and warming at the same time, making 'Watch Deadpool' an unmissable affair. Get ready to be awed by this incredible ensemble that brings vividness, vitality, and verve to 'Watch Deadpool.'
Dive into the Chaotic Delight of the "Deadpool" Trailer
Conclusion: So, why watch Deadpool?
To answer simply: For the sheer thrill of it. 'Watch Deadpool' is an adrenaline-fueled party that invites you to let loose and revel in its comical madness. All the while, it subverts, surprises, and ultimately satisfies with its blend of action, humor, and heart. Iffy about superhero movies? Trust Deadpool to change your mind!
Go ahead, plunge into this rib-tickling, action-packed world of 'Watch Deadpool', where the hero is as mischievous as he is merciful, and his antics are guaranteed to keep you on the edge, chuckling, right until the end credits roll. And remember, in the words of Deadpool himself, "Maximum effort!"
In the rapidly expanding universe of superhero films, 'Deadpool' stands apart – thanks to its unfiltered humor, unabashed violence, and an anti-hero whose charm is as lethal as his twin katanas. Watching Deadpool is not just about enjoying a movie; it's an experience. A raucous, over-the-top, zingy experience that will leave you wanting more. Deadpool isn't just a movie; it's a revolution of the superhero genre. So get prepared to put on your superhero fandom hat and jump on the most exciting ride of the Marvel Universe!
So, fan or not, if you haven't dipped your toes into the Deadpool universe yet, there is no better time than now. Brace yourselves, and watch Deadpool – it's the cinematic equivalent of a rollicking rollercoaster ride that promises fun, laughter, and an unforgettable experience.