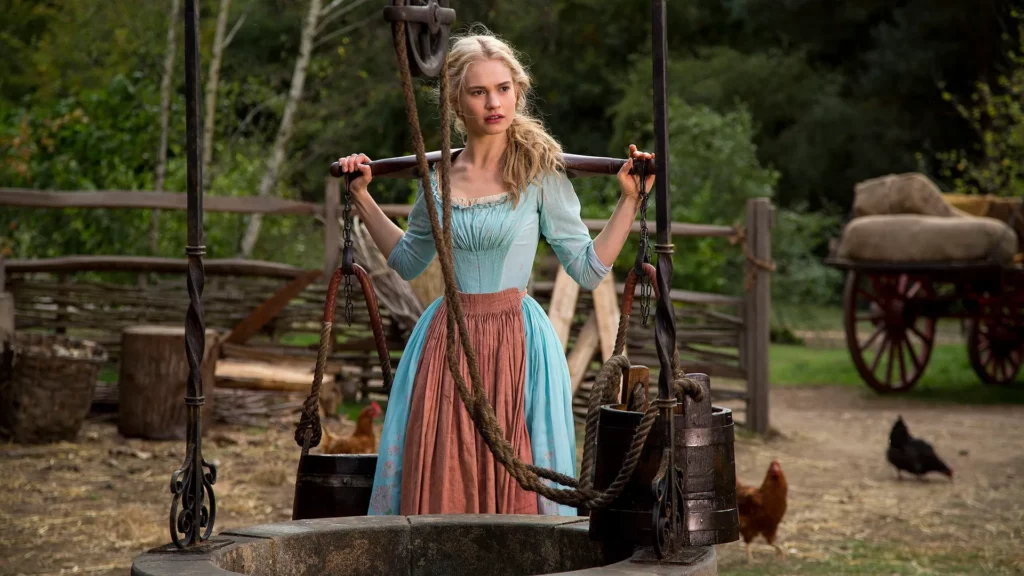 The Walt Disney Corporation has been synonymous with enchanting fairy tales brought to life on the large screen. These tales are filled with magic, love, and much hope. One such fairytale that beautifully captures all these elements is "Cinderella." 2015 witnessed a glorious renewal of this timeless classic when Disney first released its live-action version of the story that countless generations have adored.
Cinderella (2015) is not streaming in your country?
Any of our picks not streaming in your country? ExpressVPN unlocks Reelgood and all of your streaming services, giving you access to all movies and TV shows from around the world. Stream them from anywhere with a 30-day money-back trial from ExpressVPN.
Unblock Streaming with ExpressVPN (3 months free for Reelgood users!)
Connect to a US or UK server via ExpressVPN.
Let ExpressVPN run in the background as you watch all of your movies and TV shows, securely and with no throttling or bandwidth limits.
A Glimpse into the Magical Realm
One cannot deny the magnetic allure of Cinderella's magical realm, which is restricted to a beautiful princess, a charming prince, and enchanting ball gowns but extends to talking mice and pumpkins turning into golden carriages. This could precisely be why millions say, "I want to watch Cinderella again!"
The 2015 live-action adaptation of "Cinderella," directed by Kenneth Branagh, offers a new perspective on the beloved tale. The turn-of-the-century visuals, aesthetic cinematography, and stunning performances deepen the magic of the original story.
The Tale Unfolds: Classic yet Refreshing
The most captivating aspect of watching Cinderella (2015) is its comforting familiarity and refreshing updates. While the essential narrative elements remain surprisingly faithful to the original 1950s animation, the screenplay writers Chris Weitz and Aline Brosh McKenna added more depth to the characters.
For instance, by exploring the loving relationship between young Ella and her parents, the audience is offered a glimpse into her innate positivity and kindness, her "courage and kindness" philosophy. Prince Kit, meanwhile, is given more backstory, moving him beyond the stereotypical charming prince found in vanilla fairytales to a character with substance.
The Aesthetics: Visual and Auditory Delight
One can merely sit back and enjoy a visual treat while you watch Cinderella. The production design, costumes, cinematography, and SFX are all meticulously manicured to create a grand spectacle. The grandeur of Ella's transformation and her entry into the ballroom will have the viewers gaping at the screen.
Pairing this exceptional visual extravaganza is the musical score by Patrick Doyle. Just as the 1950s film was known for its memorable tunes like "A Dream is a Wish Your Heart Makes" and "Bibbidi-Bobbidi-Boo," the 2015 version kept the tradition alive with compelling scores that leave a lasting impact.
Extrapolating the Emotional Depth: What Lies Beneath the Fairy Tale Veneer
At its core, Cinderella is not just an impressive spectacle of shimmering gowns, strikingly realistic anthropomorphic animals, and beautiful set pieces. It's an emotionally rich story about resilience and the strength of character in the face of adversity. Each time one decides to sit down and watch Cinderella, they'll find themselves inspired by this powerful message subtly woven throughout the narrative.
More Than Meets The Glass Slipper: An Unconventional Heroine
Cinderella, or Ella, as she's initially known, isn't your average fairy tale heroine. Unlike the damsel in distress connotation, she is strong-willed and has a mind of her own. She tolerates her step-family's abuse not out of weakness but because she chooses to honor her mother's final wish for her to have courage and be kind. This is an empowering, unique angle possible to glean all over again when one chooses to watch Cinderella.
Moreover, Ella's bond with the wildlife in her home and her communication with them gives her character a unique charm. These elements make Ella a poster character for our faith in the convictions of kindness and humility which hold, even under duress.
Cinderella and Prince – A Reworked Concept of 'True Love
Cinderella and Prince Charming's relationship represents a revamped concept of 'true love.' Instead of the standard 'love at first sight,' the romantic bond between Ella and the Prince gradually develops. It is a connection built on mutual respect and admiration rather than physical attraction alone.
Their first meeting occurs not at a grand ball but in a humble forest, unaware of the other's true identity. This screenplay choice deepens their relationship, grounding it in authentic interaction rather than the flowery fantasies typically associated with fairytales. Yet another reason to watch Cinderella is to let today's young generation know that true love goes beyond mere good looks.
Life Lessons and Values: Cinderella's Enduring Legacy
While Cinderella's enduring legacy lies in its timeless tale of romance and magic, it also imparts significant life lessons to its audience. The movie emphasizes the power of remaining positive and kind in adversity. It rejects the notion of revenge and underscores the importance of forgiveness, suggesting that even the simplest act of kindness can have a profound impact.
In a world often laden with negativity, the film serves as a critical reminder that one doesn't need to resort to bitterness or cruelty in return for the same. The quintessential message here is one of hope – a beautiful reason to watch Cinderella.
The Enchanting Cast: Cinderella Personified
Disney's 2015 adaptation of "Cinderella" is blessed with highly talented actors. Each actor brings a touch of their unique attributes, contributing enormously to the film's success.
Lily James – Cinderella
Starting her acting career in television with numerous memorable roles, Lily James made her big screen debut in Wrath of the Titans before landing the lead role in Cinderella. Notably, James played Lady Rose Aldridge in the popular British period drama Downton Abbey. Her career skyrocketed after essaying the role of Cinderella, bagging significant projects like Baby Driver and Yesterday.
Richard Madden – Prince Charming
Scottish actor Richard Madden holds an impressive array of theater, film, and television roles. Mainly known for his role as Robb Stark in the HBO series Game of Thrones, Madden's portrayal of Prince Charming in Cinderella marked an essential checkpoint in his career. His acclaimed performance in the BBC series Bodyguard earned him the Golden Globe Award for Best Actor.
Cate Blanchett – The Evil Stepmother
Already an established actor with numerous accolades when she was cast as the evil stepmother in Cinderella, Cate Blanchett is best known for her roles in films like Elizabeth, Blue Jasmine, and the Lord of the Rings series. Her wickedly elegant portrayal of Lady Tremaine in Cinderella is marked with an intimidating, icy demeanor and sharp wit, making her character memorable.
Helena Bonham Carter – The Fairy Godmother
A versatile actor known for her eccentric roles, Helena Bonham Carter's career is decorated with various characters, from Marla Singer in Fight Club to Bellatrix Lestrange in the Harry Potter series. Her whimsical portrayal of the Fairy Godmother in Cinderella added another dimension to her acting spectrum. Moreover, her longstanding collaboration with Tim Burton has made her a regular in his movies.
Sophie McShera – Drizella & Holliday Grainger – Anastasia
Both Sophie McShera, known as an assistant cook Daisy in Downton Abbey, and Holliday Grainger, recognized for her roles in several period dramas like The Borgias, lent their acting prowess to Cinderella. As the ugly stepsisters, they convincingly portray their characters' spitefulness and envy.
Together, the cast of Cinderella created a spellbinding experience that continues to capture hearts. This film is an example of exceptional casting choices, where each actor defined their roles impeccably and contributed to the timeless appeal of Cinderella.
Critics Take: A Successful Reimagining?
Given the high expectations, the reimagined Cinderella absorbed the pressures and managed to maintain the classic's charm. Critics have praised the film for striking the right balance between old and new. Richard Roeper from the Chicago Sun-Times stated, "With beauty, wit, and charm to spare, Cinderella is a showstopper."
James Berardinelli from Reelviews complimented the film: "Few will deny that Cinderella is a magnificent spectacle, and its appeal isn't limited just to the 'princess demographic.'"
"Cinderella" (2015): Stepping Into the Magic of the Trailer
Conclusion: Now Is The Perfect Time To Watch Cinderella
Disney's 2015 take on Cinderella is a magical retelling that accentuates but always retains sight of the original fairy tale's charm. The movie is a resounding affirmation of the enduring appeal of timeless classics in the face of change. This is the perfect moment to reconnect with our childhood and watch Cinderella, illustrating the messages of courage, kindness, and the power of magic to generation after generation.