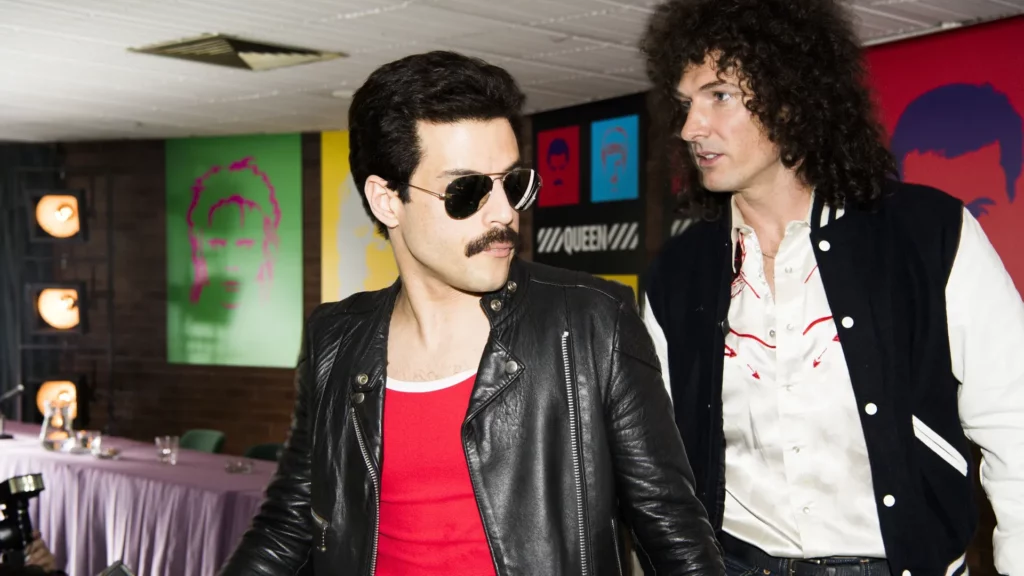 "Bohemian Rhapsody." The title alone triggers an emotional excitement within music lovers, conjuring the dulcet tones of a rock and roll classic and sparking a nostalgic remembrance of the man who spearheaded it — Mr. Freddie Mercury.
Bohemian Rhapsody is not streaming in your country?
Any of our picks not streaming in your country? ExpressVPN unlocks Reelgood and all of your streaming services, giving you access to all movies and TV shows from around the world. Stream them from anywhere with a 30-day money-back trial from ExpressVPN.
Unblock Streaming with ExpressVPN (3 months free for Reelgood users!)
Connect to a US or UK server via ExpressVPN.
Let ExpressVPN run in the background as you watch all of your movies and TV shows, securely and with no throttling or bandwidth limits.
This article takes you into the heart of the acclaimed film "Bohemian Rhapsody." If you're a music enthusiast who has yet to watch "Bohemian Rhapsody," this piece will surely inspire you to do so. A palpable tour-de-force, the movie gives you a glance into the life and times of one of the world's most innovative leads, Freddie Mercury of Queen.
Synopsis: The Struggles and Triumphs of a Rock Icon
The 93rd Academy Award-winning box office success "Bohemian Rhapsody" is an immersive biographical drama. The film documents the rise of Queen, one of the most remarkable rock bands of all time. Notably, it details Mercury's journey — his immigrant roots, unconventional lifestyle, personal turmoils, and ultimately, his incomparable talent and unyielding spirit.
"Bohemian Rhapsody" sets itself apart by unraveling the Diamond-certified rock anthem, which became synonymous with the band — the six-minute suite from which the film gets its name. If there's ever a beacon that personifies Mercury's genius and the band's uniqueness, it's this very song.
Rami Malek: Mastering the Persona of Mercury
Rami Malek's Oscar-winning portrayal of the legend himself brings an acute realism to the film. His uncanny ability to mirror Freddie's flamboyancy, flamboyant style, majestic stage presence, and unparalleled vocal flair gave audiences the illusion of watching Freddie Mercury resurrected on screen.
Behind the Scenes: Crafting Bohemian Rhapsody
The brilliant impersonation of Mercury by Rami Malek didn't happen overnight. Much effort was exercised to ensure that Mercury's compelling essence was captured authentically on screen. Malek underwent extensive preparation with a movement coach and wore a set of prosthetic teeth to represent Mercury's prominent overbite. The film also utilized original Queen band member Brian May's invaluable insights and aid in maintaining factual correctness and credibility.
Unlike a classic linear chronology of events, Bohemian Rhapsody employs considerable dramatic liberties to suit a theatrical narrative while maintaining its essential authenticity, which might irk the sticklers for facts. However, the movie still holds a visceral appeal.
The movie also does well to highlight each member of Queen, not just Freddie Mercury. It delves into their unique friendships and how their talents contributed to the band's success. It allows fans to understand and appreciate the camaraderie and respect beneath the outfit's turbulent development and evolution.
Boasting beautiful cinematography, the film exquisitely replicates the 70s and 80s era. Everything felt like watching a time capsule unfolding, from wardrobe to stage designs. Queen's aesthetic in clothes, hairstyle, and even album covers are given a full archive treatment in the movie. This attention to detail engages the viewers and draws them into the epoch that the classic rock band dominated.
To embrace the flood of nostalgia and learn about the band's trials and tribulations, you must watch Bohemian Rhapsody. This movie ensures a thrilling ride into the life and times of a pioneer who defied conventions and left an indelible mark on the world of music.
Social Impact: Unconventional Hero
The film has since been celebrated widely for its positive representation of the LGBTQ+ community. It underscores Mercury's fearless embrace of his sexual identity and his pursuit of love against all societal norms, giving viewers another reason to watch Bohemian Rhapsody with a deeper understanding of the rockstar's complex private life.
Finally, not mentioning Queen's music when discussing Bohemian Rhapsody would be a grave oversight. The film's soundtrack is enough to stir the soul, featuring some of the band's biggest hits. Whether you're a long-time Queen fan or a newcomer to their music, you can't help but hum along to their iconic tracks after you watch Bohemian Rhapsody.
Bohemian Rhapsody isn't merely a film – it's a celebration of Freddie Mercury's life and Queen's incredible music. A journey through an era of rock extravagance and a testament to one man's undying spirit will ignite a renewed appreciation for the genre of rock and love for the legendary rock band Queen.
Critics Reception: Recognising Majesty Amidst Controversy
"Bohemian Rhapsody" was not without its fair share of critics who noted that the film tends towards a more 'sanitized' version of Mercury's life. Some critiques pointed out that it glosses the darker, more gritty aspects, particularly his sexuality and AIDS diagnosis.
Despite these criticisms, the film was lauded for its stunning concert recreations, especially the thrilling reenactment of Queen's Live Aid performance in 1985. "Bohemian Rhapsody" achieved a box-office victory, grossing over $900 million worldwide, an attestation that the public had warmed to the movie.
A Queen Renaissance
This biographical drama has sparked a renewed interest in the band's music among younger generations. The sales of Queen's music following the release of "Bohemian Rhapsody" soared, and the title track's streamed plays spiraled meteorically. The movie reignited a resurgence and reaffirmation of Queen's musical genius.
Experiencing the Magic: Trailer for Bohemian Rhapsody
Cinematic Trivia: Fascinating Facts about Bohemian Rhapsody
Extensive Preparation
Rami Malek, who skillfully embodied the complex star Freddie Mercury, wore a set of large false teeth. He took this quest for characterization even further by spending about a year training with a movement coach and studying Mercury's mannerisms and stage performances.
Recreation of an Iconic Performance
The recreation of the famous Live Aid benefit concert at Wembley Stadium was the first scene shot for the film. Remarkably, the movie started by filming one of its most challenging iconic sequences, which set the tone for the rest of the film.
The Power of Collaboration
Fellow band members Brian May and Roger Taylor served as consultants on the film. Their close involvement ensured an authentic depiction of their characters and the band's dynamic, marrying with director Bryan Singer's ambitious vision.
A Different Director
Though Bryan Singer is credited as the film's director, he was fired with only two weeks left in the filming process due to disputes and absences. Dexter Fletcher was brought in to finish the movie, although Singer retained the directorial credit.
Not All Chronological
For dramatic effect, the movie tweaks the chronological order of some events. For example, The Live Aid concert is portrayed as a climactic reunion for the band. In reality, Queen had been touring extensively together in the months leading up to the concert.
A Compelling Soundtrack
The film's soundtrack consists of Queen's greatest hits, unifying die-hard Queen fans and newcomers. Some of these were re-recordings of popular numbers, especially for the movie. The film's audio mixing was so successful it won the Academy Award for Best Sound Mixing.
Stunning Success
Bohemian Rhapsody became the highest-grossing musical biographical film of all time, with over $900 million earned worldwide. Furthermore, it bagged numerous awards, including the Best Actor Oscar for Rami Malek.
This comprehensive list of trivia pieces makes it hard to resist the urge to watch Bohemian Rhapsody, a profound look into the riveting life of the flamboyant rockstar–Freddie Mercury.
Conclusion
"Bohemian Rhapsody" is more than a movie. It's an experience dedicated to the legion of Queen fans worldwide and an homage to Freddie Mercury, whose aura continues reverberating in rock and roll.
A journey through triumph, heartbreak, unbreakable bonds, and sumptuous music; when you watch "Bohemian Rhapsody," you are transported back into the Golden Age of Queen – an era when rock was majestic, and the soundscape was electrifying.
For all the debates around its viewpoint, one aspect of the movie is undeniable – it's a rousing homage to Queen's indomitable spirit and a testament to Freddie Mercury's enduring legacy. So, if you're yet to watch "Bohemian Rhapsody," brace yourself for a truly royal rock opera.