Los Angeles and San Francisco, CA, APRIL 10, 2020 — Last week, The American Film Institute (AFI) unveiled the launch of their new AFI Movie Club, designed to be "a daily virtual gathering to leverage our collective love of film on behalf of optimism in this time of global uncertainty." Steven Spielberg, an AFI Trustee and 1995 recipient of the AFI Life Achievement Award, introduced the first movie chosen — 1939's immortal Oscar-winning classic The Wizard of Oz.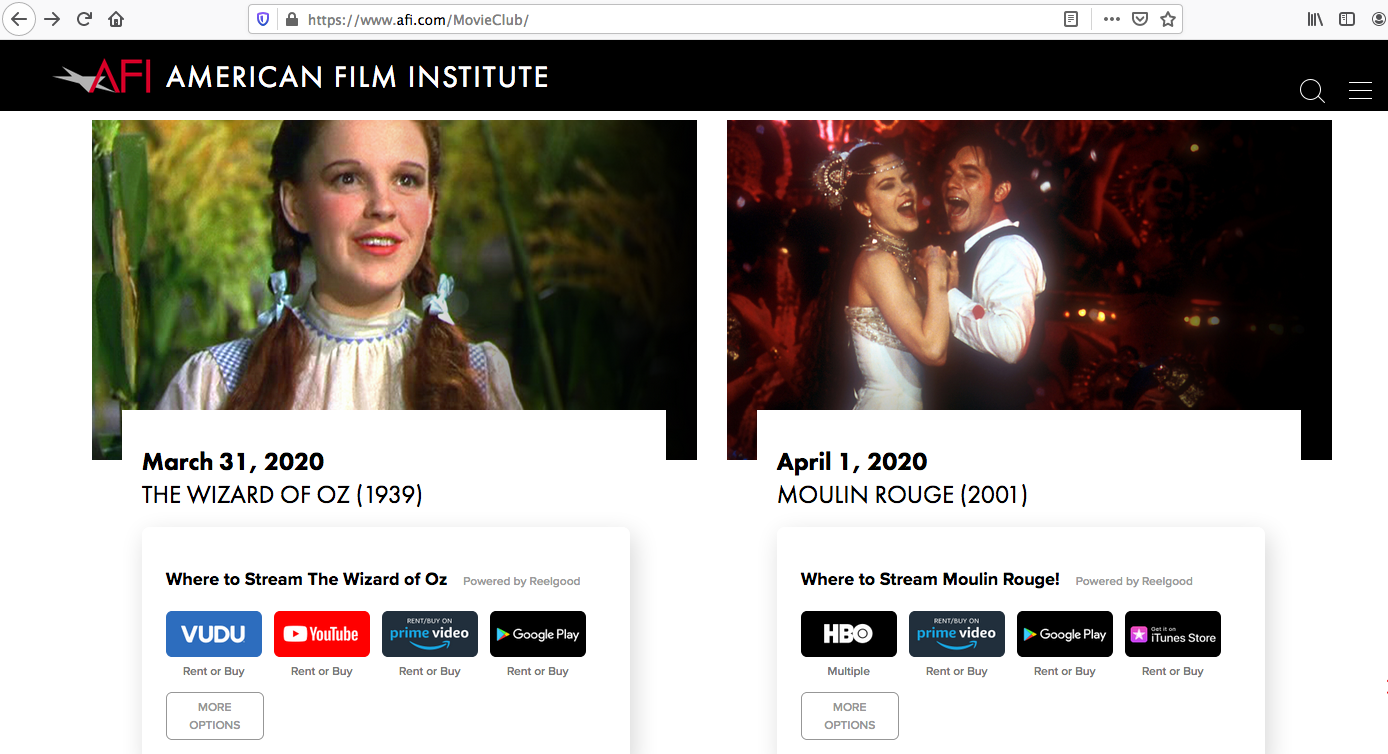 Since making its debut, AFI's Movie Club continues to select an iconic movie each day "for the world to watch together, creating a communal viewing experience during these unprecedented times of social distancing." In addition to Spielberg, other special guests, actors, and celebrities will announce select AFI 'Movies of the Day' in short videos posted on AFI.com and social media platforms.
In their recent web redesign and work on developing the Movie Club, AFI partnered with Reelgood, the leading universal guide for streaming audiences, to offer a unique service and enhanced user experience for their readers. By presenting a curated selection of classic movies, AFI wants to help everyone find delight in films, and Reelgood exists to help audiences find where to watch them, simply & quickly.
"Content discovery is always happening, especially for TV shows and movies—whether browsing popular streaming services, surfing social media, word of mouth from friends, or also reading great editorial content online. And that's why we built our dynamic publisher's widget," says Eli Chamberlin, Reelgood's Head of Product. "Our partnership with our service for AFI's Movie Club is a terrific showcase. By matching Reelgood's streaming availability service together with an incredibly trusted source like AFI, readers get a great recommendation on what to watch—and where to watch it—in one seamless experience."
"We launched Movie Club with the idea that we wanted to create a community experience around watching beloved films together, while we are apart," said AFI President and CEO, Bob Gazzale. "Reelgood has created the perfect platform to make that experience possible and we are thrilled to be partnered with them on this project."
Until the creation of AFI — well before the days of IMDb — there was no comprehensive index of motion pictures. AFI began, in 1968, recording the first 100 years of American film with the AFI Catalog of Feature Films— the first-ever scholarly listing of films with vetted information about the existence, availability and sources of films already produced, spanning the entirety of the art form since 1893. Today, in terms of Hollywood history and significance, AFI sits at the head of the table as the "authority on American film."
"In recognition of their rich history and sterling reputation in Hollywood, we are honored to work with AFI," says Dietrich von Behren, Reelgood's SVP Strategy & Business Development. "Together, we share a mutual goal—helping organize the world of cinema, simplifying search & discovery, and delighting new audiences. AFI is leveraging our widget to show information for their library of over 10,000 movies."
As a powerful service to source availability for streaming movies, TV and AVOD, Reelgood's Publisher Widget is available for both major online publications as well as independent bloggers.
—
About the American Film Institute (AFI)
Established in 1967, the American Film Institute is the nation's non-profit organization dedicated to educating and inspiring artists and audiences through initiatives that champion the past, present, and future of the moving image. AFI's pioneering programs include filmmaker training at the AFI Conservatory; year-round exhibition at the AFI Silver Theatre and Cultural Center and at AFI Festivals across the nation; workshops aimed at increasing diversity in the storytelling community; honoring today's masters through the AFI Life Achievement Award and AFI AWARDS; and scholarly efforts such as the AFI Catalog of Feature Films that uphold film history for future generations. Read about all of these programs and more at AFI.com and follow us on social media at Facebook.com/AmericanFilmInstitute, youtube.com/AFI, twitter.com/AmericanFilm and Instagram.com/AmericanFilmInstitute.
About Reelgood
Reelgood makes it easy to spend less time searching and more time watching your favorite movies and shows. Reelgood is available on web, iOS, and Android, as well as select LG TVs. For more info about and to start working with the Reelgood Publisher's Widget, please contact: publishers@reelgood.com
For press inquiries, please contact:
Reelgood
Catharine Burhenne
catharine@reelgood.com