A Netflix original Korean drama series, Sweet Home, was a huge hit when it was released in December 2020. It is an apocalyptic horror drama based on a webtoon novel with the same title. Viewers hoping for a season 2 release with its intense and tragic plot. But this March 2022, we already got an update, and it looks like we are not only getting Sweet Home season 2 but also a season 3.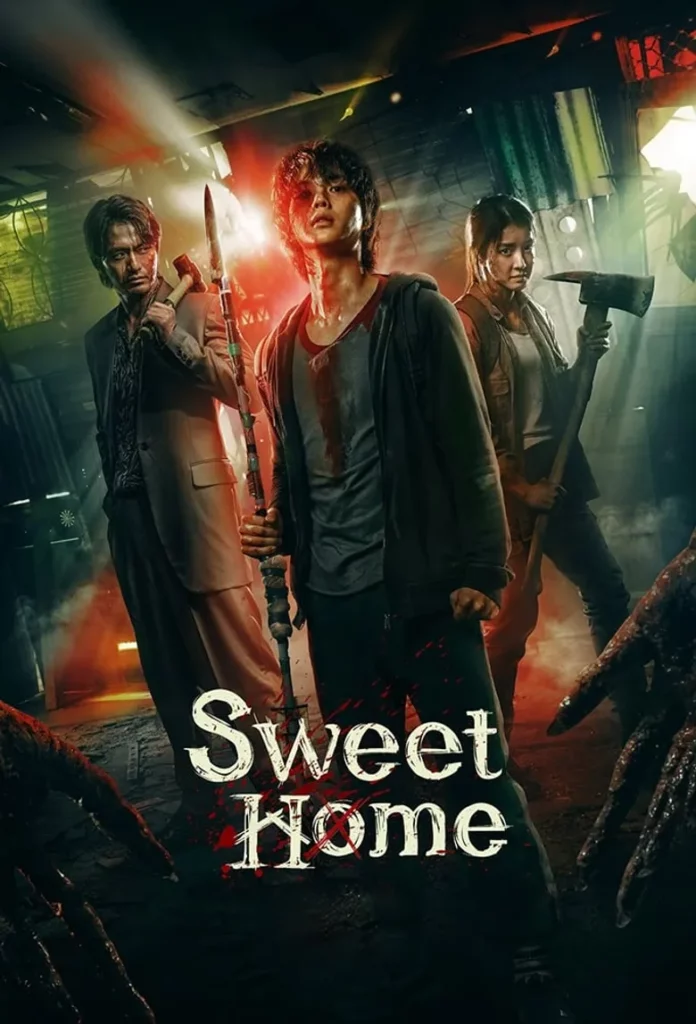 In season one, we were introduced to a cast of characters trapped in an apartment building as they find a way to survive with spawning creatures everywhere trying to kill them. This follows a guy who is suicidal and just moved into the apartment complex and the other tenants with exciting stories as well. Some characters we love, and some we become frustrated with. There were also tragic losses for the characters. But what can we expect for season 2 when, at the very end of season 1, we see them able to escape the apartment building and be in contact with the military? Let's discuss some of our questions.
Did Sang-Wook Survive?
In his last few moments in season 1, we saw him lying down in his own pool of blood as he tried to help Yuri. But at the very end, we also saw him driving a military truck with Hyun-soo on the back of the vehicle, and we can observe that his body has no scars at all.
Fans think that two things possibly happened to him. First, Sang Wook is either in the last stages of his own metamorphosis or currently in the Golden Hour before he transforms again into a monster. Second, Myeong was last seen fleeing in a military vehicle after being vanquished by Cha Hyun Soo. Given that his abilities seem to allow him to occupy human bodies, he could have done the same with Sang Wook.
Is Eun Hyuk dead?
In his final moments, we saw Eun Hyuk bleed the same way an infected person would. He was then buried under rubble. If he genuinely got infected, he would go into his own metamorphosis, and if he acquired any regenerative abilities, it could save his life.
Is Yi Kyung going after Hyun Soo?
For most of the parts in season 1, we know that Yi Kyung tried to figure out what happened to her fiancee, Nam Sang Won. Yi Kyung made a deal with the military to give Hyun Soo to them in exchange for a piece of information about her fiancee. Despite not sticking to their deal, in the final episode, she joined them. So it will likely turn out that Yi Kyung will be after Hyun Soo.
Despite all the theories and ideas of the fans, we still don't have a clear idea of what to expect for season 2, especially what could happen to the rest of the survivors. Director Eung-bok stated that season 2 will be faithful to the webtoon and will stick to the plot, despite season one having a lot of changes, including new characters and some tweaked storylines. There are also no cast confirmations yet for season 2, although talks about some of the cast from season one returning are going around.
One Korean news site claimed that Lee Si-young played the former firefighter Seo Yi-Kyung, and Park Gyu-Young played the bassist Yoon Ji-Soo, which will reprise their roles for the series. However, the lead actor, Song Kang as Cha Hyun Soo, still don't have any confirmation yet and is still discussing this with his agency.
We can only wait for more announcements and details for the upcoming new season. But hopefully, the long wait will be over soon, and we can watch it on streaming platforms knowing that many fans and viewers are waiting for it!