With everyone stuck at home, which streaming services are consumers turning to the most for their daily movie and TV show fix? Are they more inclined to use free ad-supported platforms (AVOD) or are subscription services (SVOD) like Netflix still dominating? Below are a few charts our team put together to try and answer these exact questions and more.
Note that everything that follows is based on exclusive first-party data collected from Reelgood's nearly 4M users.
First, we took a look at playback or streaming activity for subscription VOD (SVOD) services like Netflix, Prime Video, Hulu, and Disney+ for the past six weeks to see how things have changed as more US states were put under lockdown due to COVID-19.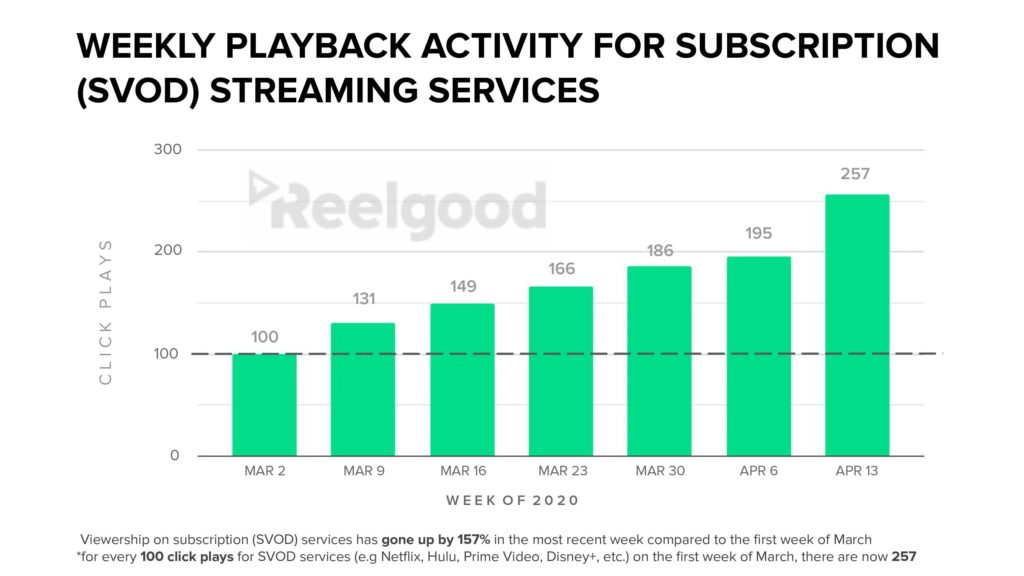 As illustrated above, for every 100 click plays for SVOD services in the first week of March, there are now 257 click plays. In other words, viewership for subscription services has gone up by a whopping 157% in the most recent week compared to the first week of March.
Then we pulled the same data, but this time for free ad-supported (AVOD) streaming services like Tubi, Sony Crackle, IMDb TV, Popcornflix, and more.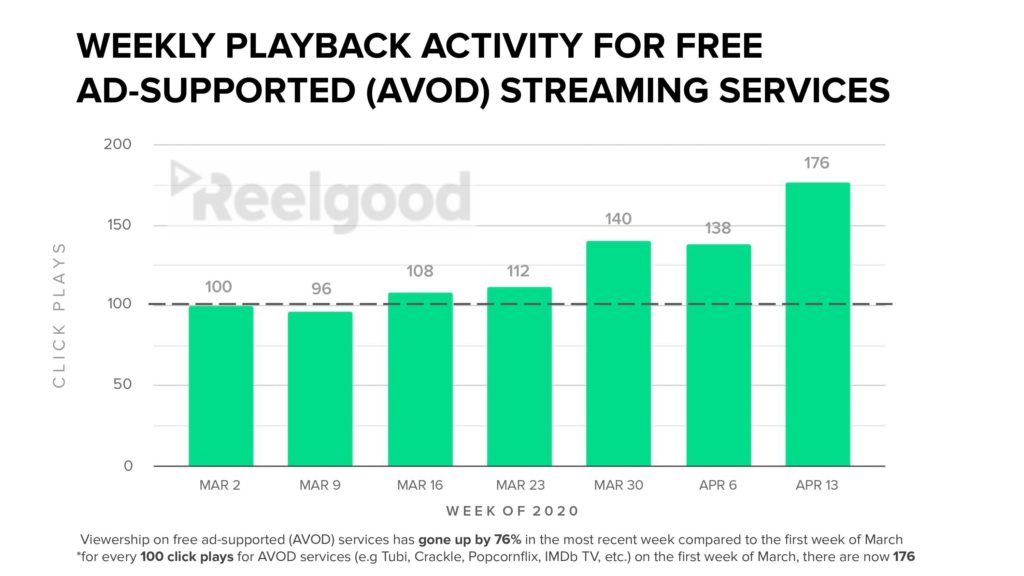 For every 100 click plays at the beginning of March, there are now 176. In a span of six weeks, viewing activity for free streaming services went up by a solid 76%.
Next, we pulled data on the share of streaming for every service type: subscription (SVOD), free (AVOD), TV Everywhere, and Rent/Buy (TVOD). It's not surprising to see subscription services getting the lion's share here, mostly thanks to Netflix, but it is interesting how big of a share free ad-supported platforms have managed to secure.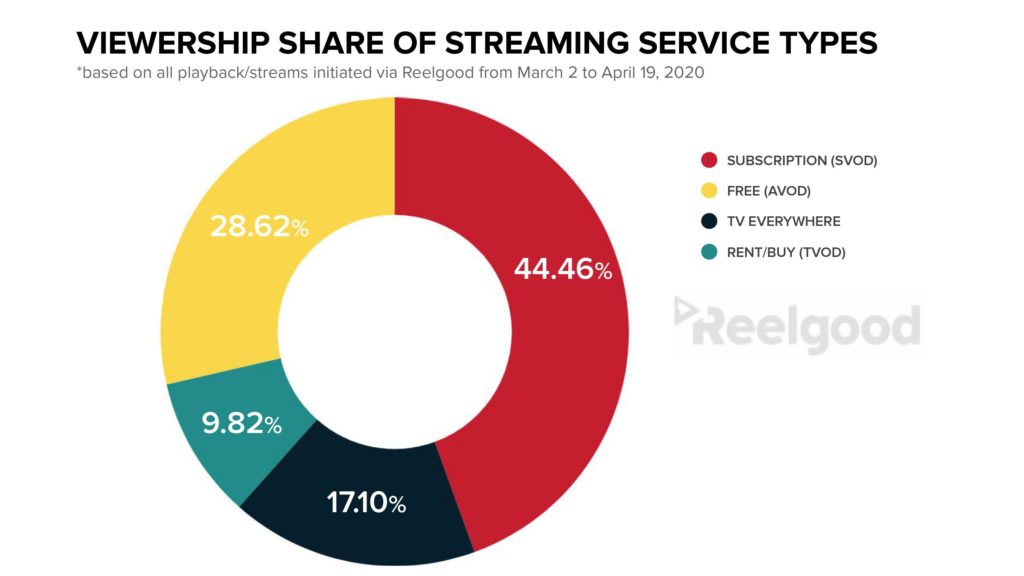 Delving deeper into viewership share, we looked at playback distribution between (1) all subscription services (SVOD), and (2) all free (AVOD) platforms supported by Reelgood.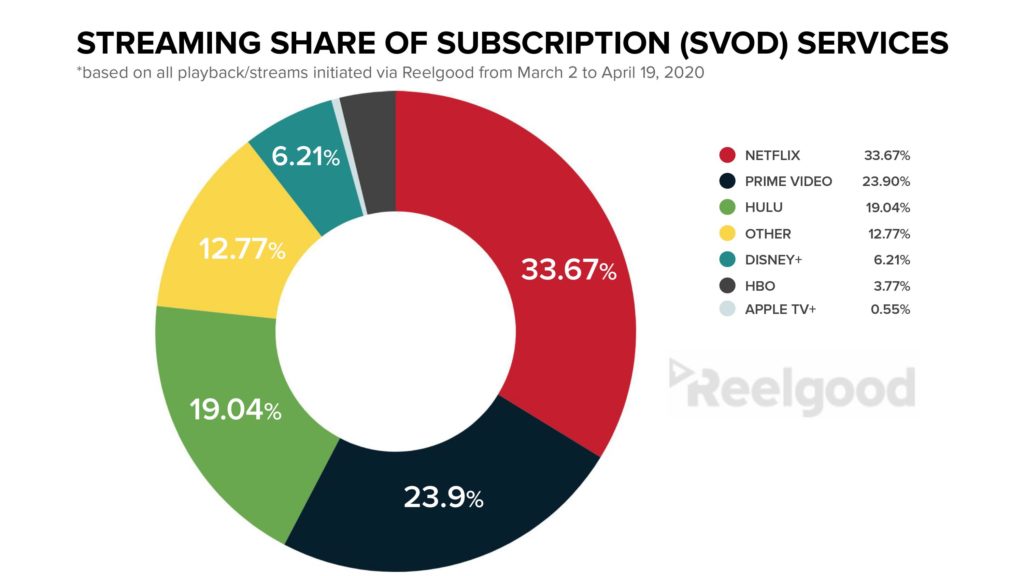 Netflix is the big winner here with 33.67% of all SVOD playback from March 2 to April 19. In second place is Prime Video with 23.9%, Hulu comes in third with 19.04%. Meanwhile, Disney+ snagged 6.21%, HBO 3.77%, and Apple TV+ pulled in 0.55%.
All other SVOD services which garnered a share lower than that of Apple TV+ were pooled together and are represented by "Other".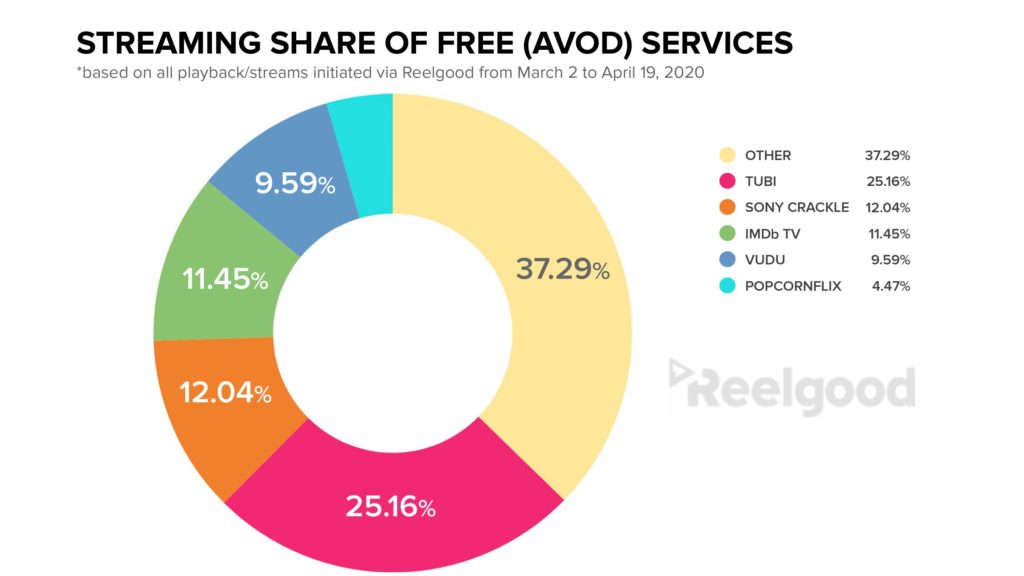 Meanwhile in the world of free streaming, Tubi dominates with more than ¼ share of all AVOD playback for the past seven weeks. Sony Crackle owns 12.04%, IMDb TV with 11.45%, Vudu got 9.59%, and Popcornflix comes in with a share of 4.47%.
In this case as well, "Other" represents all other free streaming services that each got lower than 1% share of playback for the given time period.
Finally, we put together another pie chart to determine the viewership share for a selection of free and subscription streaming services.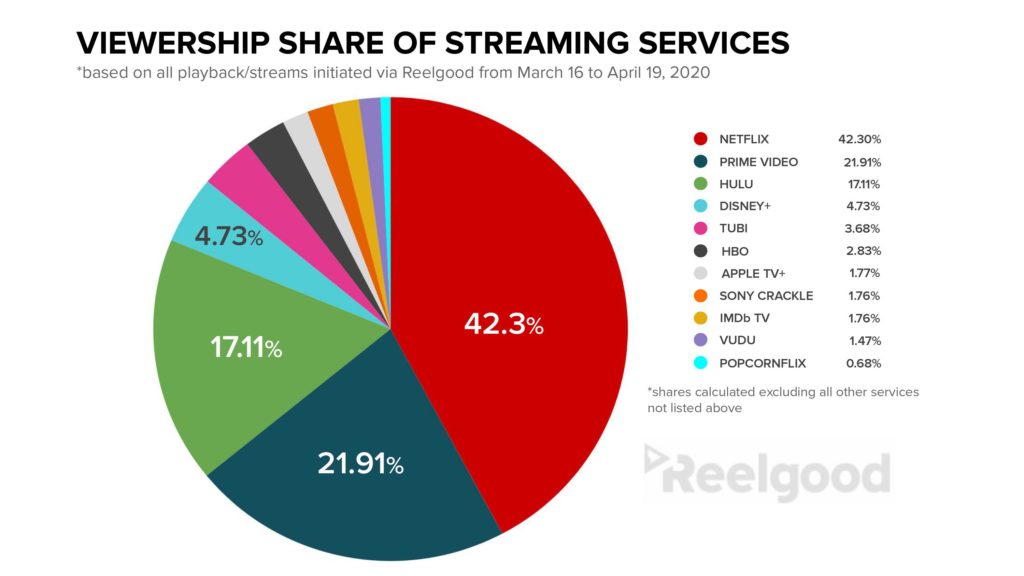 Netflix is obviously still the go-to streaming platform for most users by a significant margin, snagging more than 42% of all playback from March 16 to April 19. Prime Video is second with 21.91%, Hulu is up next with 17.11%. Disney+ follows with 4.73%. And Tubi surprisingly came in 5th with 3.68% — a figure that's more than 2x the share of Apple TV+ and is 30% higher than HBO's.
Given the current state of things and with most of the nation under lockdown, it's definitely no surprise that online video streaming is blowing up in ways we've never before witnessed.
"With sports stadiums, concert halls, and movie theaters shuttered for a month — streaming services are the bittersweet beneficiaries of social distancing and sheltering at home," observes Dietrich von Behren, Chief Business Officer at Reelgood. "Our unique viewership data reveals increased consumption patterns while also bringing to light the most popular contenders at the moment."
————–
For press inquiries or questions about the data presented above, please contact:
Reelgood
Maria Santos
maria@reelgood.com