Overall, Stranger Things is an excellent movie to watch and rewatch due to its lovable characters and fantastic plot in the story. Everyone who probably finished watching Stranger Things Season 4 is looking forward to watching Stranger Things Season 5. This series revolves around the adventure of the kids from Hawkins, Indiana, and their plans to save the world, starting with their town. With Eleven played by Millie Bobby Brown, Mike Wheeler played by Finn Wolfhard, and Will Byers played by Noah Schnapp, these characters would play significant roles as main protagonists and try to stop anybody who attempts to do no good. The main villain called "The Mindflayer" has been terrorizing Will from the start and is trying to cause unimaginable deaths to start its first steps toward world domination.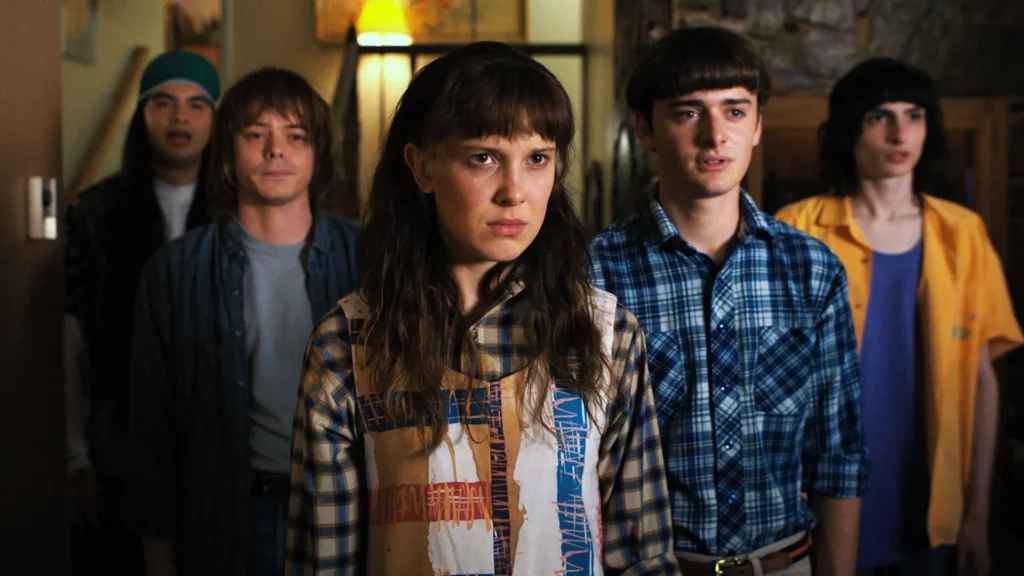 This series would categorize as a horror show with tags about the supernatural and a bit of sci-fi, and it comes with a mysterious vibe as you would watch its massive variety of episodes. In this film, we would encounter drama and fantasy as Eleven and Mike try to work out their relationship while Eleven's guardian tries to protect her from what is to come.
At first, you would encounter your protagonists playing a board game called "dungeons & dragons." This ordinary nerdy board game would soon be the key to finding out the monsters' weaknesses from the otherworldly dimension they will soon encounter throughout the story. These monsters would mirror the monsters in their dungeons & dragons game and would relate their adventure from it to real life.
There would be a character with psychic powers and the key to stopping this madness; her name would be Eleven. She would acquire these powers from birth as a hereditary trait from her mother when she was once a subject of an experiment Eleven would soon be a part of. What she plans to do with her powers relies on what she thinks is fit to be a situation that she should be in control of as she tries to relate herself to the outside world.
This group of friends from Hawkins has a mission to save the world, but first, they would find themselves trying to save Will, a victim of the Mindflayer, and dragged into the other world they would call "The Upside Down." This friend group aims to close all the gateways connecting their world to the other world while also saving their friend.
What Season 4 Left us With
There would be massive spoilers ahead for season 4 if you haven't watched it yet, so I suggest watching it right before reading through. Once you're done watching, you may return and reread this article.
Our expectations for the fourth season were satisfied as they outperformed it very well and everybody was glad to see some familiar faces again. We were introduced to two more lovable characters, Eddie Munson, played by Joseph Quinn, and Argyle played by Eduardo Franco. These characters would help our protagonists save the world and have their own funny moments that would make us appreciate them more.
The season's plot would go like this; it would start with the appearance of Dr. Martin Brenner living everyday life and showing that he is still alive in the world. Right after his appearance, we would be taken to a flashback of what it was like in their lab with extraordinary children, all with psychic powers. Right after this, Dr. Martin Brenner, in the flashback, would take one of the children and conduct some tests. Little do they know, there would be chaos outside the doctor's door, and the child would stay in. After Martin Brenner gets knocked out by the flying door headed right towards him, he wakes up to a surprise. All of his children are dead, and the staff is incapacitated. He heads to the room where his children all would gather around, but to his inconvenience, he is a little too late. We would see a younger version of Eleven covered in blood, assuming that she would be the cause of all this.
After the confrontation, we are greeted by all the characters from season three, and it seems that they have all moved on from the past experiences they have been through together. It would be Eleven's first year in school, and she goes with Will, and it would be the most challenging year she would be in yet. She got a quick name change from Eleven, her name was changed to Jane Hopper, and her last name came from his guardian from seasons 2 to 3, Jim Hopper. Her first day of school was uneventful as she would be made fun of with a show and tell presentation of heroes from the past.
Then there is Lucas, who has been disconnected from the group for some time now since he joined the basketball team. After his big break, he realized that his friends were having fun without them, which would genuinely hurt his feelings. We would also be introduced to the lives of the new couple, Jonathan and Nancy, where their long-distance relationships would significantly affect their lives.
Fast forward to a few more episodes, and we would have the first encounter with Eddie Munson and his lovable personality. They would go to his trailer home to find where he stacks his pot to sell to one of the students of Hawkins Middle School. To his surprise, that student would die a gruesome, bloody, and horrible death. Eddie would run away from what happened, and soon after, he would be reported to the police and framed for the death of a student.
Things have gotten worse in Hawkins. There is a new villain who is trying to claim lives with the motive to end the world. To do this, he must take four lives and use them as sacrifices to open up a portal to the other dimension that would change the town forever. With Eleven's powers gone, she tries to get them back with the help of some experiments led by her papa, Dr. Martin Brown. After a couple of experiments, she would reconnect with her past to understand more about what happened in the memories she lost when she was under the doctor's control. Through this, we would discover that Eleven wasn't the cause of the tragic death of the children and staff working under Dr. Brenner. We were introduced to the realization that One was the reason for all this. He was the cause of the lives of the lab. Soon, he would also cause three more tragic deaths as his identity would be revealed as the monster that would destroy the town with the name, Vecna.
The ending of Stranger things season four made us conclude that Eddie Munson's and Max Mayfield's saddening deaths weren't in vain as they eliminated the Vecna. The only problem was a massive portal in the middle of Hawkins, and they failed to stop Vecna's plans of trying to get the other world to go through the big gate.
Conclusion
Stranger Things season 5 is going to be one heck of a ride as this is where the final battle could take place as Eleven would have her powers back to defeat the Mindflayer's attacks that would possibly happen in the next season. Stranger things is a fantastic series to watch as you will fall in love with the characters and the stories each and every one of them will partake in. I would give it a 9/10 rating to watch as you can connect to the characters' lives and realize that there would be possible theories as to what would happen to Eddie as he genuinely wasn't shown that he was given a proper burial.