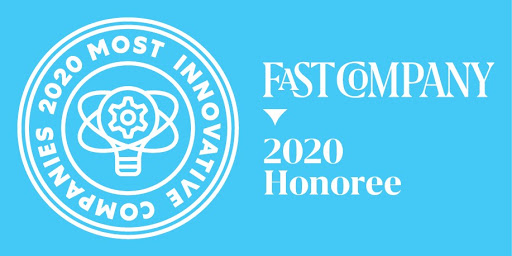 San Francisco, CA (March 10, 2020) — Reelgood has been named to Fast Company's annual list of the World's Most Innovative Companies for 2020. The list honors the businesses making the most profound impact on both industry and culture, showcasing a variety of ways to thrive in today's fast-changing world.
Fast Company's editors sought out the most groundbreaking businesses on the planet and across myriad industries. Reelgood placed #6 in the video category. The list honors the businesses making the most profound impact on both industry and culture.
"We're incredibly proud to be recognized by Fast Company as one of the World's Most Innovative Companies. Today we have been acknowledged as the home screen for viewers looking to combine the shows and movies available to them across their various streaming services. 2020 has kicked off with a bang, and we're excited for what we'll be releasing to our users and partners throughout this year."—David Sanderson, CEO and founder.
Some of the achievements we're most proud of this past year:
150% growth in our users (and another 50% since the start of 2020)

Tripling our engagement thanks to proprietary recommendations

Launching Reelgood on the homescreen of every LG TV in the US

Webby Winner for Best Entertainment App

A co-branded streaming guide launched in partnership with Dell Computers that will be shipping across 10 million PCs

The launch of our

Publisher's Widget

which enables publishers to show where shows/movies are available to stream within their content

The launch of our data partnerships with hedge funds, studios, streaming services, and almost every platform in the space

The World's Most Innovative Companies is Fast Company's signature franchise and one of its most highly anticipated editorial efforts of the year. It provides both a snapshot and a road map for the future of innovation across the most dynamic sectors of the economy.
"At a time of increasing global volatility, this year's list showcases the resilience and optimism of businesses across the world. These companies are applying creativity to solve challenges within their industries and far beyond," said Fast Company senior editor Amy Farley, who oversaw the issue with deputy editor David Lidsky.
The complete list of companies honored is available online at fastcompany.com/most-innovative-companies/2020, as well as on newsstands beginning March 17, 2020.