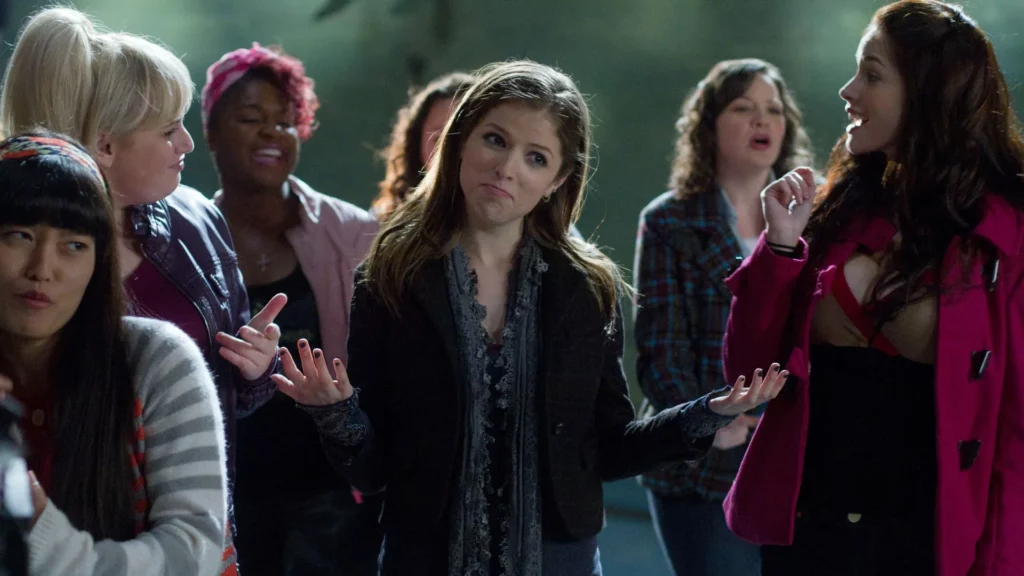 Seeking the perfect blend of charm, humor, and harmonious tunes? Then, set your entertainment radar to Pitch Perfect, a captivating musical comedy film series that has songfully jogged its way into the hearts of many. If the key question is "Pitch Perfect, where to watch?" this article is meticulously designed for you.
Pitch Perfect is not streaming in your country?
Any of our picks not streaming in your country? ExpressVPN unlocks Reelgood and all of your streaming services, giving you access to all movies and TV shows from around the world. Stream them from anywhere with a 30-day money-back trial from ExpressVPN.
Unblock Streaming with ExpressVPN (3 months free for Reelgood users!)
Connect to a US or UK server via ExpressVPN.
Let ExpressVPN run in the background as you watch all of your movies and TV shows, securely and with no throttling or bandwidth limits.
An Overview of Pitch Perfect
Before unveiling the locations of "Pitch Perfect where to watch," let's delve into the core of this enchanting movie series that marries romance, comedy, and music in grand style.
Pitch Perfect burst flamboyantly onto the scene in 2012, propelled by a poignant storyline interlaced with magnificent song renditions and well-sculpted humor. Its soaring popularity led to two sequels, each installment impressively bolstering the fan base. Viewing Pitch Perfect resembles a roller-coaster ride of soulful music, comedy, and boundless romance.
Pitch Perfect – The Characters and Plot
Filled with lovable characters who confront their challenges with aplomb and hilarity, Pitch Perfect is an edifying cocktail of laughter, drama, and music. The film follows the journey of the all-girls a cappella group, The Barden Bellas, as they strive to compete in the fiercely competitive world of college a cappella battles, brewing plenty of romances along the way.
Pitch Perfect – An Uplifting Blend of Romance and Comedy
The landscape of the film can be best described as a musical voyage filled with romance, comedy, and, of course, the intense drama that these intricate relationships inevitably bring. The love stories border on the enchanting thrill-ride of romance fused with light-hearted comedy to leave the audience swooning and chuckling simultaneously.
Pitch Perfect Where To Watch?
Finally, circling back to the pivotal question of "Pitch Perfect where to watch," there are many options. For ardent fans and first-time viewers keen on journeying through this gleaming maze of melody and humor, top streaming platforms have got you covered.
Netflix – the home of diverse entertainment, offers all installments of the Pitch Perfect series. Amazon Prime subscribers can also immerse in this compelling film series for a captivating blend of laughter and romance. For Hulu and Disney+ subscribers, the Pitch Perfect series is just a click away. Regardless of the streaming platform, the full glare of the 'Pitch Perfect spectacle awaits eager spectators.
How has Pitch Perfect Revolutionized Romantic Comedy Movies?
The lasting legacy of Pitch Perfect is not just the melodic tunes that reverberate long after the credits roll but also its innovative approach to revamping the romantic comedy genre. The evergreen film series has drawn admirers from across the globe, making the question 'Pitch Perfect where to watch' a popular query among film enthusiasts.
Pitch Perfect Series – A Cultural Phenomenon
The influence of the Pitch Perfect series resonates beyond its riveting plot, engaging characters, and harmonious blend of romance and comedy. It has become a cultural phenomenon, inspiring the global audience with its message of friendship, teamwork, and the transformative power of music.
Against the backdrop of a fiercely competitive cappella showdown, Pitch Perfect uniquely embraces diversity. The Barden Bellas depict an empowering image of togetherness, courage, and tenacity. Their journey resonates with any viewer who's ever felt like an underdog, making this perspective an essential part of the series' appeal.
Pitch Perfect – A Staple of the Musical Comedy Genre
As we navigate the "Pitch Perfect where to watch" criteria, we must recognize the film's place in the comedic genre. Its emphasis on musical comedy widens the scope of laughter-based entertainment, exploring comedy within the contours of character eccentricities, witty dialogues, and skillfully choreographed performances.
This genre-blending approach adds depth to Pitch Perfect's narrative. The humorous setbacks and triumphs of the Barden Bellas become not just ticklers to the senses but also key narratives that drive the story forward.
Unearthing Hidden Gems in "Pitch Perfect Where To Watch"
While viewers may primarily seek "Pitch Perfect Where to watch" for the comedic romance and foot-tapping tunes, the series is also a treasure trove of hidden gems. Deep emotion and strength of character are woven into the film's fabric, forming a subtle yet powerful undercurrent in the riotous music and comedy that the Pitch Perfect series is known for.
In seeking "Pitch Perfect where to watch," viewers embark on a journey that leaves them with more than just catchy songs and laughter. The series offers lasting lessons on friendship, determination, and the courage to be different, making the Pitch Perfect series a timeless viewing experience.
In conclusion, if you are still asking, "Pitch Perfect, where to watch?" – Look no further than your preferred streaming platform. You will be treated to a harmonious blend of romance and comedy and discover a treasure trove of emotion, character depth, and enduring life lessons.
Pitch Perfect – The Harmonious Ensemble
One key component of Pitch Perfect's success is its dazzling cast. This ensemble brought the series to life, excellently merging their acting prowess with outstanding vocal abilities. When seeking "Pitch Perfect where to watch," you're also signing up to witness the on-screen magic of this vibrant cast.
Anna Kendrick leads as Beca Mitchell, whose indifference towards college life takes a dramatic turn after reluctantly joining the Barden Bellas. Kendrick, already admired for her dramatic roles, exhibited her comedic flair and a surprisingly potent singing ability, further manifested in her hit single, "Cups."
Comedian Rebel Wilson shines as the effervescent "Fat Amy," delivering her one-liners with such hilarity that it's impossible not to be drawn to her character. Wilson became a standout figure in the Pitch Perfect series, with her comedic delivery often serving as unforgettable high points in the film.
Brittany Snow, as Chloe Beale, the enthusiastic and persistent co-leader of the Barden Bellas, is deeply passionate about the group. Her character's radiant positivity and Snow's spine-tingling renditions add another memorable layer to the series.
Anna Camp brilliantly interprets the role of meticulously perfectionist Aubrey Posen. Her journey from rigid control freak to accepting leader is one of Pitch Perfect's most compelling sub-plots.
Adding extra melody to the films are Skylar Astin as Jesse Swanson, whose geeky charm and expressive performances sweep viewers (and Beca!) off their feet, and Ben Platt as Benji Applebaum, a magic-loving nerd with a voice that steals the show.
A Stellar Supporting Cast
The supporting roles are a treasure trove of diverse and delightful characters. Ester Dean as Cynthia Rose, Hana Mae Lee as Lily Onakurama, Alexis Knapp as Stacie Conrad, and many others vastly enrich the Pitch Perfect series. Their collective performances fuel the undeniable chemistry that makes the series emblematic of unity in diversity.
John Michael Higgins and Elizabeth Banks, who also served as director and producer for the series, provide comedic gold as competition commentators John and Gail.
In conclusion, Pitch Perfect delivers on all fronts. It treats viewers to a talented ensemble cast, ensuing laughter, sweeping romance, and unforgettable music. So, if you're wondering "What Pitch Perfect Where to watch," remember you're not just seeking a film series but an iconic musical comedy journey. As the Barden Bellas will confirm, it's anything but conventional.
Diving into the Visual Symphony – The Trailer of 'Pitch Perfect'
Conclusion
In closing, Pitch Perfect blends romance, comedy, and music to create an uplifting film series brimming with hilarity, songful theatrics, and heartwarming love stories. So, when next you ponder the question 'Pitch Perfect where to watch,' remember the melodic charm nestled within the three-installment film series, begging to be discovered on various streaming platforms.
Nothing quite encapsulates the harmony of Pitch Perfect. And for those craving this harmonious symphony, the response to 'Pitch Perfect Where to Watch' is just a few clicks away, leading you to a world of laughter, music, and love.