Nicolas Cage has had an incredibly prolific career in the cinematic world, appearing in over 80 movies throughout his storied career. His diverse range of roles has made him a fan favorite, and his larger-than-life performances have earned him a place among the greats of Hollywood. Nicolas Cage's filmography is filled with various exciting and entertaining movies, from action-packed thrillers to lighthearted comedies. Here is a look at some of his best films.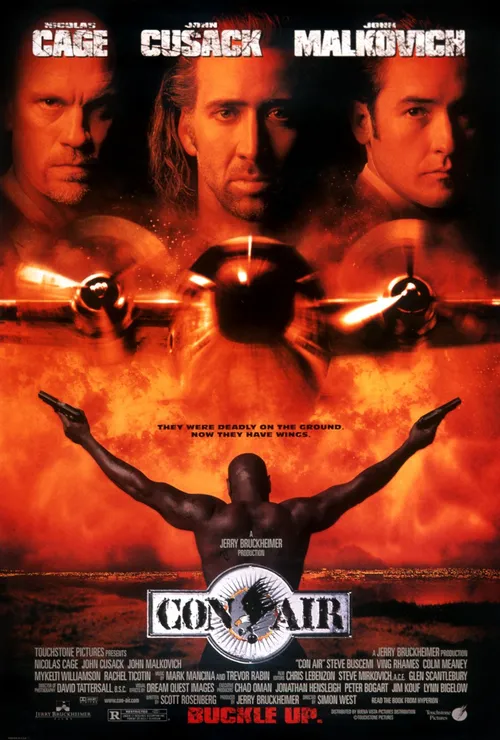 Con Air
Con Air is a 1997 action-thriller starring Nicolas Cage as Cameron Poe, a former U.S. Army Ranger who is wrongfully convicted of involuntary manslaughter and sentenced to prison. When a group of dangerous criminals hijacks the plane he is transported on, Cameron must use all his skills to thwart their escape. With an all-star cast including John Cusack, John Malkovich, Steve Buscemi, and Ving Rhames, Con Air is an action-packed ride that will keep you on the edge of your seat. The film proved a critical and commercial success and was nominated for two Academy Awards.
Face/Off
Face/Off is a 1997 science-fiction action film directed by John Woo. Starring Nicolas Cage and John Travolta, the film follows an FBI agent and a terrorist who switch faces in a desperate attempt to stop a diabolical plot. Cage and Travolta turn in two incredible performances, creating two distinct characters with the same face. With its thrilling action sequences and gripping plot, Face/Off is one of the most memorable action movies of the 1990s.
National Treasure
National Treasure is a 2004 action-adventure film starring Nicolas Cage as Benjamin Franklin Gates, an explorer, and historian who discovers a secret treasure hidden by the Founding Fathers of the United States. Accompanied by an eccentric sidekick (Justin Bartha), Gates must crack a series of codes and puzzles in order to find the treasure. With plenty of action and suspense, National Treasure is an entertaining and exciting movie that keeps you guessing until the end.
The Rock
The Rock is a 1996 action thriller directed by Michael Bay. Cage stars as Stanley Goodspeed, a chemical weapons specialist who must stop a group of rogue Marines from detonating a chemical weapon in San Francisco. With the help of an incarcerated former British SAS captain (Sean Connery), Stanley must race against time to prevent a disaster. The Rock is an adrenaline-filled action movie with some truly spectacular set pieces and a great performance by Cage.
Adaptation.
Adaptation is a 2002 comedy-drama directed by Spike Jonze. Cage stars as Charlie Kaufman, a screenwriter struggling to adapt a best-selling novel into a screenplay. With the help of his twin brother (also played by Cage), Charlie must come to terms with his own insecurities and find a way to make the adaptation work. Adaptation is a unique and funny film that showcases Cage's range as an actor.
Ghost Rider
Ghost Rider is a 2007 superhero film based on the Marvel Comics character of the same name. Cage stars as Johnny Blaze, a stunt motorcyclist-turned-demon who must stop the devil's son from wreaking havoc on the world. With its stunning visuals and intense action sequences, Ghost Rider is a thrilling and entertaining movie that will appeal to fans of the comic book genre.
Leaving Las Vegas
Leaving Las Vegas is a 1995 romantic drama directed by Mike Figgis. Cage stars as Ben Sanderson, a suicidal alcoholic who heads to Las Vegas to drink himself to death. Along the way, he meets a prostitute (Elisabeth Shue), and the two form an unlikely bond. Leaving Las Vegas is a powerful and heartbreaking film that showcases Cage's dramatic range as an actor.
Moonstruck
Moonstruck is a 1987 romantic comedy starring Cher and Nicolas Cage. Cage plays Ronny Cammareri, a bachelor who falls in love with Loretta Castorini (Cher), a middle-aged woman engaged to his brother. With its quirky characters and hilarious dialogue, Moonstruck is a charming and delightful movie that will leave you smiling.
These are just a few of the many great movies that Nicolas Cage has been a part of throughout his long and successful career. From intense action thrillers to lighthearted comedies, Cage has proven himself to be a versatile actor with the ability to bring a wide range of characters to life. Whether you are looking for a thrilling ride or a heartfelt story, there is a Nicolas Cage movie out there for you.