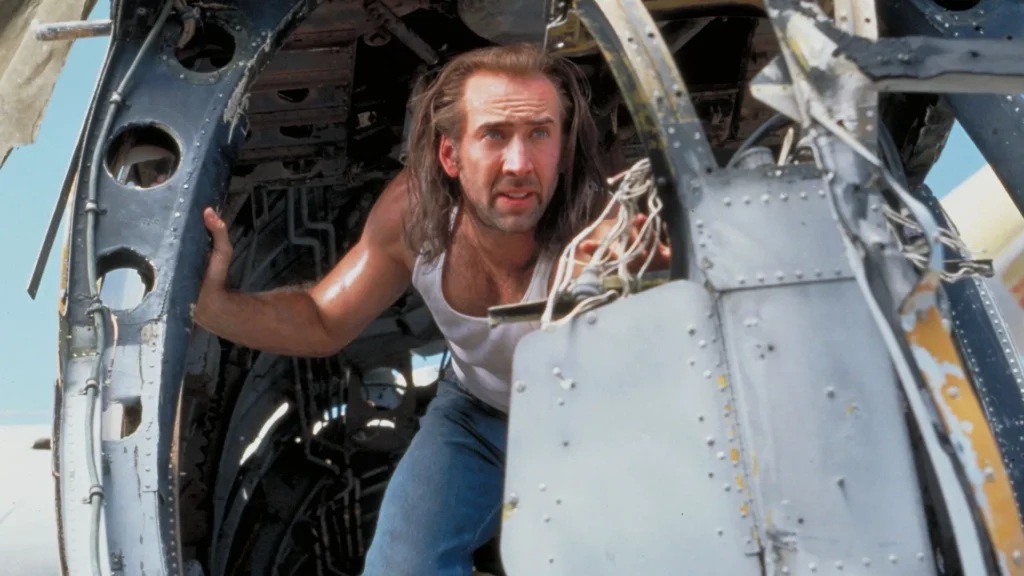 For an extensive span, Nicolas Cage has remained a fixture within the realm of Hollywood, gracing an array of cinematic creations catering to diverse viewer segments. From resounding box-office triumphs to the realm of lesser-known, autonomous productions, his repertoire substantiates his role as an exceedingly adaptable thespian. In this article, we'll look back at some of the best movies starring Cage.
These Nicolas Cage Best movies are not streaming in your country?
Any of our picks not streaming in your country? ExpressVPN unlocks Reelgood and all of your streaming services, giving you access to all movies and TV shows from around the world. Stream them from anywhere with a 30-day money-back trial from ExpressVPN.
Unblock Streaming with ExpressVPN (3 months free for Reelgood users!)
Connect to a US or UK server via ExpressVPN.
Let ExpressVPN run in the background as you watch all of your movies and TV shows, securely and with no throttling or bandwidth limits.
The Rock is a classic action flick starring Cage as FBI chemical warfare specialist Stanley Goodspeed. He's sent into the island prison of Alcatraz to stop a group of ex-US military personnel, led by the rebellious General Hummel, who have seized the prison and threatened to launch deadly rockets filled with toxins. Along the way, Stanley is aided by an ex-convict, Mason, played by Sean Connery.
The action is fast-paced and exciting, and Cage brings hilarity to the role. His comic timing and delivery are fully displayed, and he develops a strong bond with Connery's gruff Mason. The tension between the two is palpable, making for a thrilling ride and one of Cage's most memorable performances.
Cage stars alongside John Travolta in this action-packed sci-fi masterpiece. In it, Cage plays Sean Archer, an FBI agent who must go undercover as a criminal mastermind, Castor Troy, to stop a terrorist plot. Of course, it turns out that Troy has undergone facial reconstructive surgery, taking on the face of Archer.
The two face off in an ultra-stylized, highly combustible world of guns, brawls, and car chases. Cage and Travolta show off their range, gleefully embracing their opposing roles.
Cage delivers a career-defining performance in this remarkable film. He plays both Charlie and Donald Kaufman, a pair of screenwriting twins. The high-concept screenplay follows the brothers as they attempt to adapt a book into a screenplay amidst various hilarious and heady obstacles.
Cage fully commits to both roles, which are surprisingly distinct given how similar they look. He imbues Charlie with a neurotic energy that highlights the absurdity of his world, while Donald is smooth and confident. It's an incredible balancing act, and Cage pulls it off effortlessly.
In this dark, Emmy-winning drama, Cage reunites with his Face/Off director, Michael Apted. He plays Ben Sanderson, an alcoholic screenwriter who moves to Las Vegas to drink himself to death. Things turn when he meets a prostitute, Sera, played by Elizabeth Shue.
The two form a relationship, and Ben slowly starts to find redemption. It's a heartbreaking and realistic story, and Cage delivers a poignant performance that earned him an Oscar for Best Actor.
Cage teams up with Jerry Bruckheimer once again for this action-packed thriller. Here, he plays Cameron Poe, a former US Army Ranger who is wrongfully imprisoned and must escape a hijacked prison plane controlled by a dangerous group of inmates.
The action spectacle is never-ending, complete with over-the-top stunts and set pieces. The revolving ensemble of criminals keeps things lively, with Cage in the middle, surrounded by career-defining performances from Steve Buscemi, John Malkovich, and Ving Rhames.
Cage stars in this cult-favorite horror movie as Edward Malus, a police officer dispatched to a remote island to look into the case of a young girl who vanished. As he unravels the mystery, he discovers a strange pagan cult that's out to sacrifice him to please their gods.
It's a bizarre, suspenseful experience with some genuine scares. Cage's performance is unusually understated as the mild-mannered Edward, and while the film has its share of flaws, it's still an underrated gem.
The Films of Nicolas Cage
Nicolas Cage has a catalog of great performances, from action-packed blockbusters to smaller character pieces. From the '90s to today, the actor has proven to be one of Hollywood's most diverse and reliably entertaining stars. The films listed here are only a few of his many acclaimed performances, and it's clear that Cage is an actor who won't be limited by genre or expectations.