JB Perrette, President & CEO of Global Streaming & Games, Warner Bros. Discovery, made the news and disclosed that HBO Max and Discovery Plus are set to shake up the streaming industry with the launch of their new joint streaming service. Introducing Max Streaming Service: the ultimate one-stop shop for all your favorite HBO Max and Discovery+ content. With an enormous collection of series, films, and documentaries from two of the biggest names in entertainment, this ground-breaking partnership is poised to transform how we consume content completely. Max promises to offer an unmatched breadth and outstanding quality, all for a great price, whether you're a fan of blockbuster movies, reality shows, binge-worthy TV episodes, or eye-opening documentaries. With Max Streaming Service, we may discover a world of entertainment like never before!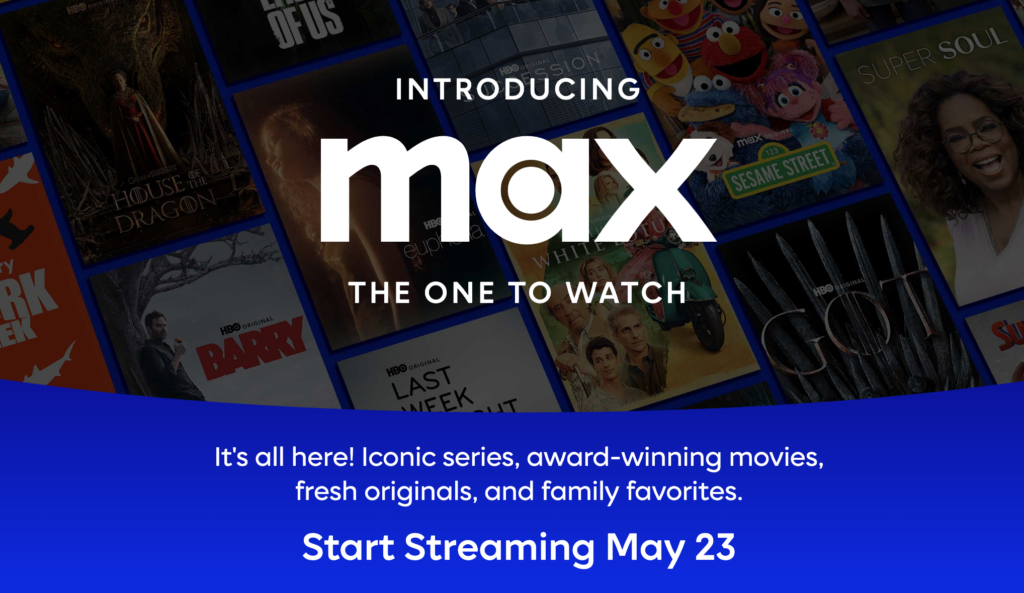 WHEN WILL THE MAX STREAMING SERVICE BECOME AVAILABLE?
The highly anticipated Max streaming service is set to launch on May 23, 2023, in the US under its all-new domain max.com. Later this fall, Max is expected to debut in Latin America and will be available in Europe, Asia, and other regions in 2024.

Customers who already have HBO Max have nothing to worry about because their subscription will be instantly transferred to Max, and device apps will update automatically to reflect the more comprehensive library. Following the debut of HBO Max, subscribers will continue to have access to the features of their current plan for at least six months while maintaining access to their profiles, settings, watch history, and "My List" items. The personalized recommendations will go beyond the main page and into the full service, thanks to streamlined categories, improved content details, shortcuts, and brand and thematic hubs.
WHAT ARE THE SUBSCRIPTION PLAN RATES?
Max will offer three different subscription plans, each with unique features and pricing.
The prices for Max's subscription plans are as follows:
Max Ad-Lite ($9.99/month or $99.99/year): Includes two concurrent streams, 1080p HD resolution, no offline downloads, and 5.1 surround sound quality.

Max Ad Free ($15.99/month or $149.99/year): Includes two concurrent streams, 1080p HD resolution, up to 30 offline downloads, and 5.1 surround sound quality.

Max Ultimate Ad Free ($19.99/month or $199.99/year): Includes four concurrent streams, up to 4K Ultra HD resolution, 100 offline downloads, and Dolby Atmos sound quality.

The first two plans align with the current HBO Max pricing, so existing HBO Max subscribers won't experience a price increase when Max launches (for now). The Max Ultimate plan, on the other hand, is intended for those who seek the finest streaming experience possible in terms of 4K video, numerous concurrent streams, and a substantial amount of offline downloads.
In an interview with CNBC, Warner Bros. Discovery CEO David Zaslav explained the reason behind the decision to offer more content at the same price:

"First, we want a really seamless transition. We have a very significant business with HBO Max right now with subscribers that love it, and they're paying $16. To provide more value to those subscribers and have a seamless transition, I think will be really helpful to us in terms of number one, secure the strength and the power that we have in the market right now. In addition, one of the big issues with this business for everybody is churn. And by increasing the amount of content we have on the platform – content for kids, content for families, nonfiction content, food, home, the biggest motion picture and TV library – by putting that whole bouquet of content, we think the broadest array of content available, that the churn will come down. So it'll be a significant amount of economic gain for us, just by subscribers feeling more nourished, happier, less churn, more people in the family using it, and that's the basis of a healthy subscription service." – David Zaslav, CEO of Warner Bros. Discovery
WHAT ARE THE LATEST SHOWS TO BE EXPECTED?
The Max Streaming Service, poised to revolutionize the entertainment industry, will launch several exciting new shows shortly. The Max Streaming Service is an ongoing marvel. With an average of more than 40 new titles and seasons being released monthly, it guarantees consistent content freshness.

It may be one of the most eagerly awaited series, like a new adaptation of J. K. Rowling's Harry Potter book. HBO is also releasing some highly anticipated titles, including the Game of Thrones prequel A Knight of the Seven Kingdoms: The Hedge Knight and the limited series True Detective: Night Country, which stars Jodie Foster and Kali Reis. The Max original drama series based on The Conjuring movies, Fixer Upper: The Hotel on the Magnolia Network, and Rick and Morty: The Anime on Adult Swim will also be available. These highly anticipated shows are just a glimpse and the tip of the iceberg regarding the diverse and captivating content viewers can expect from Max. With such a wide range of shows, this revolutionary new streaming service has something for everyone. So we may sit back, and relax, as Max can keep us entertained with its constant influx of fresh and captivating content.
WHAT ARE SOME INTERESTING MEDIA-STREAMING CHANGES?
Streaming your preferred entertainment is simple and fun with Max Streaming Service's vast range of fascinating features. With the help of the Premium Video Playback feature, you may view your preferred television series or motion pictures without any interruptions. Max strikes a perfect mix between human and machine interaction, guaranteeing that you only receive the most critical information by integrating machine learning technology while preserving an editorial voice. Parents may also alter the settings and restrict the content of their children's profiles based on their desired ratings. The revised navigation tool makes identifying and exploring new interests easier by providing shortcuts, dedicated brand hubs, and topic-specific rails. The Max Streaming Service's Ultimate Ad-Free tier also offers a substantial selection of 4K UHD contents. These are just a few of the intriguing features Max Streaming Service will provide you, giving each family member an exceptional and pleasurable streaming experience.
Unlock Your Streaming Services with ExpressVPN

Any of our picks not streaming in your country? ExpressVPN unlocks Reelgood and all of your streaming services, giving you access to all movies and TV shows from around the world. Stream them from anywhere with a 30-day money-back trial from ExpressVPN.

Step 1: Download
Unblock Streaming with ExpressVPN (3 months free for Reelgood users!)

Step 2: Connect
Connect to a US or UK server via ExpressVPN.

Step 3: Stream
Let ExpressVPN run in the background as you watch all of your movies and TV shows, securely and with no throttling or bandwidth limits.