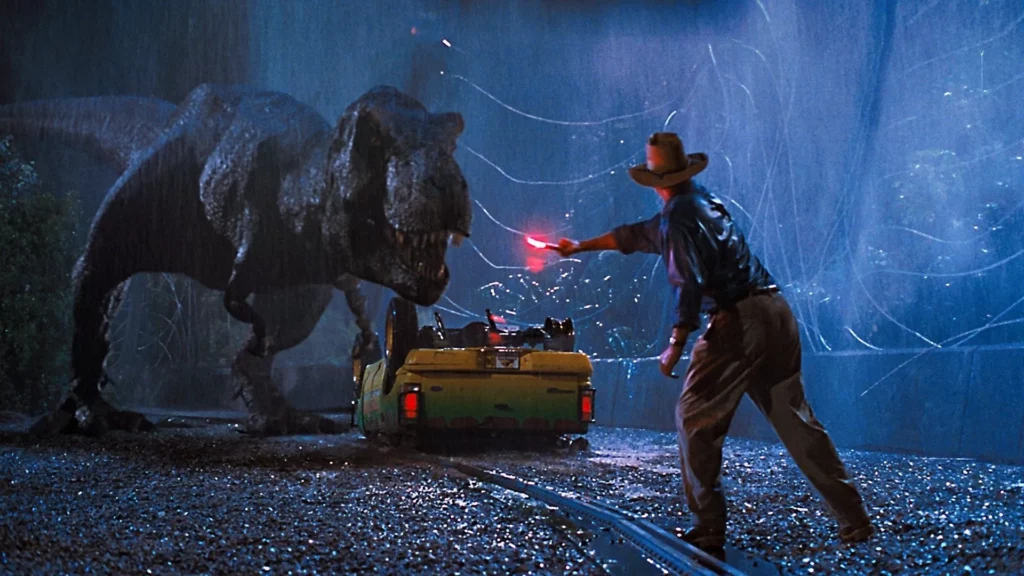 Introduction
Since its debut in 1993 with the inaugural Jurassic Park movie, this cinematic franchise has enthralled viewers worldwide. The first film, adapted from Michael Crichton's novel, became an instantaneous success at the box office and has yielded four sequels over the past 27 years. This article will investigate some of this franchise's most beloved and notorious entries.
These Jurassic movies in Order are not streaming in your country?
Any of our picks not streaming in your country? ExpressVPN unlocks Reelgood and all of your streaming services, giving you access to all movies and TV shows from around the world. Stream them from anywhere with a 30-day money-back trial from ExpressVPN.
Unblock Streaming with ExpressVPN (3 months free for Reelgood users!)
Connect to a US or UK server via ExpressVPN.
Let ExpressVPN run in the background as you watch all of your movies and TV shows, securely and with no throttling or bandwidth limits.
The Original Jurassic Park
The Original Jurassic Park is highly esteemed as one of the most famous movies ever. Directed by Steven Spielberg and starring Sam Neill, Jeff Goldblum, and Laura Dern, this iconic adventure flick follows a squad of scientists who seek to construct a theme park populated with living dinosaurs. Despite their plan ultimately failing due to various blunders, their attempts to control the dinosaurs create some of the most iconic moments in cinematic history. From raptors chasing guests through a kitchen to T-Rex's grand confrontation with a gang of velociraptors, Jurassic Park set the standard for all subsequent entries in the series.
The Lost World: Jurassic Park
The Lost World: Jurassic Park was released four years after its predecessor in 1997 and was directed by Spielberg once again. While it wasn't as well-received as its predecessor, its thrilling story and exciting action sequences still made an impression on audiences. This installment follows Ian Malcolm (Jeff Goldblum) as he returns to Isla Nublar – this time to save some dinosaurs from an unnatural habitat created by InGen's rival company. While it didn't quite live up to expectations set by its predecessor, it was still an enjoyable entry in the series that featured some thrilling moments – particularly when Malcolm must outrun a T-Rex on foot!
Jurassic Park III
Released in 2001 and directed by Joe Johnston, Jurassic Park III is considered one of this franchise's weakest entries. This installment follows Dr. Alan Grant (Sam Neill) as he is lured back to Isla Sorna (the 'Site B' from The Lost World) by an ambitious couple searching for their missing son. Despite having some exciting action sequences and plenty of peril for our heroes, this installment lacks any real emotional depth or character development, which can be attributed to its rushed production schedule. It also features some questionable CGI effects, which detract from its overall impact – something which would become increasingly common in future entries.
Jurassic World
Jurassic World was released fourteen years after its predecessor in 2015 and marked a return to form for this beloved franchise. Directed by Colin Trevorrow and featuring Chris Pratt and Bryce Dallas Howard, this installment follows two siblings to Isla Nublar for a supposed family vacation that quickly turns into a confrontation between humankind and dinosaur. With plenty of thrills, spills, and memorable moments – including Chris Pratt's iconic 'Raptor Squad sequence – Jurassic World is widely regarded as one of the best entries in this beloved franchise since Spielberg's original classic.
Jurassic World: Fallen Kingdom
Jurassic World: Fallen Kingdom was released three years after its predecessor in 2018 and marked another return to form for this beloved franchise. Directed by J A Bayona and starring Chris Pratt once again alongside Bryce Dallas Howard, this installment follows Claire Dearing (Howard) as she leads an expedition back to Isla Nublar to rescue some dinosaurs from an impending volcanic eruption! While it certainly had flaws – particularly in character development – Fallen Kingdom still delivered plenty of thrills with its epic action sequences, particularly during its explosive finale!
Conclusion
It is evident that during the past 27 years, the Jurassic movie franchise has seen its share of successes and failures; however, there is no denying that these films have wielded a significant influence on popular culture. From enthralling action sequences that pit humans against dinosaurs to touching scenes between characters – these movies have something to offer everyone! Whether one favors Spielberg's groundbreaking original or Trevorrow's modern reimagining, these films will remain firmly embedded in our collective consciousness for many years.