Girl next door, romantic lead, and iconic actress, what is there not to love about Julia Roberts' extensive body of work? From her breakout role in 1988's "Mystic Pizza" to the more recent romp through Italy with 2018's "Ben Is Back," Julia has portrayed a wide range of characters over the years. But it is her presence in some of the most beloved romantic movies that have cemented her status as one of Hollywood's most beloved stars. To honor her amazing career, here are eight of our favorite romantic Julia Roberts movies that will flutter your heart.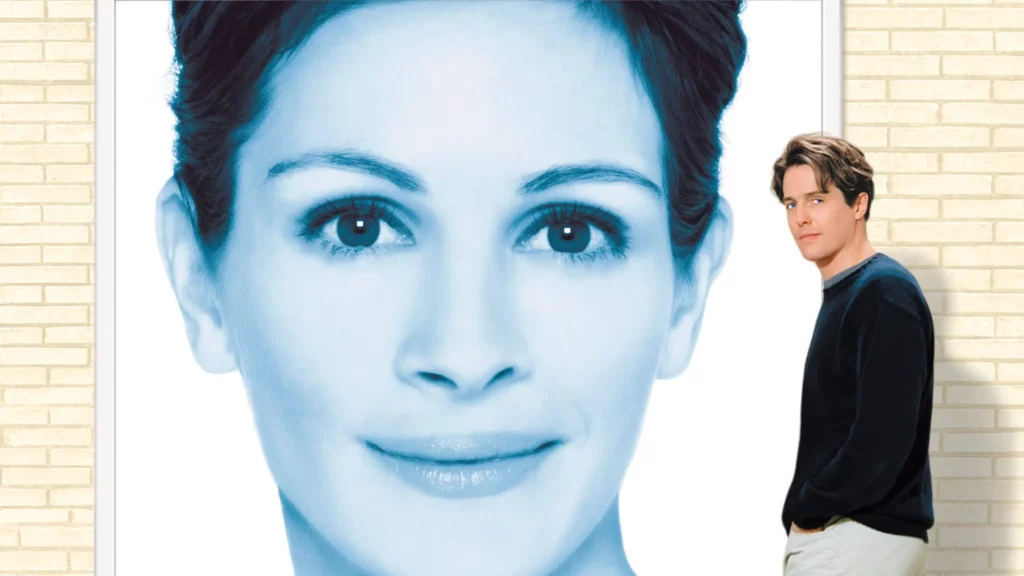 1. Pretty Woman (1990)
How can we start any list of Julia Roberts' romantic movies other than with this classic? Pretty Woman is the quintessential romantic comedy, starring Richard Gere as businessman Edward Lewis who falls for Roberts' Vivian Ward, a prostitute he hires to be his date. With its iconic lines and central themes of love conquering all, Pretty Woman has become an enduring favorite. Check it out on Reelgood.com https://reelgood.com/movie/pretty-woman-1990
2. My Best Friend's Wedding (1997)
This one makes us swoon every time! In My Best Friend's Wedding, Julia plays food critic Julianne Potter who discovers she has feelings for her best friend Michael (Dermot Mulroney). When Michael announces his engagement to another woman, Julianne realizes she must fight for the man she loves. This movie is one of Julia's most beloved romantic comedies with a soundtrack that will make you want to dance and an unforgettable ending. Stream it on Reelgood.com: https://reelgood.com/movie/my-best-friends-wedding-1997
3. Notting Hill (1999)
If you need something with a British flair, Notting Hill is sure to please! In this film, Roberts plays Anna Scott, a famous American actress who meets bookseller Will Thacker (Hugh Grant). Sparks fly as they face the challenges of their vastly different worlds. With a memorable soundtrack and an exquisite London setting, this rom-com is a classic. Watch it on Reelgood: https://reelgood.com/movie/notting-hill-1999
4. Stepmom (1998)
This one will bring tears to your eyes! In Stepmom, Roberts plays Jackie Harrison, the ex–wife of Luke (Ed Harris). When Luke's current wife, Isabel (Susan Sarandon), becomes ill, Jackie must step up as her replacement and learn how to be a mother figure for his two children. With its heartfelt themes of compassion and forgiveness, this movie will leave you with a renewed faith in love. Stream it on Reelgood: https://reelgood.com/movie/stepmom-1998
5. The Pelican Brief (1993)
The Pelican Brief is a thrilling romantic drama that will keep you on the edge of your seat! Julia plays law student Darby Shaw, who discovers a dark conspiracy linking two Supreme Court Justices to their murders. As she races against time to uncover the truth, she finds herself drawn to investigative reporter Gray Grantham (Denzel Washington). This movie will have you holding your breath until its final moments. Find it on Reelgood: https://reelgood.com/movie/the-pelican-brief-1993
6. Runaway Bride (1999)
Runaway Bride is an instant classic, starring Julia Roberts and Richard Gere for the second time. In this movie, Roberts plays Maggie Carpenter, a woman who has left three different grooms at the altar. When a cynical columnist (Gere) decides to write a story about her, he discovers that she might be his perfect match after all. This delightful romantic comedy is sure to make you laugh and swoon. Check it out on Reelgood: https://reelgood.com/movie/runaway-bride-1999
7. Eat Pray Love (2010)
Eat Pray Love follows Elizabeth Gilbert (Julia Roberts), a newly divorced woman who embarks on an epic journey of self–discovery as she travels around the world. Along the way, she meets a series of interesting characters and grows in strength and courage. This movie will make you laugh, cry, and wish to embark on your adventure! Watch it now on Reelgood: https://reelgood.com/movie/eat-pray-love-2010
8. Mona Lisa Smile (2003)
Mona Lisa Smile is an inspiring romantic drama at Wellesley College in 1953. Roberts plays Katherine Watson, a professor determined to teach her students to think for themselves and challenge societal norms. Through her unique teaching style, she helps them discover what they are passionate about as they learn how to make their dreams come true. Stream this inspirational story now on Reelgood: https://reelgood.com/movie/mona-lisa-smile-2003
9. Valentine's Day (2010)
Valentine's Day is a fun romantic comedy that follows the intertwining stories of a group of Los Angeles residents as they fall in and out of love on one special day. Roberts plays Kate Hazeltine, an Army captain stationed in Saudi Arabia. As she faces the challenges of long–distance romance, we get to experience all the joys and sorrows that come with being in love. Watch it now on Reelgood: https://reelgood.com/movie/valentines-day-2010
10. Duplicity (2009)
Duplicity is a thrilling romantic crime comedy starring Julia Roberts and Clive Owen as two corporate spies who fall in love as they embark on a cat-and-mouse game. As their schemes become increasingly complicated, so does their growing attraction for each other. If you're looking for an exciting and fun movie to watch, this is it! Stream it on Reelgood: https://reelgood.com/movie/duplicity-2009
With her diverse roles, Julia Roberts has repeatedly proven she can do it all! Whether you want some laughs or tears, heart-pounding excitement, or inspiring romance, there's a Julia Roberts movie for everyone. So grab your popcorn, put on your comfiest clothes, and get ready to explore the wonderful world of Julia Roberts movies! Check them out now on Reelgood.com.
Happy streaming! 🎥🤩😊