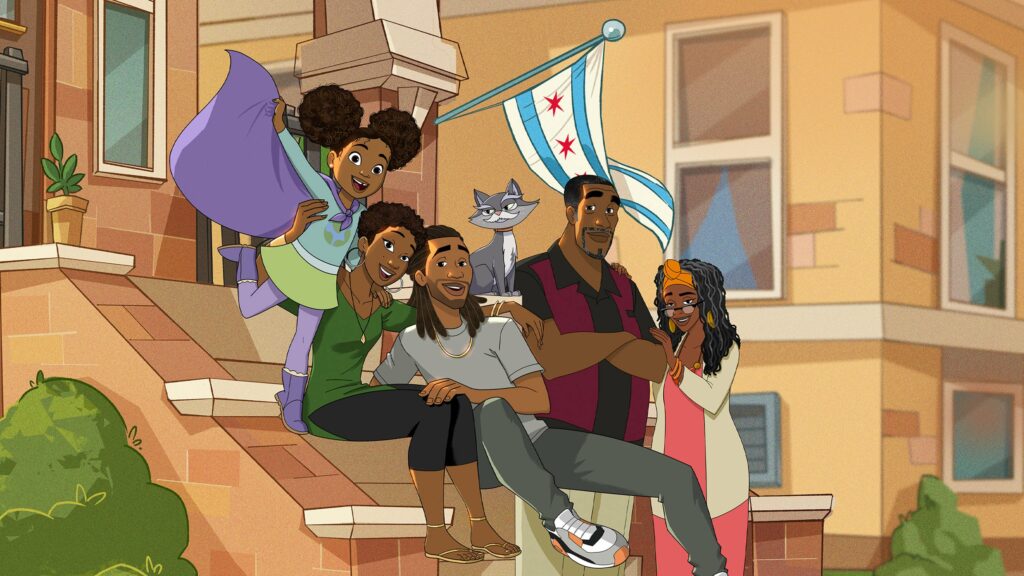 Young Love serves up a slice of heartfelt nostalgia, while also feeling incredibly current. Imagine taking the emotional depth of the Oscar-winning short, Hair Love, and extending it into a full-blown animated series set against the lively canvas of Chicago. The Young family keeps us glued to the screen, offering an authentic look into the highs and lows of juggling parenthood, careers, and dreams. It's relatable, touching, and dripping with animated splendor that's both eye-catching and soul-stirring.
If you're in Canada, don't let location barriers keep you from the full Young Love experience. I highly recommend ExpressVPN as your gateway to this must-see show. Don't miss out on this compelling tale of modern family love; it's a story that deserves to captivate audiences worldwide.
Step-by-Step: How to watch Young Love in Canada on Max using a VPN
Select a VPN service that is optimized for streaming. We recommend ExpressVPN
Download the VPN and connect to the US server.
Log in to Max.
Find Young Love and stream it no matter where you are!
Young Love Synopsis
Young Love is a heartwarming animated series that gives us a real, down-to-earth glimpse into the life of a modern African-American family. Meet millennial parents Stephen and Angela, along with their adorable daughter Zuri. This isn't just another animated show; it's a lifelike portrayal that connects on multiple levels. Whether you're a parent, dream-chaser, or someone coping with life's hurdles, you'll find a piece of yourself in these relatable characters.
Angela, emerging stronger after a battle with cancer, juggles between her career as a stylist and the ceaseless demands of motherhood. On the flip side, Stephen is chasing his musical dreams in an industry that's tough as nails. The show captures the essence of what it means to balance careers, marriage, and parenthood—all set against the backdrop of vibrant Chicago.
Young Love Cast
Meet the star-studded ensemble of Young Love, where each voice takes us on an emotional journey through the ups and downs of modern family life.
Kid Cudi steps into the shoes of Stephen Young, effortlessly adding layers of complexity to a young dad navigating today's world. You may know Kid Cudi from hit songs like "Day 'n' Nite," but his acting chops in shows like Westworld are just as noteworthy.
Issa Rae shines as Angela Young, juggling motherhood, a career, and a bustling family life. Her celebrated roles in works like Insecure promise to bring charisma and depth to Angela. Then there's the young talent Brooke Monroe Conaway, who steals scenes as Zuri Young.
The cast is rounded out with superb talents like Michael Samarie George, Sheryl Lee Ralph, and Loretta Devine, to name just a few. With such a strong cast, Young Love is set to become the talk of the town.
When does Young Love premiere?
Mark your calendars, because Young Love is set to make its big splash on your screens. The highly-anticipated animated series will premiere its first four episodes exclusively on Max, Thursday, September 21, 2023.
How many episodes does Young Love have?
Get ready for a full season of heart and humor with Young Love, slated to deliver a total of twelve unforgettable episodes. The adventure kicks off with four episodes premiering exclusively on Max, Thursday, September 21, 2023. But wait, there's more: the drama unfolds week by week with new episodes released every Thursday, wrapping up on October 5, 2023.
Here's a sneak peek into what you can expect:
Episode 1: Self Love (September 21, 2023) – Angela's back in the game post-cancer, Stephen aims to win over rapper Lil Ankh, and Zuri goes solo at a school fundraiser.
Episode 2: Just Love (September 21, 2023) – It's ambition vs. deadlines as Angela and Stephen face unique challenges.
Episode 3: Work Love (September 21, 2023) – Angela's business soars, Stephen gets a wild ride from Lil Ankh, and Zuri lands in her grandparents' gender war.
Episode 4: Charity Love (September 21, 2023) – Zuri extends an invite, Angela gains some social currency, and Stephen bonds with family.
…And the list goes on, wrapping up with Episode 12: Love Love, where a family revelation sets Angela and Stephen on an emotional rollercoaster.
Young Love Trailer
Check out the trailer and exclusive clip below for a taste of what's to come.
Start Watching Young Love Now
Get ready to dive into the animated world of Young Love, a series that promises heart, humor, and a genuine look into modern family life. With its premiere set for Thursday, September 21, 2023, on Max, you won't want to miss a single episode. The buzz is already sky-high thanks to the recent trailer drop, so make sure to mark your calendars and set those reminders.
If you find yourself restricted by geographical barriers, don't fret—you can still catch every moment of the Young family's adventures. I highly recommend ExpressVPN as your key to unlocking this compelling series, no matter where you are in the world. With a secured connection and freedom from regional restrictions, you won't have to miss out on this captivating animated journey.