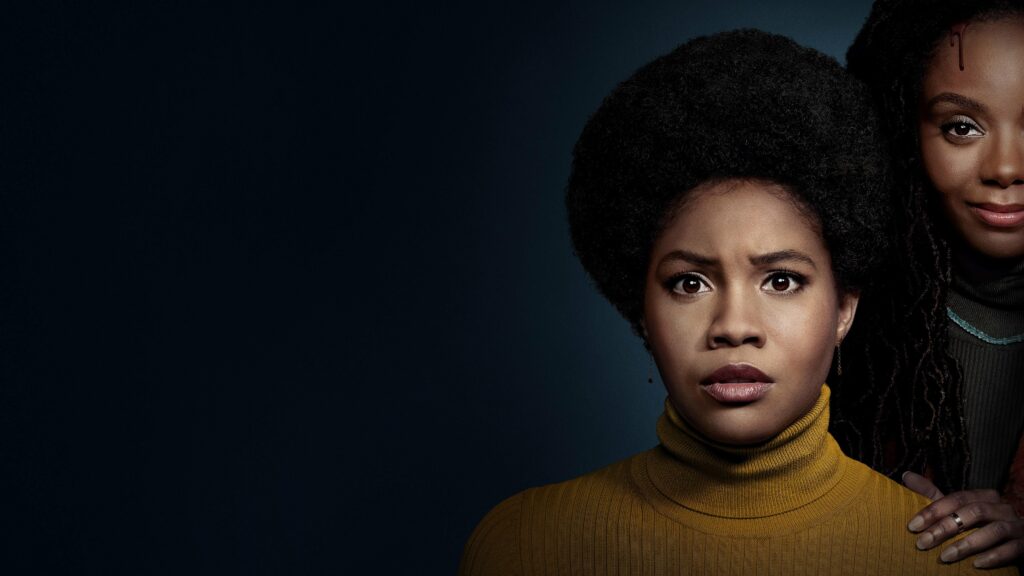 The Other Black Girl unfurls a captivating tale, masterfully adapted from the revered New York Times Bestseller. Dive deep into the heart of Nella Rogers' world, the lone Black woman amidst the corridors of Wagner Books. This series doesn't just entertain; it pulls back the curtain, revealing the intricate web of challenges she faces daily and the multifaceted relationships she holds in her workspace.
While the series is making waves globally, viewers in Canada might experience accessibility issues. For a seamless experience, I'd recommend using ExpressVPN – it ensures you're right there with Nella, every twist and turn.
Step-by-Step: How to watch The Other Black Girl in Canada on Hulu using a VPN
Select a VPN service that is optimized for streaming. We recommend ExpressVPN
Download the VPN and connect to the US server.
Log in to Hulu.
Find The Other Black Girl and stream it no matter where you are!
The Other Black Girl Synopsis
The Other Black Girl is a riveting American comedy-drama mystery thriller series, seamlessly adapted from Zakiya Dalila Harris's acclaimed 2021 novel of the same name. Set against the backdrop of New York City's white-dominated book publishing industry, this TV adaptation delves deep into pressing themes of race, identity, and the nuances of professional dynamics.
Step into the shoes of Nella Rogers, a diligent 26-year-old editor at Wagner Books and notably, the firm's lone Black employee. Her world, laden with challenges of isolation and subtle biases, brightens with the entry of Hazel, a fellow Black colleague from Harlem. Yet, as Hazel's stature rises in the office, unsettling letters find their way to Nella's desk, casting suspicions and revealing hidden workplace tensions. This series masterfully translates the gripping plot from page to screen, amplifying the novel's profound themes through vivid visuals and stirring drama.
The Other Black Girl Cast
Sinclair Daniel as Nella Rogers
Immersing viewers in the heart of Hulu's The Other Black Girl, Sinclair Daniel breathes life into Nella Rogers – a young editorial assistant confronting workplace marginalization due to her Black identity. With the entrance of another Black colleague, Nella's professional life takes an intriguing twist. Sinclair's brilliance is evident in the trailer, hinting at a stellar portrayal. Fans might recognize her from roles in Insidious: The Red Door, One December Night, and I Love Ana.
Ashleigh Murray as Hazel-May McCall
Ashleigh Murray embodies Hazel-May McCall in The Other Black Girl. As the new addition to the publishing team, Hazel-May forges a bond with Nella, only to find their camaraderie tested by emerging secrets. Ashleigh's magnetic presence in the trailer forecasts an unforgettable act. She's also starred in Tom Swift, Valley Girl, Katy Keene, and the renowned Riverdale.
Brittany Adebumola as Malaika
Depicting Malaika, Brittany Adebumola captures the essence of Nella's confidante, a pillar of support amidst workplace trials. Brittany might ring a bell for fans of 4400 and Grand Army.
Who else is Starring?
The series showcases a constellation of talent, featuring:
Hunter Parish as Owen, Nella's love interest
Bellamy Young as Vera Parini, the firm's director
Erik McCormack as Richard Wagner, the brain behind Wagner Books
Garcelle Beauvais as Diana Gordon, the celebrated author
Brian Baumgartner as Colin Franklin, a key Wagner Books client
Alyshia Ochse as Maisy Glendower, a fellow editor
Kate Owens as Sophie, the in-house trendsetter
Cassi Maddox as Young Kendra Rae Phillips, Wagner's past Black editor
Langston Kerman as Jesse Watson, the candid activist and podcaster.
When does The Other Black Girl premiere?
Hulu's The Other Black Girl, a thrilling drama series, premieres Wednesday, September 13, 2023, at 12:01 a.m. ET.
How many episodes does The Other Black Girl have?
Hulu's "The Other Black Girl" is a gripping series spanning 10 binge-worthy episodes, all set to drop on the same day.
Episode 1: They Say I'm Different (September 13, 2023) – Nella's world shifts with Hazel's entry at Wagner Books, leaving questions about her true agenda.
Episode 2: After the Storm (September 13, 2023) – Post a fiery spat with Colin, Nella wrestles with the thought of making amends and growing suspicions about Hazel.
Episode 3: I Know a Place (September 13, 2023) – Nella and Hazel aim for a fresh chapter, as mysteries around Kendra Rae Phillips pull Nella in.
Episode 4: What About Your Friends (September 13, 2023) – An interaction with esteemed author, Diana Gordon, culminates in a memorable evening with Nella's pals.
Episode 5: Don't You Want Me (September 13, 2023) – Colin's book leak causes an uproar at Wagner, intensifying the rift between Nella and Vera.
Episode 6: Fake Smile (September 13, 2023) – Hazel's growing presence in Nella's life coincides with Nella's mounting office pressures and doubts.
Episode 7: Caught in a Rapture (September 13, 2023) – An evening at Hazel's unveils secrets, leaving Nella and Malaika on edge.
Episode 8: The End of Love (September 13, 2023) – With the clock ticking towards Diana's imprint launch, Nella's fears threaten to become reality.
Episode 9: To Be Young Gifted & Broke (September 13, 2023) – Hazel's past and a chapter in Boston provide a clearer picture of her persona.
Episode 10: Down With Disease (September 13, 2023) – Nella faces a heart-wrenching decision, balancing her career's legacy against the well-being of those she cherishes.
The Other Black Girl Trailer
The The Other Black Girl trailer unveils the mysterious corridors of Wagner Books. Set against the vibrant backdrop of New York City's corporate scene, Nella Rodgers, depicted by Daniel, delves into her role as an editorial assistant. This teaser hints at suspenseful twists and turns, beckoning viewers to dive in and uncover the story.
Start Watching The Other Black Girl Now
Dive deep into the secrets of Wagner Books with "The Other Black Girl". Amidst the dynamic backdrop of New York City's bustling corporate realm, Nella Rodgers, as portrayed by Daniel, offers a captivating portrayal of an editorial assistant grappling with mysterious events. This gripping series, laden with suspenseful twists and turns, promises not just a story, but an experience that resonates with the intensity of real-world dynamics.
For those outside the broadcast region, don't let geography stop you from immersing yourself in this enthralling narrative. We recommend using ExpressVPN to seamlessly stream "The Other Black Girl". It ensures you stay connected, secure, and ready for every unexpected twist the series has to offer.